LEIPZIG, Germany, July 25, 2017— French and Italian fencing teams took gold tonight in the Men's Team Epee and Women's Team Sabre events. This is the first senior World Championship following fencing at the Rio 2016 Olympic Games, and tonight was the fifth evening of six days featuring 12 individual and team event finals. In all today, nearly 40 men's and 25 women's teams from around the world participated.
Despite a close match all the way to the end, including a lead going into the last bout, the Swiss men's epee team lost to France, the reigning Olympic champions and leader in total world titles. Winning with a score of 45-43, number-one ranked Yannick Borel took the team to gold. The Swiss successfully took-on the Hungarians in the semi-final, winning 37-32, while France defeated Russia in the same round, 45-43. Russia took the bronze medal, beating Hungary 45-38.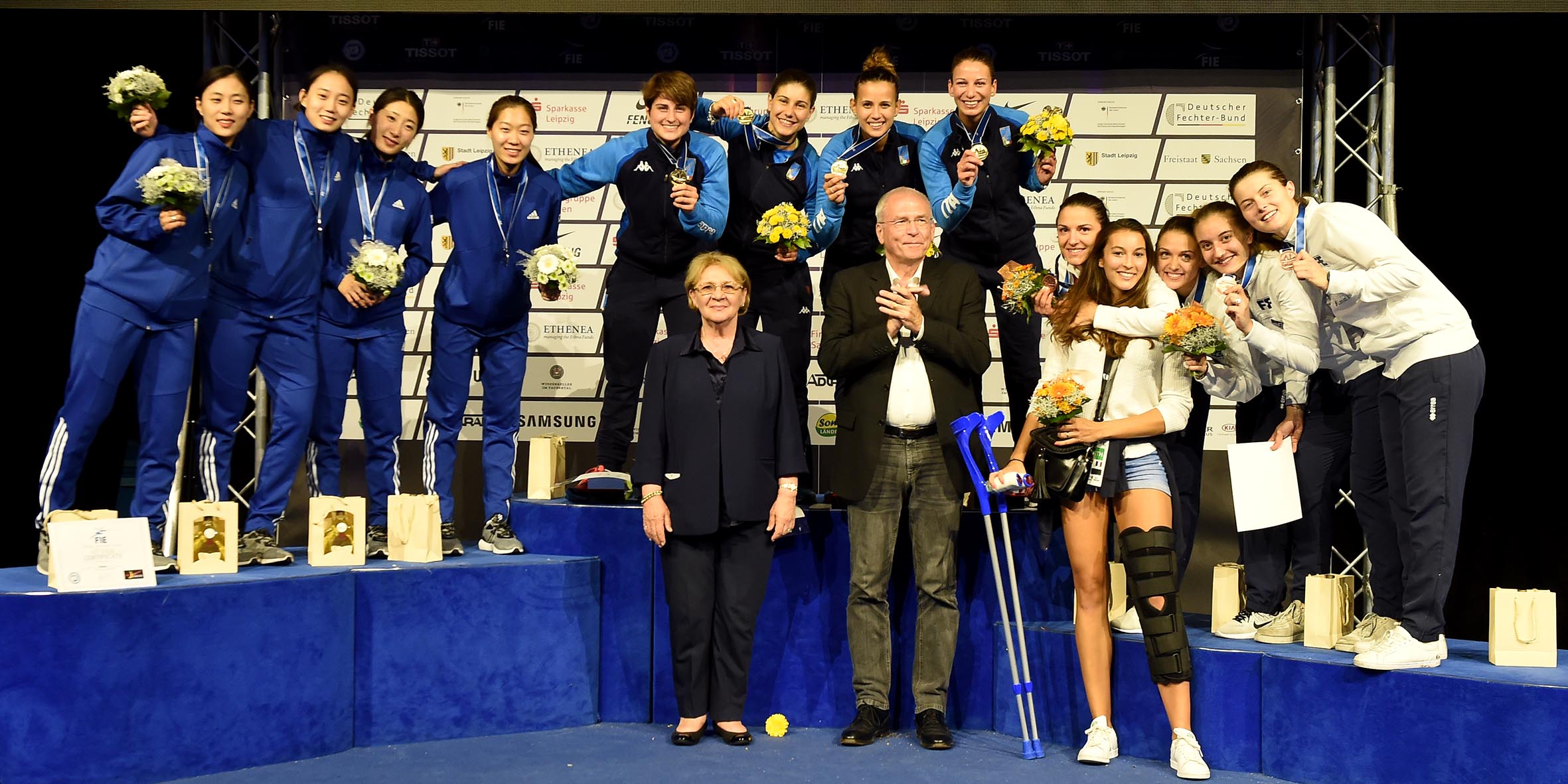 For the first time since Havana 2003, the Italian women's sabre team earned a gold medal at the World Championships, defeating Korea in the final, 45-27. The reigning Olympic champions, Russia, who have also won this event more than any other country, took fifth place. In the semi-finals, Italy defeated France, 45-42, and Korea took Japan, 45-32. The bronze medal went to France over Japan, 45-39.
Top-eight rankings for Men's Team Epee include France (gold), Switzerland (silver), Russia (bronze), Hungary, Italy, Ukraine, Estonia and Egypt.
The overall top-eight ranking for Women's Team Sabre include Italy (gold), Korea (silver), France (bronze), Japan, Russia, Ukraine, USA and Mexico.
Additional and complete results may be found on the 2017 Leipzig World Fencing Championships official Web site as well as on the FIE Web site, with today's men's results located here and women's results here.
#Leipzig2017