LEIPZIG, Germany, July 24, 2017— Korean and Italian fencing teams struck gold this evening at the 2017 Leipzig World Fencing Championships, with Korea taking the Men's Team Sabre event and Italy winning Women's Team Foil. This is the first senior World Championship following fencing at the Rio 2016 Olympic Games, and tonight was the fourth night of six days featuring 12 individual and team event finals. In all today, nearly 30 men's and 14 women's teams from around the world participated.
Korea took the final match and gold medal over Hungary with a strong winning score of 45-22. Korea also won the gold medal at the London 2012 Olympic Games, but tonight was the first time the country has won a World Championship title in this event. Italy took the bronze medal over the USA, 45-40. The semi-final matches were both won by a single touch each at 45-44, with Hungary beating Italy and Korea defeating the USA.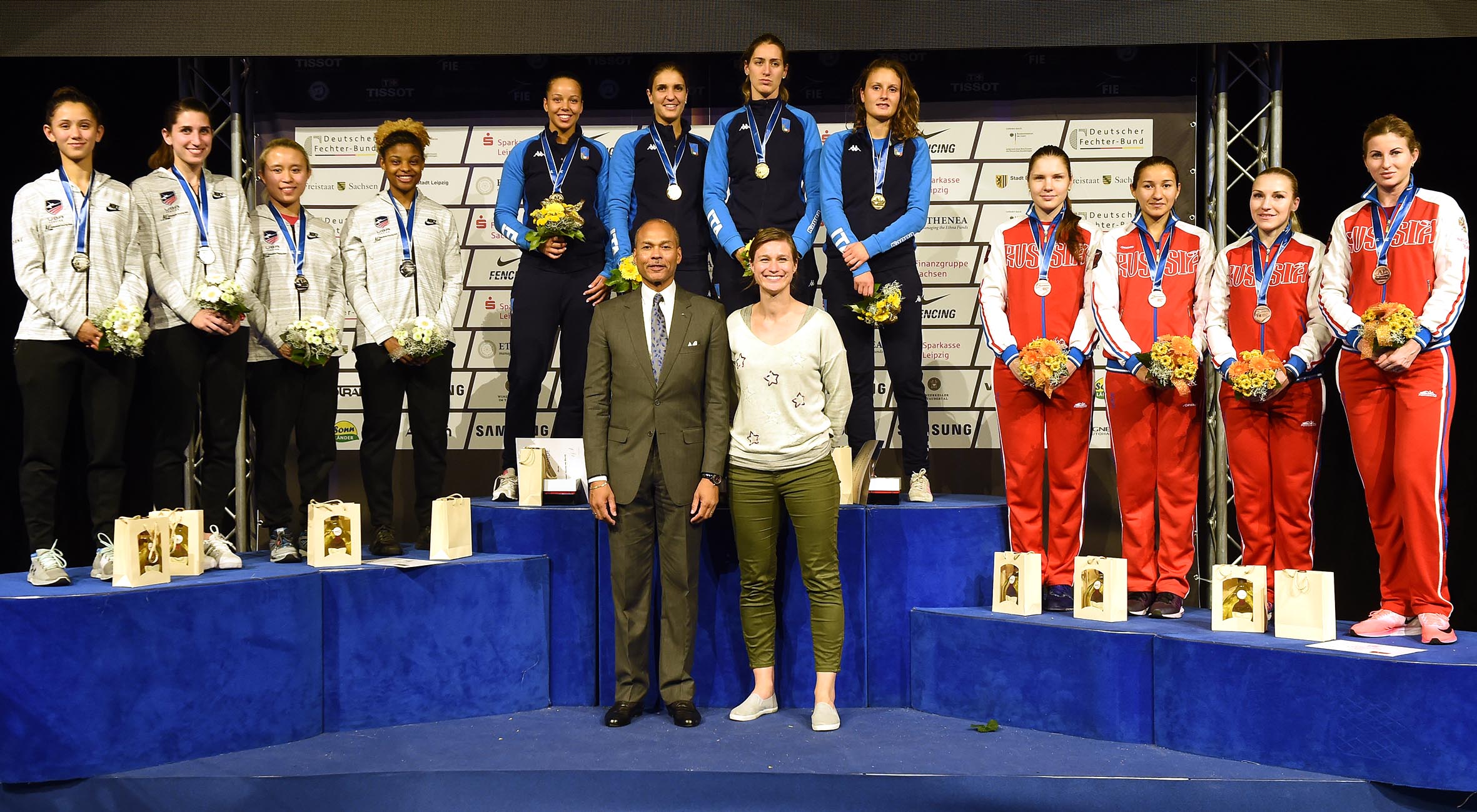 The Italian women scored gold over the United States in the final team foil match, winning with a wide margin, 45-25. The Italians have now won this event at six of the last eight World Championships. The bronze medal went to Russia, who beat Germany with another wide-margin victory, 45-29. The semi-finals resulted in closer scores, with USA beating Russia, 45-42, and Italy overtaking Germany, 45-34.
Top-eight rankings for Men's Team Sabre include Korea (gold), Hungary (silver), Italy (bronze), USA, Iran, Romania, France, and Russia.
The overall top-eight ranking for Women's Team Foil include Italy (gold), USA (silver), Russia (bronze), Germany, France, Canada, China, and Japan.
Additional and complete results may be found on the 2017 Leipzig World Fencing Championships official Web site as well as on the FIE Web site, with today's men's results located here and women's results here.