LEIPZIG, Germany, July 23, 2017—It was a double-gold evening for Russia at the 2017 Fencing World Championships in Leipzig, Germany, with nearly 300 men's foil and women's epee fencers competing to become champions. This is the first senior World Championship following fencing at the Rio 2016 Olympic Games, and tonight was the third night of six days featuring 12 individual and team event finals.
Russian Dmitry Zherebchenko fenced his strongest day ever, winning his first world title in Individual Men's Foil and beating Japan's Toshiya Saito in the final, 15-12. It was a top result for Saito, as well, who beat reigning Olympic champion Italian Daniele Garozzo in the semi-final, 15-12. Zherebchenko beat Saito's teammate, Takahiro Shikine, in the other semi-final, 15-12. Notably, several other men's foil fencers ranked in the top-ten in the world were eliminated in the round of eight, including Race Imboden (USA), Richard Kruse (GBR), Alessio Foconi (ITA), and Alexander Massialas (USA).
'I worked all the time and didn't relax for a second, which helped', said Zherebchenko. 'It was most difficult when the score was 10-10, and then I did what I did before, and put on more pressure, which helped. It feels happy, unreal, something I don't totally understand, and it's cool.'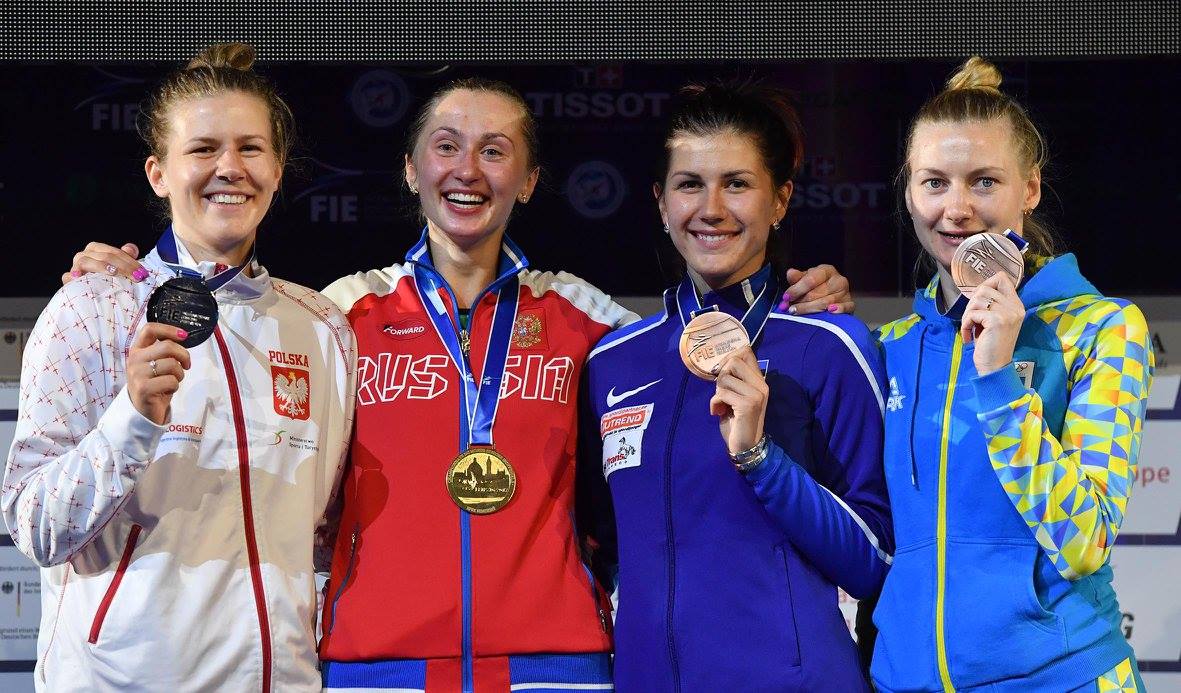 In a final featuring two women's fencers achieving the best wins of their careers, Russia's Tatiana Gudkova overtook Poland's Ewa Nelip, 11-9, to become the new Individual Women's Epee World Champion. Both fenced through a field of top-ranked, elite athletes to make the finals. Nelip beat Ukraine's Olena Kryvytska in the semi-final, 15-10, after Kryvytska overcame Russia's multi-time Olympian and Grand Prix/World Cup champion Tatiana Logunova in the round of eight, 15-10. Gudkova narrowly defeated Estonian and World Champion Julia Beljajeva in the other semi-final, 13-12, to make the final.
'I'm so happy, I don't believe it, and it took very, very hard work to win', said Gudkova. 'I want to thank all of my team and trainers, and my next goal is to win another day, win everything, and be very strong and win the team competition here.'
Overall top-eight ranking for the men include Dmitry Zherebchenko (RUS, gold), Toshiya Saito (JPN, silver), Daniele Garozzo (ITA, bronze), Takahiro Shikine (JPN, bronze), Alexander Massialas (USA), Richard Kruse (GBR), Alessio Foconi (ITA), and Race Imboden (USA).
Top eight for the women included Tatiana Gudkova (RUS, gold), Ewa Nelip (POL, silver), Julia Beljajeva (EST, bronze), Olena Kryvytska (UKR, bronze), Violetta Kolobova (RUS), Tatiana Logunova (RUS), Lauren Rembi (FRA), and Alexandra Ndolo (GER).
Additional and complete results may be found on the 2017 Leipzig World Fencing Championships official Web site as well as on the FIE Web site, with today's men's results located here and women's results here.