LEIPZIG, Germany, July 22, 2017—More than 300 men's epee and women's sabre fencers competed today to become champions at the 2017 Leipzig World Fencing Championships, with athletes from Italy and Ukraine taking home gold medals. This is the first senior World Championship following fencing at the Rio 2016 Olympic Games, and tonight was the second night of six days featuring 12 individual and team event finals.
It was a second-time World Championship victory in Individual Men's Epee for Italy's Paolo Pizzo, who also took gold in his home country at the 2011 Catania World Fencing Championships. The final match was close, with Pizzo beating two-time World Champion Estonian Nikolai Novosjolov, 15-13, and both fencers playing a technical, powerful game until the end. Pizzo overtook German Richard Schmidt in the semi-final, 15-10, while Novososjolov beat Hungarian Andras Redli in the same round, also with a score of 15-10.
'It's another dream coming true, and I don't know how it happens except that I am a great worker, I work so hard every day', said Pizzo. 'This is the best from my results and I am still dreaming. I still need more time to connect my brain to this reality, and I am on another planet right now, as two-time world champion.'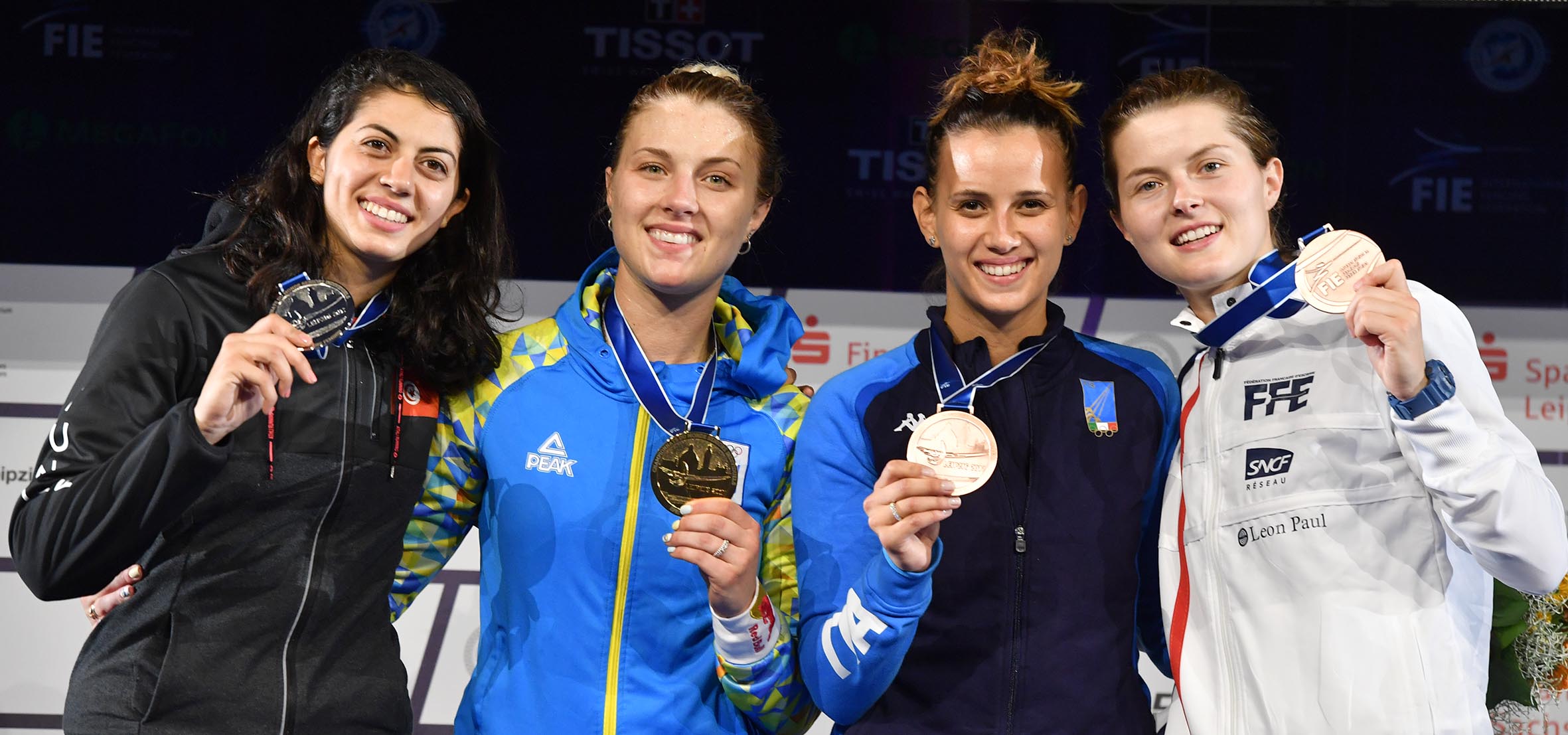 Ukraine's Olga Kharlan tonight scored her third World Championship victory, overtaking Tunisian Azza Besbes in the final of Individual Women's Sabre, 15-5. It was a strong day for the Ukrainian champion, with another 15-5 win in the semi-final against French fencer Cecilia Berder, while Besbes had a much closer fight against Italian Irene Vecchi, winning the semi-final by only a single point, 15-14. Notably, it was also a successful day for the Japanese women's sabre fencers, with three of them making the round of eight (Misaki Emura, Shihomi Fukushima, and Norika Tamura).
'I'm so tired, but so happy,' said Kharlan. 'I did my best, and this is so cool, but I don't want to stop. This is all moving toward my dream of Olympic gold.'
Overall top-eight ranking for the men include Paolo Pizzo (ITA, gold), Nikolai Novosjolov (EST, silver), Andras Redli (HUN, bronze), Richard Schmidt (GER, bronze), Daniel Jerent (FRA), Jesus Andres Lugones Ruggeri (ARG), Satoru Uyama (JPN), and Jean-Michel Lucenay (FRA).
Top eight for the women included Olga Kharlan (UKR, gold), Azza Besbes (TUN, silver), Cecilia Berder (FRA, bronze), Irene Vecchi (ITA, bronze), Anna Limbach (GER), Misaki Emura (JPN), Shihomi Fukushima (JPN) and Norika Tamura (JPN).
Additional and complete results may be found on the 2017 Leipzig World Fencing Championships official Web site as well as on the FIE Web site, with today's men's results located here and women's results here.
Tag #Leipzig2017