LEIPZIG, Germany, July 21, 2017—More than 200 men's sabre and women's foil fencers competed today to become champions at the 2017 Leipzig World Fencing Championships, with athletes from Hungary and Russia taking home gold medals. This is the first senior World Championship following fencing at the Rio 2016 Olympic Games, and tonight was the first two of 12 individual and team event finals.
In the best result of his career, 24-year-old Hungarian Andras Szatmari is a new World Champion in men's individual sabre, after defeating Korean Bongil Gu in the final, 15-11. Szatmari beat French fencer Vincent Anstett in the semi-final, 15-11, while Gu—a former bronze and silver World Championship medallist—overcame Russian Kamil Ibragimov, 15-10. Notably, the Russian had defeated Hungarian two-time Olympic champion Aron Szilagyi in the round of 16, 15-12.
'It's a wonderful feeling, and I appreciate everyone who helped me, including my family, coach, and girlfriend', said Szatmari. 'I woke up this morning at six and just felt I could win.'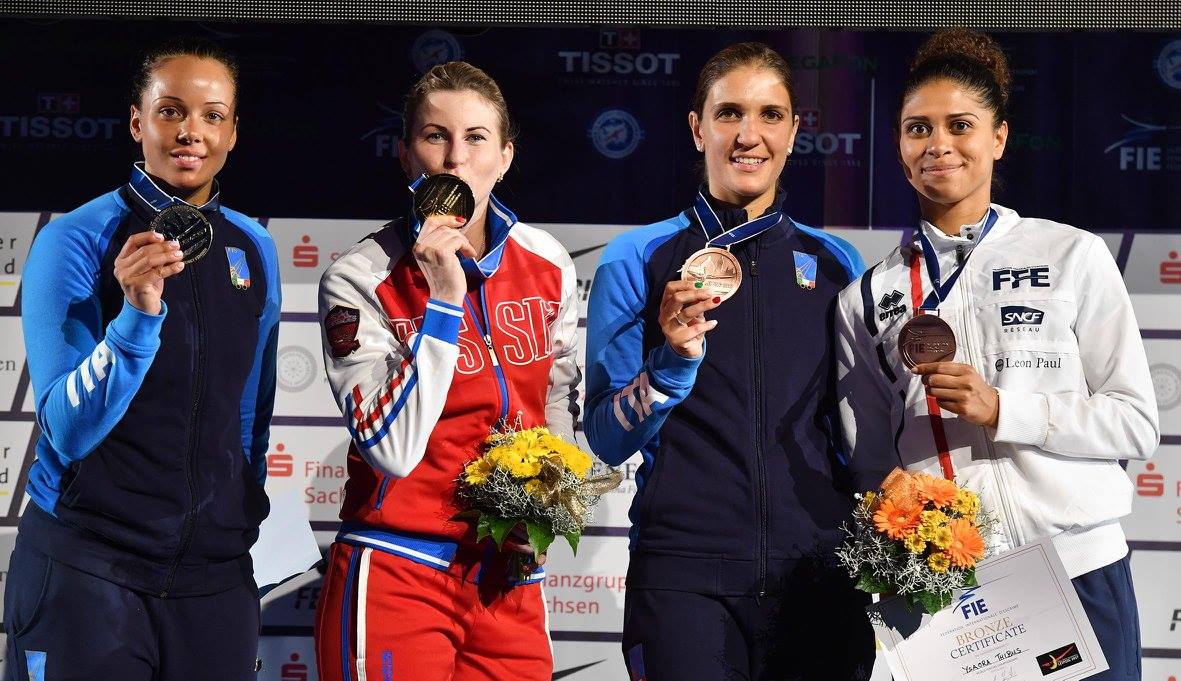 For the third year running, including an Olympic gold medal in Rio, Russia's 27-year-old Inna Deriglazova is victorious in women's individual foil. The final this evening in Leipzig featured the Russian champion facing Italian Alice Volpi in a close match, dueling through three full periods before ending with a win by one point, 14-13. In the semi-final, Deriglazova earned a wide-margin defeat over two-time Italian World Champion Arianna Errigo, 15-6. Volpi beat French foilist Ysaora Thibus in the second semi-final, 15-12.
'From year-to-year to win is more-and-more difficult', said Deriglazova. 'Today was a very hard day, and especially the final match was crazy, but I won, and I'm happy.'
Overall top-eight ranking for the men include Andras Szatmari (HUN, gold), Bongil Gu (KOR, silver), Vincent Anstett (FRA, bronze), Kamil Ibragimov (RUS, bronze), Luca Curatoli (ITA), Sanguk Oh (KOR), Kostiantyn Voronov (ISR), and Ali Pakdaman (IRI).
Top eight for the women included Inna Deriglazova (RUS, gold), Alice Volpi (ITA, silver), Arianna Errigo (ITA, bronze), Ysaora Thibus (FRA, bronze), Astrid Guyart (FRA), Julia Walczyk (POL), Camilla Mancini (ITA), and Anne Sauer (GER).
International Olympic Committee President and Olympic fencing gold medallist Thomas Bach attended tonight's event, accompanied by FIE President Alisher Usmanov, Leipzig Mayor Heiko Rosenthal, Saxony Minister of the Interior Markus Ulbig, and German Fencing Federation President and Olympic medallist Claudia Bokel.
Additional and complete results may be found on the 2017 Leipzig World Fencing Championships official Web site as well as on the FIE Web site, with today's men's results located here and women's results here.