BOGOTA, Colombia, May 28, 2017—More than 200 of the world's best men's and women's fencing athletes competed this weekend in Colombia at the 2017 Bogota Men's and Women's Epee Grand Prix. Bogdan Nikishin of Ukraine and Emese Szasz-Kovacs of Hungary took the men's and women's gold medals, respectively. One of nine world Grand Prix events sponsored by the International Fencing Federation (FIE), this is the eighth in the series leading to the Senior World Fencing Championships this July in Leipzig, Germany.
This was a second Grand Prix gold for the 37-year-old Nikishin, who won last year in Rio. He faced Italy's Marco Fichera in a low-scoring final match, 7-3. For Fichera, the silver medal is a best-ever win at this level. In the semi-final, Nikishin overcame another Italian, Edoardo Munzone, whom he beat 13-7. Fichera took-out higher-ranked Kyoungdoo Park in the semi-finals, 15-11; Park defeated Fichera's teammate and World Champion, Paolo Pizzo, in the quarter-finals, 15-14.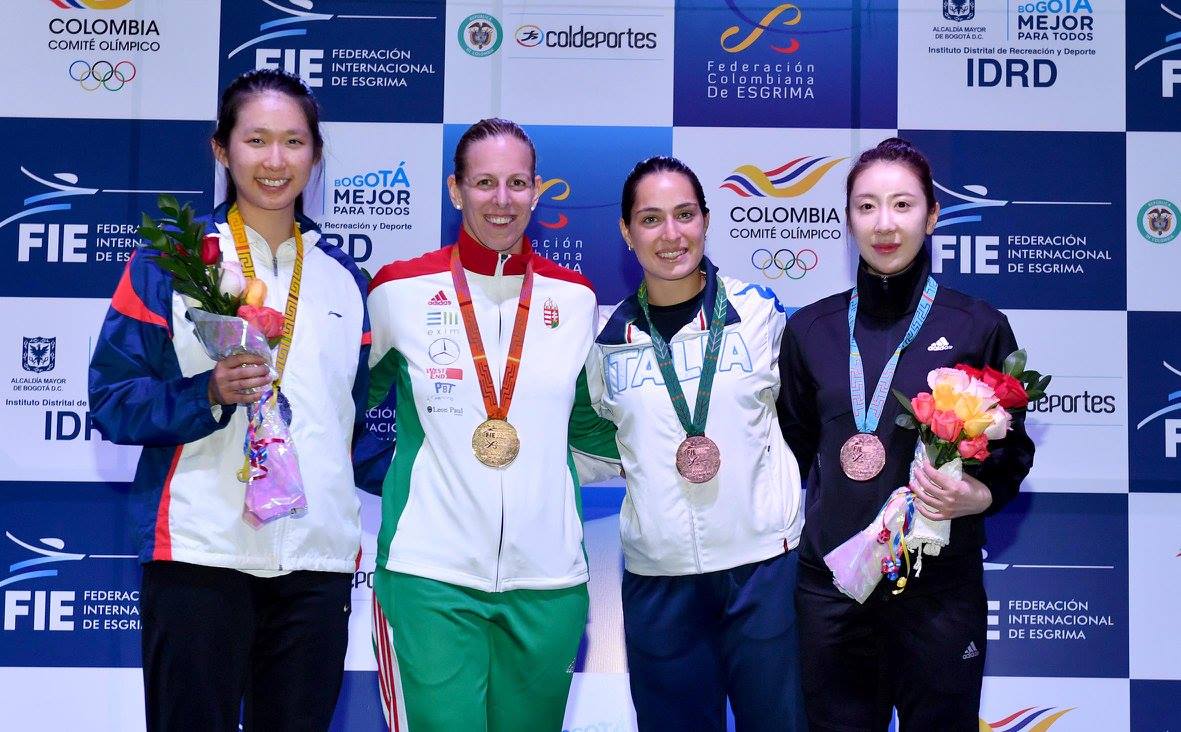 Hungarian Olympic gold medallist from Rio 2016, 34-year-old Emese Szasz-Kovacs scored victory again in the Bogota individual women's event. She defeated Man Wai Vivian Kong of Hong Kong in a close final, finishing 15-13. Szasz-Kovacs won against Olympian and previous Grand Prix winner (Budapest 2015) Shin A Lam of Korea in the semi-finals, with another close finish, 10-9. Kong won the semi-final match against Italy's Alberta Santuccio, for whom this was a best-ever result. Kong also beat Russian epee champion Tatiana Logunova, 15-8, in the quarter-finals.
Overall top-eight ranking for the men's epee event include Bogdan Nikishin (UKR, gold), Marco Fichera (ITA, silver), Edoardo Munzone (ITA, bronze), Kyoungdoo Park (KOR, bronze), Enrico Garozzo (ITA), Jinsun Jung (KOR), Pavel Sukhov (RUS), and Paolo Pizzo (ITA).
Top-eight for the women included Emese Szasz-Kovacs (HUN, gold), Man Wai Vivian Kong (HKG, silver), Alberta Santuccio (ITA, bronze), Shin A Lam (KOR, bronze), Tatiana Logunova (RUS), Injeong Choi (KOR), Chengzi Xu (CHN), and Giulia Rizzi (ITA).
Additional and information for the Bogota Epee Grand Prix may be found on the FIE Web site, with men's results located here and women's results here. The official website for the Bogota Grand Prix is located here.