SHANGHAI, China, May 21, 2017—With nearly 300 international top-ranked fencers participating, Great Britain and Italy are taking home gold this weekend after the Shanghai Foil Fencing Grand Prix. A best-ever win for Italy's Martina Batini, this was also the season's best result for 33-year-old British fencer Richard Kruse. The event also featured several lower-ranked world fencers achieve best-ever finishes as the first year in the new Olympic quadrennial begins the Road to Tokyo 2020.
The British fencing star took-on Italian Alessio Foconi in the final, beating him 15-8 after a long day of competition for both athletes. Kruse defeated France's Erwan Le Pechoux in the semi-finals, 15-13. Le Pechoux had twice previously won this same Grand Prix in Shanghai, and this was the tightest match of the day for Kruse. Foconi fenced and beat Russian Dmitry Zherebchenko in the semi-final, 15-9, for whom a bronze medal is a best-ever result at the Grand Prix level. Top-seeded fencers Alexander Massialas (USA) and Daniele Garozzo were eliminated in early rounds.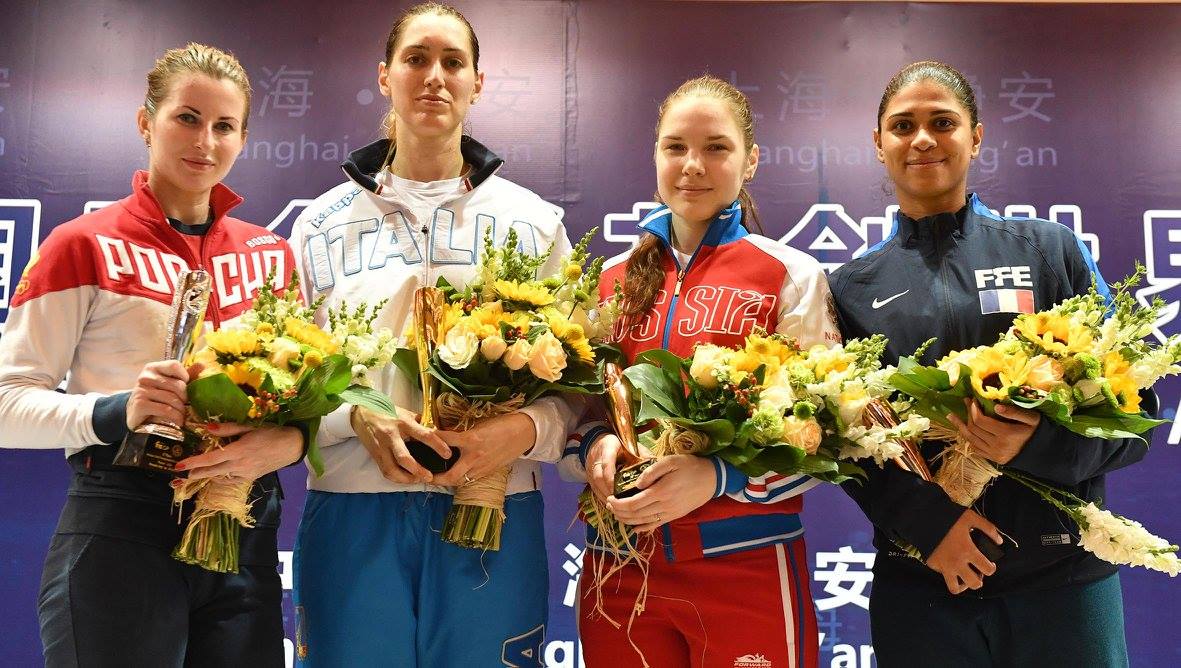 In an edge-of-your-seat final, world number-one and Olympic champion Inna Deriglazova of Russia lost by a single touch, 15-14, to 28-year-old Martina Batini of Italy in the Shanghai gold-medal final of the women's foil event—a best result for the Italian. Batini took-out Russian Svetlana Tripapina in the semi-final, 15-10, while Deriglazova took a wide-margin win in the semi, 15-5, against Ysaora Thibus of France. World number two and Italy's powerhouse fencer, Arianna Errigo, lost in the round of 16.
The Shanghai competition is one of nine cities in which the International Fencing Federation (FIE) is holding major Grand Prix events during this 2016-2017 fencing season. The competitions all lead to the upcoming 2017 Senior Fencing World Championships, being held this July in Leipzig, Germany.
Overall top-eight ranking for the men include Richard Kruse (GBR, gold), Alessio Foconi (ITA, silver), Erwan Le Pechoux (FRA, bronze), Dmitry Zherebchenko (RUS, bronze), Lorenzo Nista (ITA), Takahiro Shikine (JPN), Jun Heo (KOR), and Maximilien Chastanet (FRA).
Top eight for the women included Martina Batini (ITA, gold), Inna Deriglazova (RUS, silver), Ysaora Thibus (FRA, bronze), Svetlana Tripapina (RUS, bronze), Nicole Ross (USA), Eleanor Harvey (CAN), Alice Volpi (ITA), and Beatrice Monaco (ITA).
Additional and information for the Shanghai Foil Grand Prix may be found on the FIE Web site, with men's results located here and women's results here.