RIO DE JANEIRO, Brazil, May 9, 2017 – With several surprise victories over a weekend of women's epee world cup fencing in Rio de Janeiro, May 5-7, Kristina Kuusk is returning to Estonia with a gold medal. The competition, which took place at the Brazilian Naval School under the shadow of Rio's Sugarloaf Mountain, also featured a team epee event captured by the Italian women's team.
Kuusk faced Russia's Daria Martynyuk in the quarter-finals of the Women's Individual Epee event, beating her 15-11, before having to face her teammate, Erika Kirpu, in the semi-finals that ended in a lower-scoring bout, 8-5. In the final, Kuusk fenced Germany's Alexandra Ndolo, whom she beat 15-10. Ndolo had a close 15-14 victory in the semi-final against Poland's Ewa Nelip. The Polish fencer had taken-out USA epeeist and Olympic team bronze medallist (London 2012) Courtney Hurley, in the round of eight, 15-8.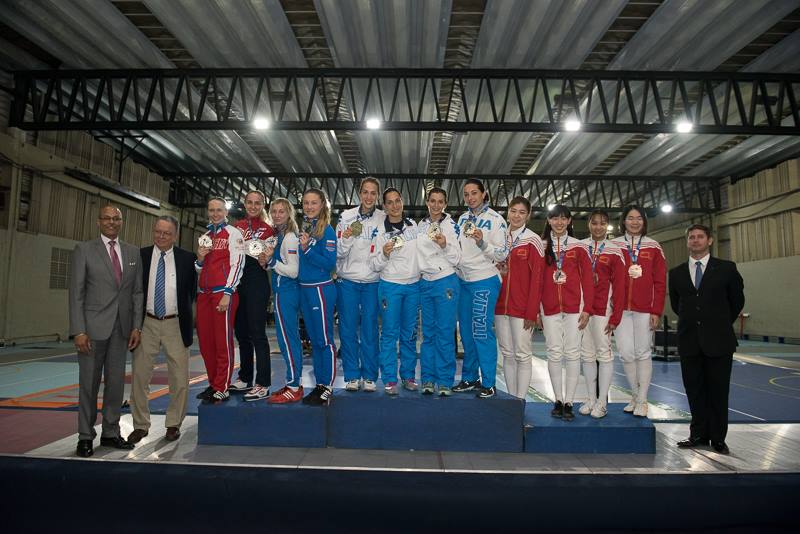 In the Women's Team Epee event, Italy narrowly edged-out Russia in the final with a 29-28 victory for the gold medal. Russia beat China in the semi-final, 38-32, while Italy had a wide-margin victory over Ukraine in the same round, 33-18. China took the bronze medal over Ukraine, 40-37.
The top-eight overall individual ranking from Rio places Kristina Kuusk (EST, gold) in first place, followed by Alexandra Ndolo (GER, silver), Erika Kirpu (EST, bronze), Ewa Nelip (POL, bronze), Daria Martynyuk (RUS), Mara Navarria (ITA), Lis Fautsch (LUX), and Courtney Hurley (USA).
Overall team rankings place Italy (gold) in first place, followed by Russia (silver), China (bronze), Ukraine, Korea, Germany, Estonia, and USA.
Full results for the individual competition can be found here, and results for the team event are here.