TAUBERBISCHOFSHEIM, Germany, May 2, 2017 – The world's top-two women's foilists battled over the past weekend for first place at the Reinhold-Wurth-Cup Women's Foil World Cup event in Germany's home of fencing, Fecht-Club Tauberbischofsheim. World number-one USA fencer Lee Kiefer took on Italy's champion and second-ranked Arianna Errigo in the final, with a razor-thin victory going to the American, 15-14. Italy took home the gold in the team event.
It was an all-star line-up of women's foil finals, with Errigo defeating home-favorite Carolin Golubytskyi in the semi-final, 15-5, while Kiefer took-out Russian star Inna Deriglazova with another narrow victory, 15-14, in the other semi round. With more than 150 participants, virtually every top-ranked women's foil fencer from around the globe was at the event, vying for gold.
'I was excited to have a strong competition after my recent rise in world ranking,' said Kiefer. 'It was a lot of fun having close bouts in the finals and semifinals. Every time I make it on the podium, it is still an unreal feeling!'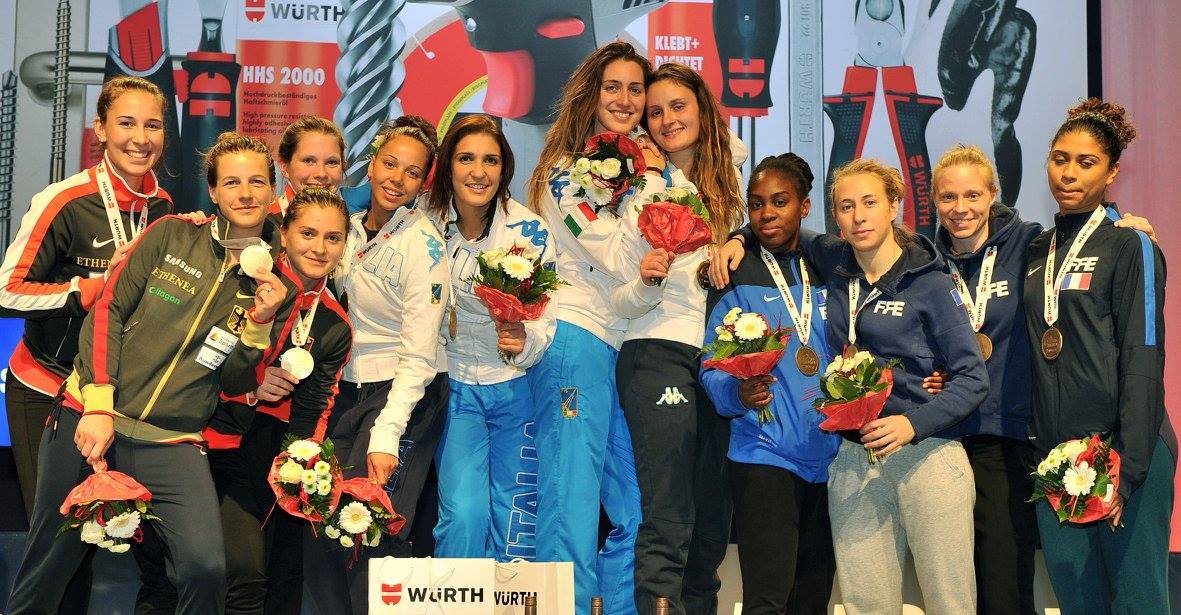 In the women's team foil event, with a total of 16 teams competing, Italy defeated Germany for gold, 45-33, after winning a closer match in the semi-final against France, 45-40. Germany also had a narrow win over Russia in the semi, 41-39. That left France to take on Russia for bronze, which the French took after a 45-37 win.
The top-eight overall individual ranking from Tauberbischofsheim and winning the Reinhold-Wurth-Cup places Lee Kiefer at the top (USA, gold), Arianna Errigo (ITA, silver), Inna Deriglazova (RUS, bronze), Carolin Golubytskyi (GER, bronze), Nicole Ross (USA), Ines Boubakri (TUN), Leyla Pirieva (RUS), and Fanny Kreiss (HUN).
Overall, the top-eight team rankings place Italy in first place (gold), followed by Germany (silver), France (bronze), Russia, USA, Canada, Japan, and Hungary.
Full results for the individual competition can be found here, and results for the team event are here.