SEOUL, Korea, April 1—More than 200 elite international sabre fencers competed this weekend in the Republic of Korea at the 2017 SK Telecom Seoul Fencing Grand Prix, with athletes from Korea and Russia taking home gold medals. For Rio 2016 Olympic bronze medallist Junghwan Kim (KOR), this was a fourth Grand Prix gold medal, while for Rio 2016 Olympic gold medallist Yana Egorian (RUS), this was her third Grand Prix title.

Kim defeated France's Vincent Anstett 15-12 in the men's final, after winning 15-13 in the semi-finals against Luca Curatoli of Italy and against his teammate, Sanguk Oh, 15-9 in the quarter-finals. The 33-year-old Kim is ranked first in the world in men's sabre. Italian Olympic champion Aldo Montano was eliminated in the quarter-finals, 15-7, against German Benedikt Wagner, who then lost to Anstett 15-4 in the semi-finals.

Egorian, 23, also ranked first in the world, won the women's gold match in Seoul with a score of 15-12 against Hungarian Anna Marton, for whom this was a second Grand Prix silver medal this season after competing in the Cancun Grand Prix late last year. In the semi- and quarter-finals, Egorian defeated Cecilia Berder 15-12 and Charlotte Lembach 15-7, both from France. Notably, Marton defeated two-time Olympic gold medallist Mariel Zagunis (USA), 15-11, in the quarter-finals.

The Seoul competition is one of nine cities in which the International Fencing Federation (FIE) is holding major Grand Prix events during this 2016-2017 fencing season. The competitions all lead-in to the upcoming 2017 Senior Fencing World Championships, being held this July in Leipzig, Germany.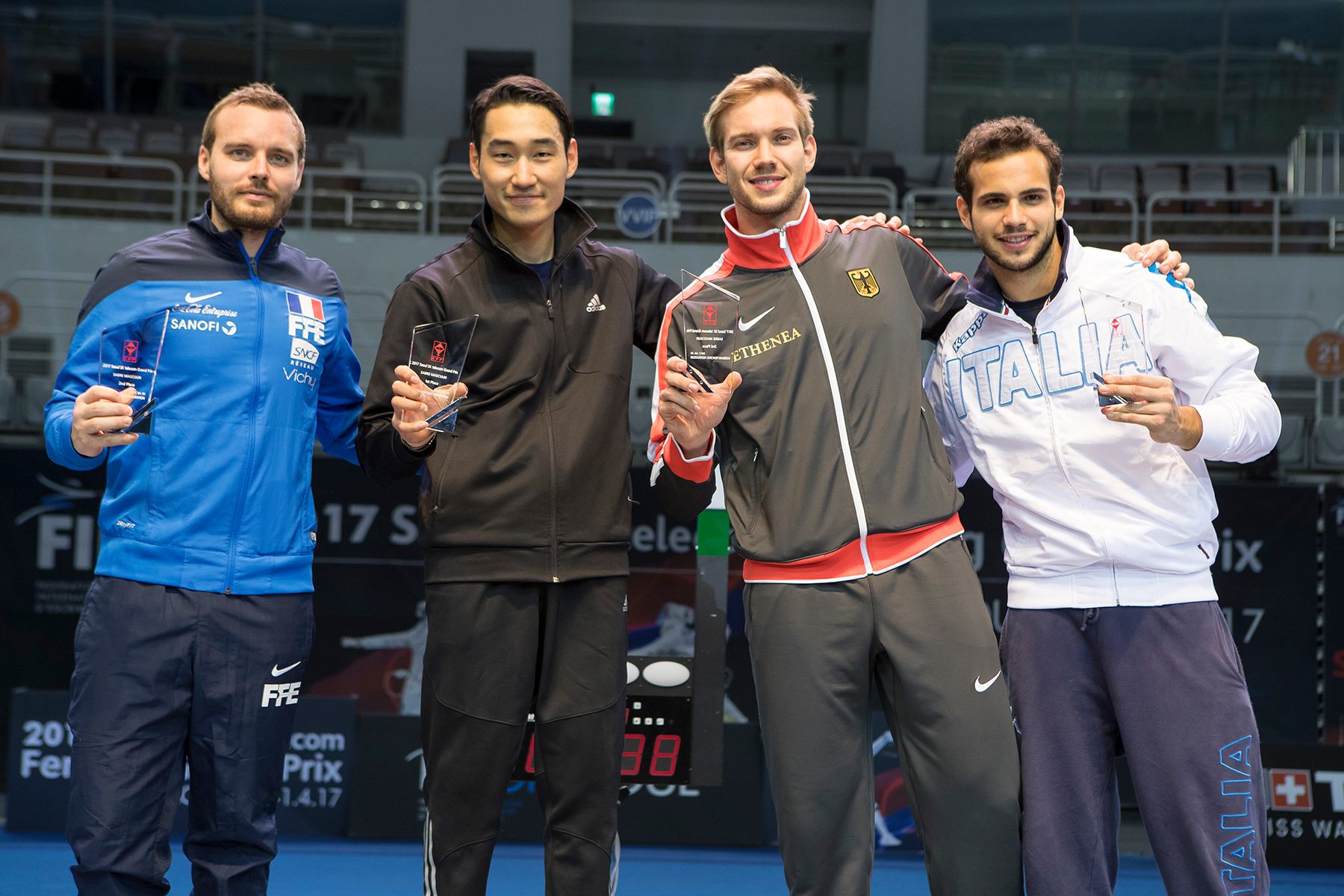 Overall top-eight ranking for the men include Junghwan Kim (KOR, gold), Vincent Anstett (FRA, silver), Luca Curatoli (ITA, bronze), Benedikt Wagner (GER, bronze), Sanguk Oh (KOR), Aldo Montano (ITA), Hansoi Ha (KOR), and Enrico Berre (ITA).

Top eight for the women included Yana Egorian (RUS, gold), Anna Marton (HUN, silver), Cecilia Berder (FRA, bronze), Martina Criscio (ITA, bronze), Manon Brunet (FRA), Mariel Zagunis (USA), Charlotte Lembach (FRA), and Margaux Rifkiss (FRA).

Additional and complete results for the Grand Prix may be found on the FIE Web site, with men's results located here and women's results here.