BUDAPEST, Hungary, March 26—International epee fencers competed in Budapest this weekend, from March 24-26, at the Westend Epee Grand Prix, attracting nearly 500 top-ranked athletes from around the globe. Korean Jinsung Jung and Italian Rossella Fiamingo took gold in the prestigious men's and women's events, held in the famed MOM Sport Hall. Multiple world and Olympic champions competed in the two competitions, with finals held Sunday evening.

Olympic bronze medallist Korean Jinsung Jung, 33, ranked 19th in the world, defeated Japan's Kazuyasu Minobe, 29, with a final score of 15-9. Minobe is ranked 5th in the world, making it a very strong finish for the Korean. Jung defeated Italy's Andrea Santarelli 15-10 in the semi-final round, while Minobe beat Jung's teammate Kyoungdoo Park in the semis, 10-10 in priority overtime.

With almost 300 fencers in the men's lineup, this was a major turnout for this key event in the International Fencing Federation's nine-city series of grand prix events for the 2016-2017 season.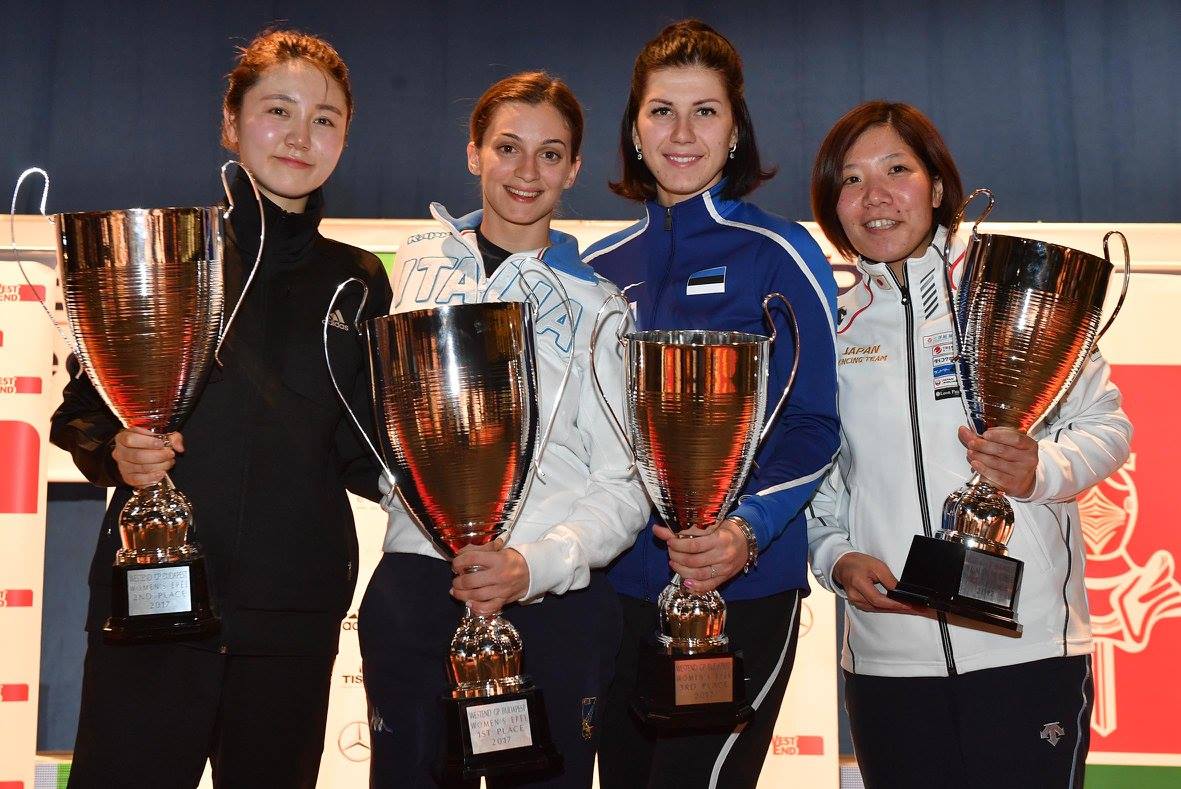 World champion and Olympic silver medallist Rossella Fiamingo, 25, continued her championship career by beating Korea's Injeong Choi 14-9 in the gold-medal final. Ranked sixth in the world, this was the best finish for the 26-year-old Korean since winning gold at the Xuzhou, China Grand Prix in 2013.

Fiamingo took out 26th-ranked Japan's Ayaka Shimookawa 15-10 in the semi-final round, while Choi beat Estonia's world champion Julia Beljajeva 13-10 in the same round. More than 200 women epeeists competed in the event.

Overall top-eight ranking for the men include Jinsun Jung (KOR, gold), Kazuyasu Minobe (JPN, silver), Kyoungdoo Park (KOR, bronze), Andrea Santarelli (ITA, bronze), Yannick Borel (FRA), Youngjun Kweon (KOR), Benjamin Bratton (USA), and Ronan Gustin (FRA).

Top eight for women included Rossella Fiamingo (ITA, gold), Injeong Choi (KOR, silver), Julia Beljajeva (EST, bronze), Ayaka Shimookawa (JPN, bronze), Yiwen Sun (CHN), Man Wai Vivian Kong (HKG), Melissa Goram (FRA), and Laurence Epee (FRA).

Additional and complete results for the Grand Prix may be found on the FIE web site, with men's results located here and women's results here.