RICHMOND, British Columbia, Canada – Switzerland's Max Heinzer duelled his way to gold at the Vancouver Peter Bakonyi Epee World Cup this weekend, and the Czech Republic men's epee team also took first place. Held February 17-19 at the beautiful Richmond, British Columbia Olympic Oval sports facility, the event drew more than 150 individual fencers and 23 world teams.
Heinzer, who now has six World Cup and three Grand Prix gold medals to his name, battled a tough day against a robust line-up of Olympic and world champions. His final match, however, came against a come-from-behind Cuban, Yunior Reytor Venet, who earned the highest-place finish yet in his career. In a near-upset, the Cuban lost to the Swiss fencer by a single point, 14-13, in a spirited and crowd-pleasing bout. Venet had defeated Finnish epeeist Niko Vuorinen in the semi-final, 15-14, while Heinzer took out French champion swordsman Yannick Borel 15-12.
"It's unbelievable, two years ago it was my last world cup win in Heidenheim, also 15-14," said Heinzer. "Today I had really hard matches and the final was crazy. I didn't know him, he was a player like me, he had fun on the piste and in the end I had a little bit more fun."
The top-eight overall individual ranking from Vancouver places Max Heinzer first (SUI, gold), Yunior Reytor Venet (CUB, silver), Yannick Borel (FRA, bronze), Niko Vuorinen (FIN, bronze), Daniel Jerent (FRA), Marco Fichera (ITA), Masaru Yamada (JPN), and Anatolii Herey (UKR).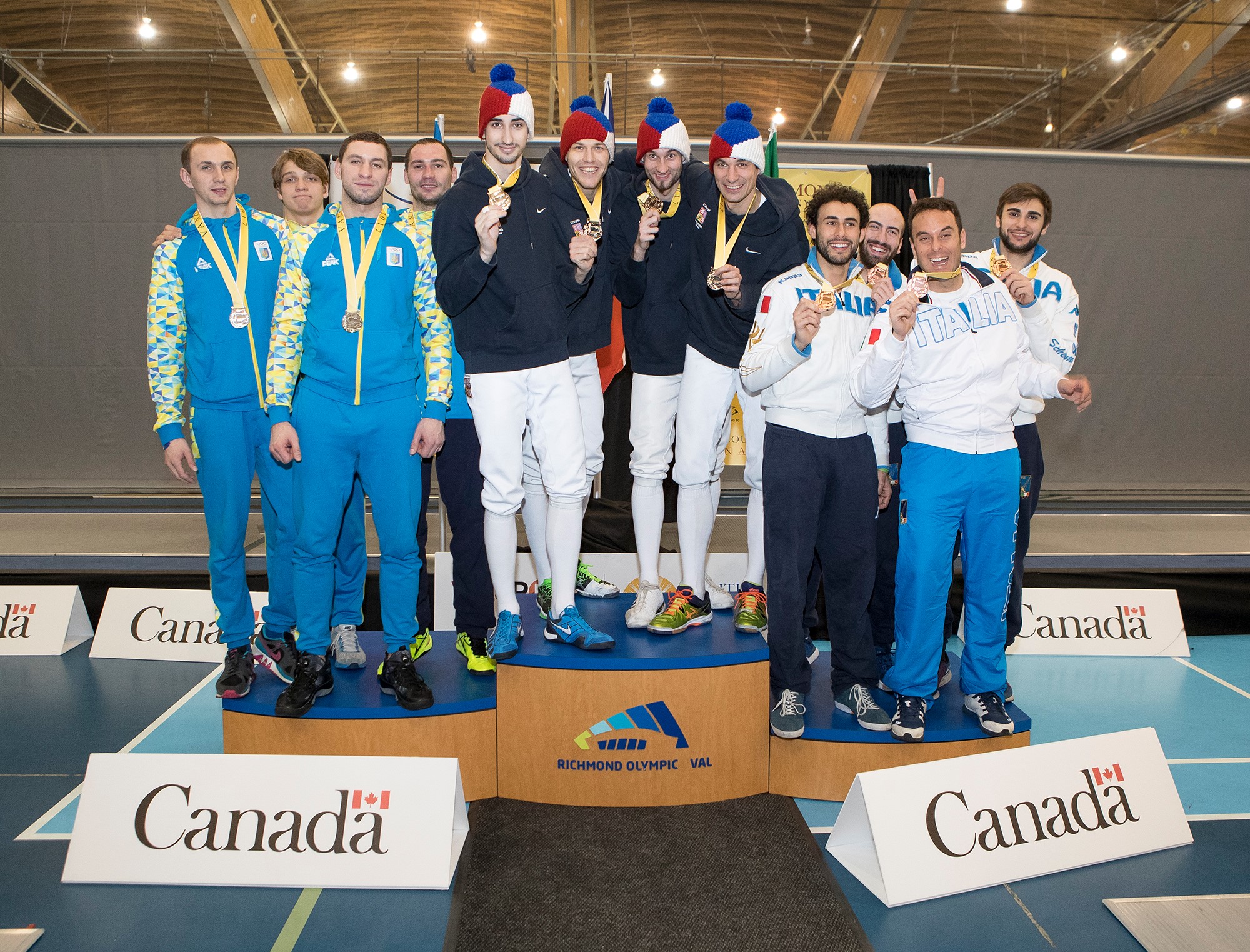 In the men's team epee event, the Czech Republic earned a stunning gold for the day, defeating the 2015 World Championship Ukrainian team 40-35. Prior to the final, the Ukrainian men took out Italy 40-39 and the Czech fencers defeated France 45-44, both very strong and closely fought accomplishments for the finalists. The bronze medal went to Italy over France, 45-38.
Overall team rankings place Czech Republic in first place (gold), followed by Ukraine (silver), Italy (bronze), France, Hungary, Israel, Switzerland, and Kazakhstan.
Full results for the individual competition can be found here, and results for the team event are here. The official Website for the event can be found at www.vancouverworldcup.com.