BROOKLYN, NEW YORK, USA – France scored a double victory this weekend in the United States, earning gold medals in individual and team women's sabre competition at the New York Women's Sabre World Cup held in Brooklyn, New York. Held only a short walk from the iconic Brooklyn Bridge, the competition took place January 27-29 with nearly 150 individual women fencers and 15 teams.
French sabre fencer and World Championship silver medallist Cecilia Berder defeated Olympic champion Jiyeon Kim in the final match 15-11, after the Korean had a superb day of fencing. Kim beat Italy's Martina Criscio easily, 15-6, in the semi-finals, before facing her ultimate loss to Berder in the final. She also overtook Italy's Loreta Gulotta in the table of eight. Berder fenced very strongly and surprised the audience in her path to victory as she overcame USA's Dagmara Wozniak in the round of eight 15-13, after Wozniak earlier took out Russian powerhouse Yana Egorian in the 32, 15-12. The French fencer continued her march to victory by beating Italian Irene Vecchi in the semi-finals in a very close match that finished 15-14.
Overall individual rankings place Cecilia Berder in first place, followed by Jiyeon Kim (KOR, silver), Martina Criscio (ITA, bronze), Irene Vecchi (ITA, bronze), Anna Marton (HUN), Manon Brunet (FRA), Loreta Gulotta (ITA), and Dagmara Wozniak (USA).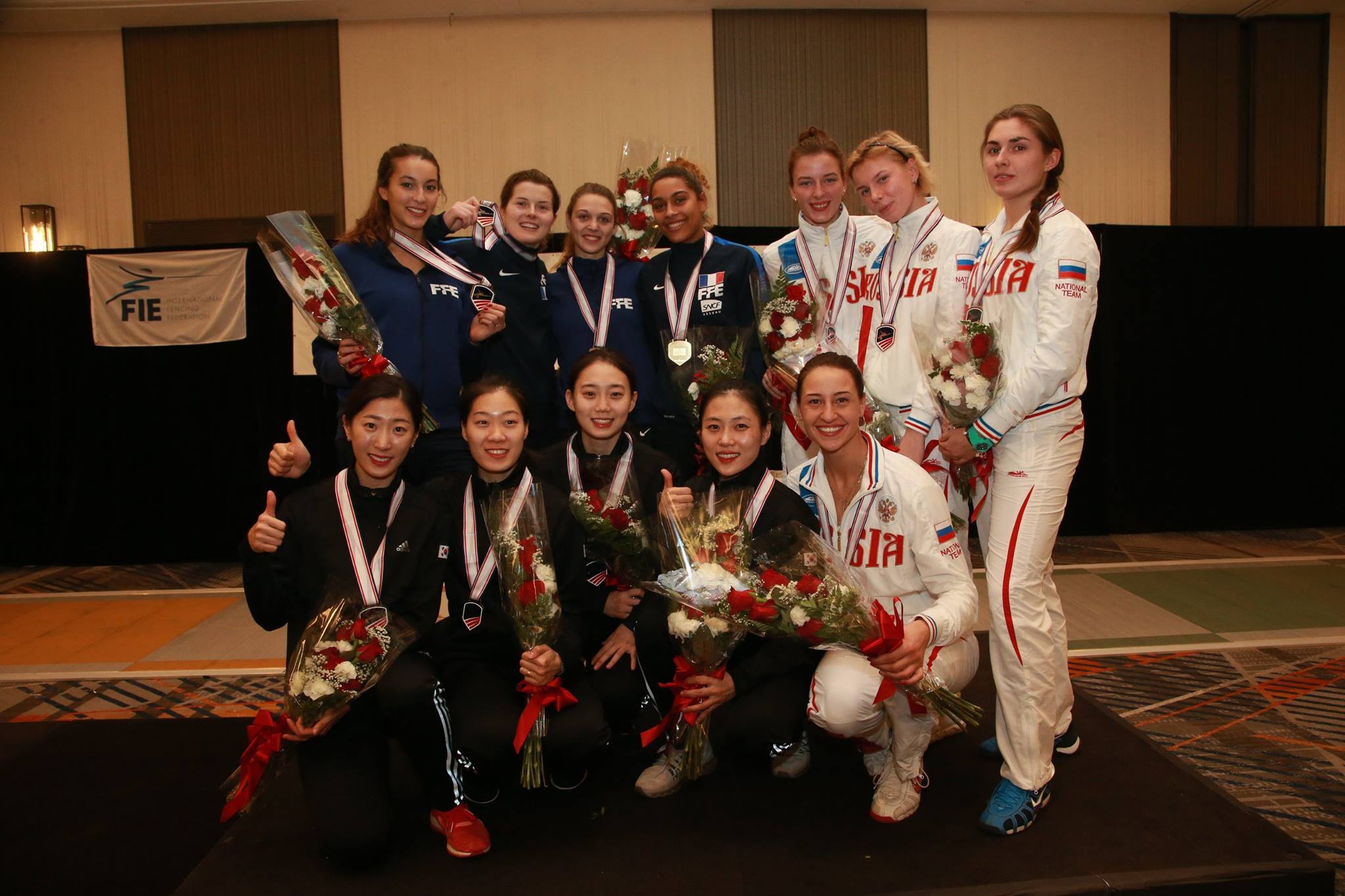 In the team match, once again Korea faced France with the same result in the medals. France fenced strongly and took an early lead against Korea, finishing the match 45-33 to earn its second gold for the weekend. French fencer Manon Brunet anchored the team to victory, giving Berder a little less pressure from the team after her win the night before. The French had a strong day, energized by Berder's individual win, beating Italy 45-39 in the table of eight and then Hungary 45-35 in the semi-final. Korea took out the USA women in the eight 45-34, followed by a surprising victory over Russia 45-40 in the semi-finals. In the match for third place and the bronze medal, Russia prevailed over Hungary 45-36.
Overall team rankings place France in first place, followed by Korea (silver), Russia (bronze), Hungary, USA, Italy, Japan, and Ukraine.
Full results for the individual competition can be found here, and results for the team event are here. The official Website for the event can be found at http://www.usfencing.org/page/show/2756010-2017-women-s-sabre-world-cup.