BARCELONA, Spain – Competing against more than 200 top athletes and 20 teams from around the globe, China earned two gold medals at the 41st International Ciutat de Barcelona World Cup Ladies' Epee Fencing tournament. The International Fencing Federation (FIE) event, which took place from January 20-22, included multiple world championship and Olympic competitors and took place at the Institut Nacional d'Educació Física de Catalunya (INEFC), home to the 1992 Barcelona Olympic and Paralympic Games.
China's Yiwen Sun, bronze medalist in the Rio 2016 Olympic Games, won the individual competition, defeating Estonia's Irina Embrich 15-11 in the gold-medal round. She fenced strong matches against her competitors in the preceding rounds, although a close bout in the round of eight against Germany's Beate Christmann ended in a low-scoring 3-2 victory. From there, she went on to overtake France's Melissa Goram in the semi-finals, 15-12. Embrich defeated Hungary's Olympic champion Emese Szasz (gold, Rio 2016) in the semi-finals, 15-12, to make the final against Sun.
The top-eight overall ranking from the individual event places Yiwen Sun (China, gold) in first place, followed by Irina Embrich (EST, silver), Melissa Goram (FRA, bronze), Emese Szasz (HUN, bronze), Daria Martynyuk (RUS), Ewa Nelip (POL), Alberta Santuccio (ITA), and Beate Christmann (GER).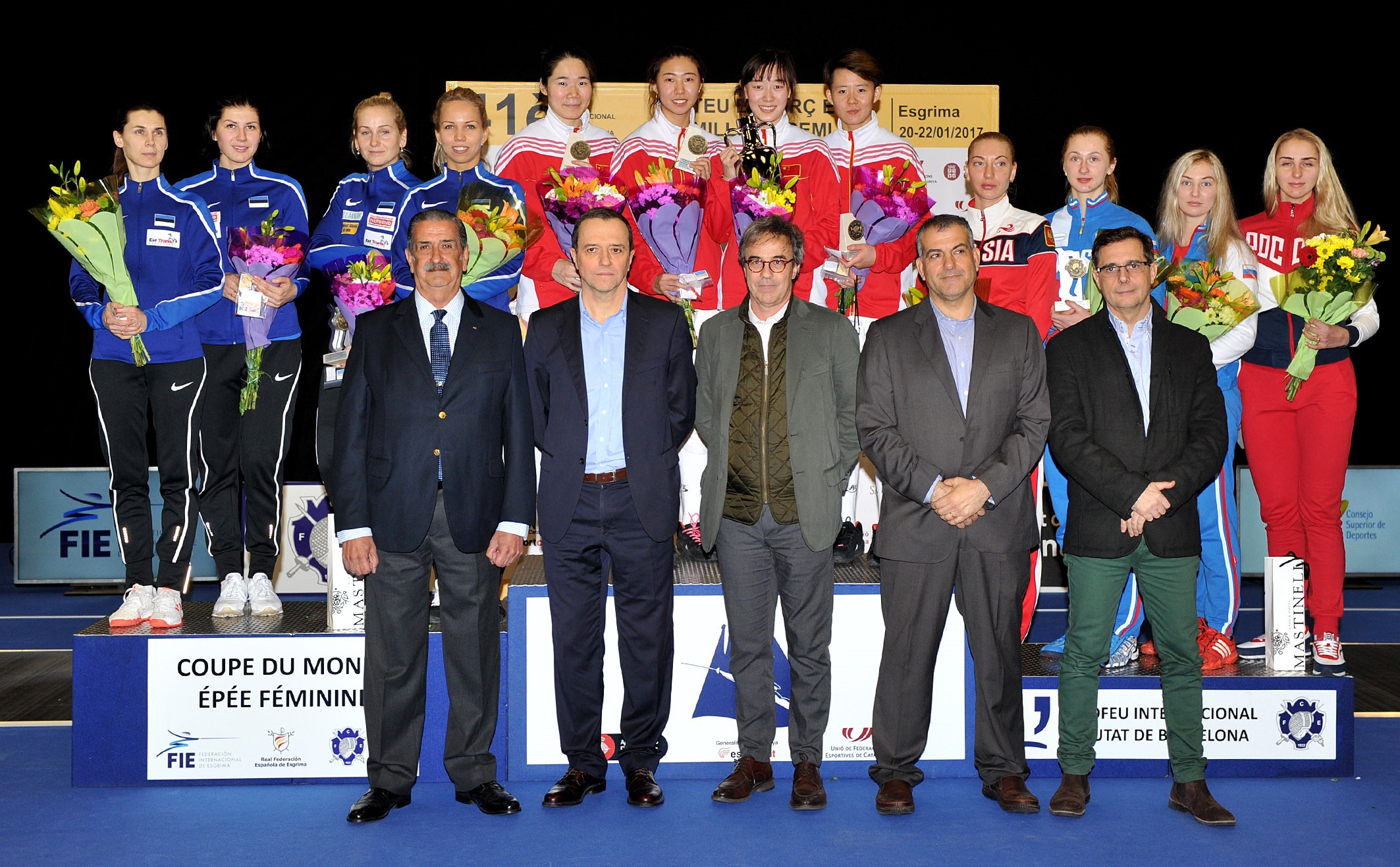 In another lower-scoring but nonetheless spirited final, and a second China-Estonia gold-medal encounter for the weekend event, the Chinese women's epee team defeated the Estonian ladies 22-21 in the Women's Epee Team competition. Both teams also had close rounds in the semi-finals, with Estonia beating Russia 32-31 and China overcoming France 45-41. Russia then achieved a third-place win against France, 45-38, to earn the bronze.
The Ciutat de Barcelona was first held on November 3, 1957 and was a men's epee competition. It has been a women's epee event since 2005.
Full results for the individual competition can be found here, and results for the team event are here. The official Website for the Ciutat de Barcelona can be found at www.esgrima.cat/ciutatdebarcelona.