PARIS, France – USA's Alexander Massialas and Italy's men's foil team both won gold this weekend in Paris at the Challenge de Paris (CIP) 2017 Fencing World Cup. Held at the beautiful and historic Stade Pierre de Coubertin arena, the event took place from January 20-22 and featured more than 200 individual men's foil fencers and more than 20 teams from around the world. Some of the world's top-ranked athletes, including Olympic medallists, participated in the prestigious event.
Massialas, silver medallist from the Rio 2016 Olympic Games, had a strong showing early in the individual competition, advancing easily to the round of sixteen where he narrowly defeated Italy's Guillaume Gianchi, 15-14. He went on to beat Italy's Francesco Trani 15-12 in the table of eight, and then to overtake Italian Giorgio Avola in the semi-finals, 15-11. In the gold-medal final, Massialas battled fiercely to win against Russia's Timur Safin, 15-14. Safin, always a tough competitor, was a bronze medallist in the Rio 2016 Olympic Games.
Greg Massialas, USA Men's Foil Coach, is Alexander Massialas' father, personal coach, and former men's foil Olympian. He commented, "Alexander first came to watch the CIP in 2004 as a nine-year-old fencer. This was an honour for him to be listed amongst so many of the greats at the CIP. I am proud of the way he conducted himself as a great fencer and mentor to so many young people all over the USA and the world."

The top-eight overall ranking from the CIP places Alexander Massialas (USA, gold), followed by Timur Safin (RUS, silver), Giorgio Avola (ITA, bronze), Taegyu Ha (KOR, bronze), Richard Kruse (GBR), Gerek Meinhardt (USA), Francesco Trani (ITA), and Toshiya Saito (JPN).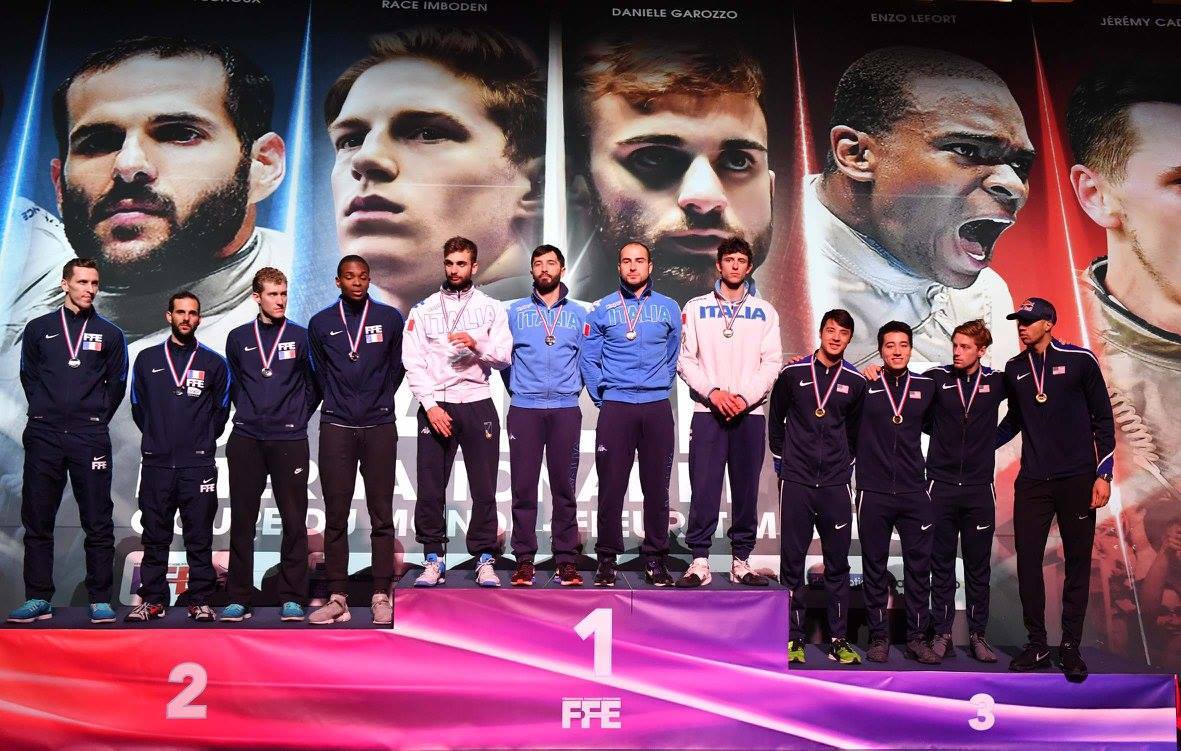 The Italian men's foil team achieved a strong win against an enthusiastic crowd favouring the opponent, France, with a final score of 45-21. France had defeated Japan 45-38 in the semi-finals, while Italy barely overtook USA, 45-44. In the battle for third place, USA earned a bronze medal against Japan, 45-34. Top-eight ranking for the men's foil team competition finished with Italy in first place (gold), followed by France, (silver), USA (bronze), Japan, Russia, Korea, Germany, and Poland.
Full results for the individual competition can be found here, and results for the team event are here. The official Website for the CIP can be found at www.escrime-cip.com.