TORUŃ, Poland (June 22) – Simona Gherman emerged victorious in an all-Romanian European Championship final on Wednesday, beating Ana Maria Popescu 9-5 for the gold medal in the women's epee.
It was a first title of the season for the 20th-ranked Gherman. Popescu, nine places higher in the world rankings, missed out on a second after a World Cup victory in Nanjing in November.
The bronze medals were shared by Emese Szász of Hungary and Poland's Renata Knapik-Miazga.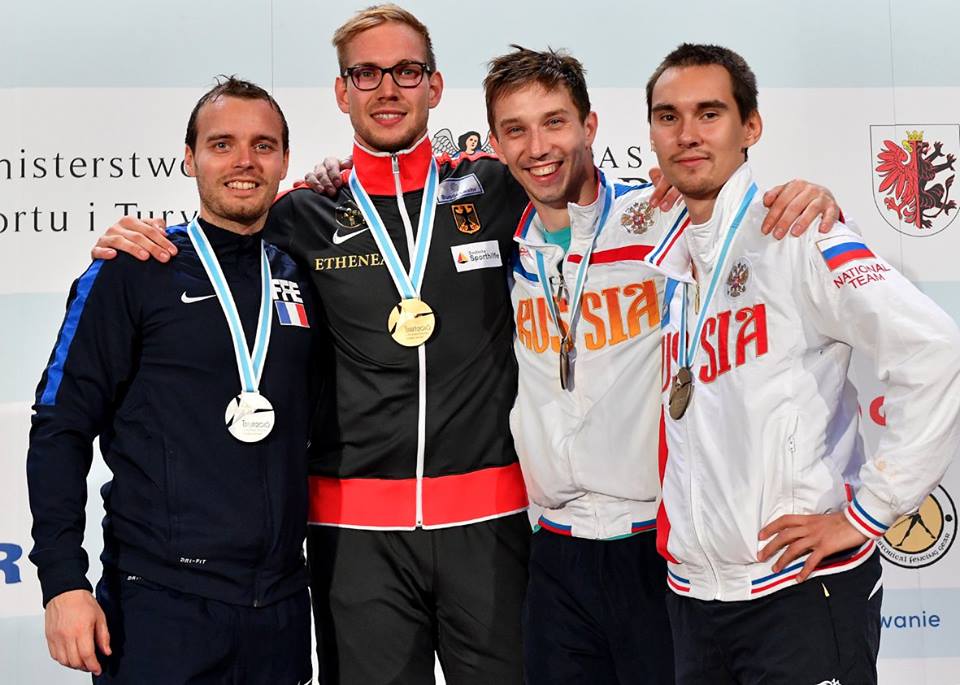 The men's sabre result mirrored the women's epee: The world No. 20, Benedikt Wagner of Germany, beat France's Vincent Anstett, the world No. 11, to clinch the European title and his first competition win of the season.
Wagner triumphed 15-13 in a closely fought final.
World No. 1 Alexey Yakimenko and his Russian teammate Kamil Ibragimov shared bronze. Day four of the championships, Thursday, sees the start of the team competitions in men's foil and women's sabre.
On Tuesday, Arianna Errigo of Italy clinched a narrow 15-14 victory over Aida Shanaeva to win the women's foil title.
Errigo, the world No. 1, had to dig deep to hold off the seventh-ranked Russian to continue a fine run of form ahead of the Olympics in Rio this August.
In the men's epee, meanwhile, Yannick Borel claimed the gold with a 15-12 win over Germany's Max Heinzer.
On Monday, the first day of the championships, Russians Sofya Velikaya and Timur Safin won European gold. Velikaya, the world No. 1, beat Hungary's Anna Marton 15-7 in the final of the women's sabre to round off a fantastic season on a high.
In the men's foil, world No. 28 Safin beat Erwann Le Pechoux of France, one place ahead of the Russian in the rankings before the event, by a score of 15-9.
The European Championships run through June 25 and, along with the Pan American Championships held concurrently in Panama this week, are the last major competition on the FIE calendar ahead of the Olympic Games in Rio de Janeiro.
All photos by Augusto Bizzi here.