RIO DE JANEIRO (April 24) – Ukraine's world No. 15 Bogdan Nikishin won the gold medal at the Rio Grand Prix in epee on Sunday, defeating Benjamin Steffen of Switzerland 15-13 in a pulsating final.
The veteran epeeist Nikishin, who was on the gold-winning Ukrainian team at last year's World Chamionships in Moscow, nearly gave up a three-point lead but held his nerve for the title.
The All of the world's top ten had gathered in Rio, with world No. 1 Gauthier Grumier looking to build upon his convincing victory in Budapest in March. Yet none of them made it to the semifinals, leaving the field wide open for the 35-year-old to claim the title. It marks the halfway stage in the Olympic fencing test event at the Carioca Arena 3, which is comprised of the Grand Prix and the team World Championships, which get underway on Tuesday. Nikishin accounted for world No. 8 Daniel Jerent and top-ranked Grumier on the way to the final. In the semifinal, Nikishin fought back from a two-point deficit to beat Asian champion Kyoungdoo Park of South Korea 14-11.
Steffen, the world No. 28, had dispatched world No. 55 Anatoliy Herey of Ukraine 15- 8 in their semifinal and world No. 2 Enricco Garozzo 15-14 in the quarterfinals.
As losing semifinalists, Herey and Park share bronze.
In other notable results, Switzerland's world No. 4 Max Heinzer was knocked out in the 64 by his compatriot Georg Kuhn, ranked 129 places below him.

Geza Imre, the reigning world champion, was beaten by Constantin Boehm in the last 64, and Ruben Limardo, the London 2012 gold medalist, fell to Sten Priinits of Estonia, the world No. 31, in the last 32.
In the women's event on Saturday, Russia's Tatiana Logunova upset world No. 1 Xu Anqi 5-3 for her first title of the season.
The Rio Grand Prix is the first competition to adopt a new cross formation for the pistes, an innovation in the sport designed to provide an improved view of the action for the spectators.
The test event continues with the team World Championships in women's foil and men's sabre on April 26-27.
Results:
Bogdan NIKISHIN (UKR)
Benjamin STEFFEN (SUI)
Anatoliy HEREY (UKR)
Kyoungdoo PARK (KOR)
Enrico GAROZZO (ITA)
Daniel JERENT (FRA)
Ayman FAYEZ (EGY)
Constantin BOEHM (GER)
Gauthier GRUMIER (FRA)
Kazuyasu MINOBE (JAP)
For complete results, click here.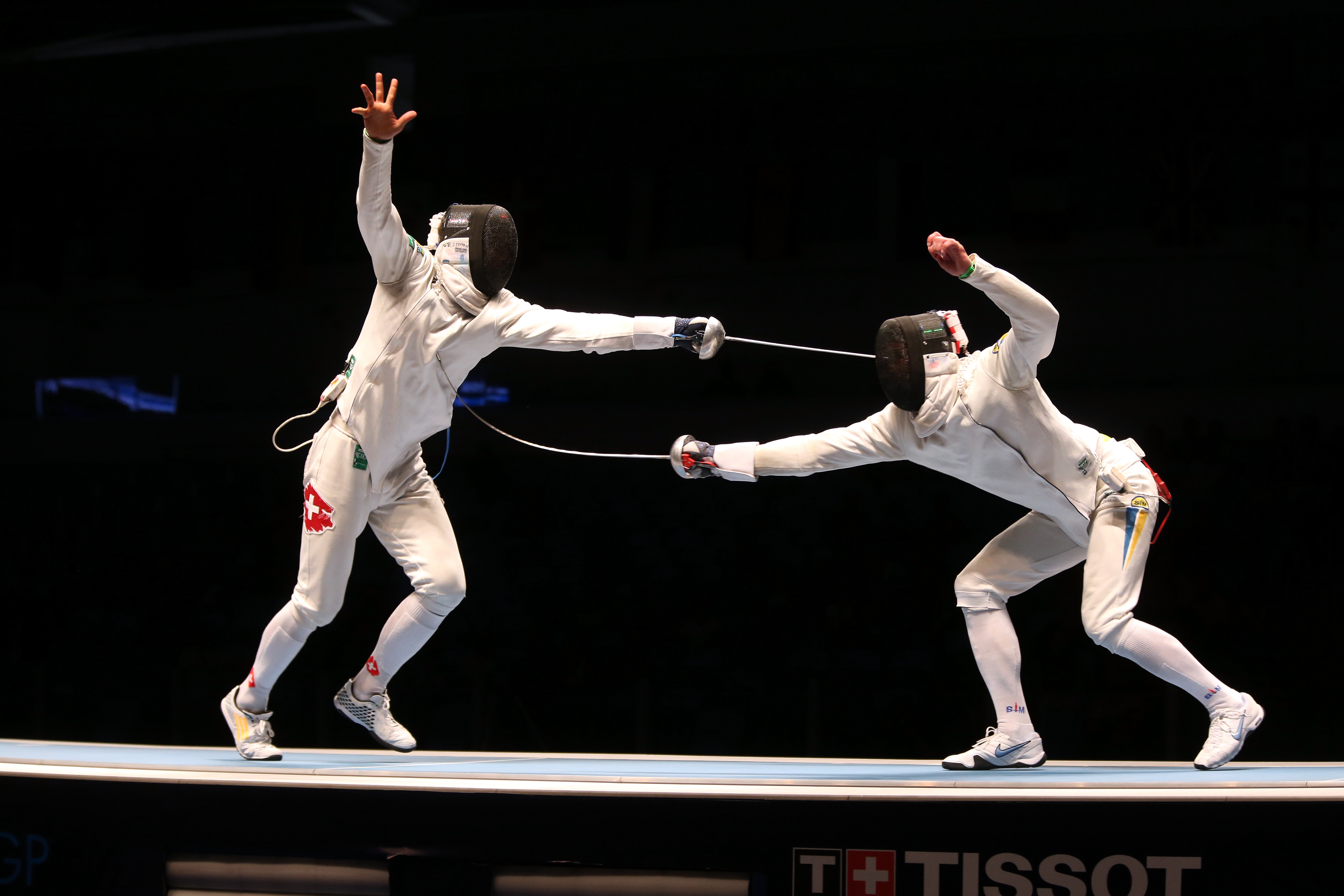 For more information, contact FIE Communications Director David Nowak on +44 7584 518 730