The Olympic qualification story starts a new chapter this week as the first of three Grand Prix events will determine which foilists make it to Rio.
Qualification for the team disciplines on the Rio 2016 schedule is now over but berths in all six individual events are still being contested via the Adjusted Official Rankings – with only one points-scoring opportunity available in each weapon.
The setting for the foil showdown is Havana, Cuba, on March 11-13, when both men and women will strive to make the most of their final Olympic ranking event of the season.
On the women's side, five fencers go into the Havana Grand Prix safe in the knowledge that they have already done enough to qualify: Inna Deriglazova (RUS), Elisa Di Francisca (ITA), Arianna Errigo (ITA), Ysaora Thibus (FRA) and Ines Boubakri (TUN).
There are nine other automatic places available, plus two additional zonal spots saved for the top two fencers from each of Africa, the Americas, Asia-Oceania and Europe. (Those zones will run their respective qualifying events after the April 4 deadline to give fencers a final shot at reaching Rio).
Women's team foil is not on the program for this year's Games, which means that there is a maximum quota of just two athletes per country for the individual event. As Di Francisca and Errigo have confirmed their places, the race is over for the Italians.
Russia's World No. 5, Aida Shanaeva, currently stands to qualify but with a minimum of 21 points available for a top eight finish in Cuba, teammate Larissa Korobeynikova – who trails Shanaeva by just 12 points – is a major threat.
Lee Kiefer (USA) leads teammate Nzingha Prescod by ten points with Nicole Ross a further twenty-nine points behind. A top sixteen finish for Kiefer and a top eight finish for Prescod would secure their qualification. Should either fencer fail to get past the round of 64, Ross would be a threat if she were to finish in the top four in Cuba.
It's a similar situation for the Koreans with Hee Sook Jeon, Hyunhee Nam, Mina Kim and Seungmin Lim all in the race. Pauline Ranvier of France also has a shot at qualification but results will have to go her way if she is to overhaul her teammate, Astrid Guyart.
However, from a mathematical point of view, anyone in the top 70 of the world rankings is still in contention of reaching a qualifying points tally, apart from the Italians (who have filled their maximum quota of athletes).
The race for the additional zonal spots is also still on for every region. Eleanor Harvey (CAN) and Saskia Van Erven Garcia (COL) lead the charge for the Americas but would need top eight finishes to secure their qualification.
Yongshi Liu (CHN) and Mona Shaito (LIB) currently occupy the additional Asian places but less than 10 points separates them from their two closest challengers.
Noura Mohamed (EGY) and Anissa Khelfaoui (ALG) lead the African race but either could be caught by five other African fencers. The battle for European zonal spots is also on with Edina Knapek (HUN) and Hanna Lyczbinska (POL) occupying the qualification spots but their places are still up for grabs.
With women's team foil fencing rotated off the Olympic program this year the battle for places in the individual competition is intense.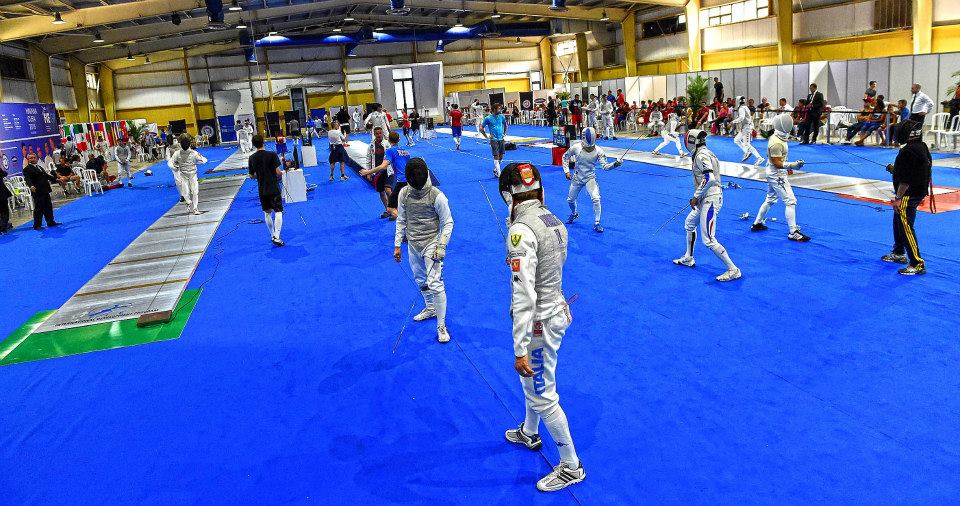 The men, on the other hand, do have a team foil event in Rio, and eight countries have already qualified, guaranteeing passage for three fencers from each of Russia, Italy, France, the United States, China, Great Britain, Egypt and Brazil. Those fencers will be named later by their national federations.
But there is still ample intrigue in Havana because seven places in the individual event are still up for grabs – the additional zonal spot. It's two each for the Americas, Asia-Oceania and Europe, plus one for Africa.
World No. 2 Yuki Ota (JPN) has already done enough to secure one of the additional Asian spots and a top-eight finish for Jun Heo (KOR) would be enough to confirm his place at Rio.
Mohamed Ferjani (TUN) currently occupies the additional African qualifying place but only a top 32 finish in Havana will secure his Olympic status.
The PanAm race, meanwhile, is led by Maximillien Van Haaster (CAN) whose biggest challenge comes from his teammate Eli Schenkel. Daniel Gomez (MEX) sits in the second qualifying position for this zone but precariously so as he only has 15 ranking points and is under threat from a poke of fencers from the Americas.
Peter Joppich (GER) leads the race for the two additional European berths and has enough points to have confirmed his place in Rio. Alexander Choupenitch (CZE) occupies the second European zonal spot but could be caught if results don't go his way.
Follow the Havana Grand Prix live here.