Russia stormed to gold at the final Olympic qualification event for the women's team sabre over the weekend, beating France 45-33 in the final of the Sint-Niklaas World Cup in Belgium.
The result locks down the No. 1 spot in the world rankings for the Russians and passage to Rio as a top-four nation.
Ukraine and France are the other nations to qualify via that route along with the United States, whose sixth-placed finish in Belgium was enough to fend off a challenge from South Korea.
Japan thrashed their neighbours 45-27 in the last 16 but the Koreans qualified for Rio as Asia's No. 1 team after China, the only other nation vying for that spot, lost to Mexico 45-44 at the same stage.
Italy qualified as Europe's top team along with Poland, which picked up the spare place left by the lack of African representatives in the top 16.
Mexico snatched the top Pan-Am spot after the United States secured its top-four place.
The eight countries to have qualified for the women's team sabre event in Rio, therefore, are: Russia, Ukraine, France and the United States as the world's top four nations; South Korea, Italy and Mexico as the top-ranked nations in their zones; and Poland as the next-best placed team.
Countries have until June 6 to nominate the fencers in their teams but with the eight countries in women's team sabre already known, attention turns to the next stage of the Grand Prix series. Those three consecutive weekends will determine the fencers who will qualify for the remaining individual berths by ranking in all weapons. Once they are determined the focus will be on those who qualify by the special zonal qualifiers.
In the individual event in Belgium, Olga Kharlan of Ukraine picked up her first major of the season by defeating Russia's Yana Egorian 15-13 for the gold medal, with Jiyeon Kim of Korea and Russia's Sofya Velikaya sharing the bronze medal position.
All four fencers represent teams that have qualified so it is likely that they will all compete in Rio.
Meanwhile, fencers in the men's sabre discipline were in action at the penultimate qualification event in Poland. Olympic rotation dictates that only the individual event will feature in Rio, meaning a maximum of two fencers per nation.
Two Korean's fought for the gold in Warsaw with Bongil Gu taking out Junho Kim 15-13 in the final. It was Gu's first podium result since his silver medal at the Asian Championships last year. Aliaksandr Buikevich of Belarus and Russia's Kamil Imbragimov shared the bronze medal position.
The United States edged out the Russians 45-43 for gold in the team event and Germany beat Italy 45-40 for the bronze medal.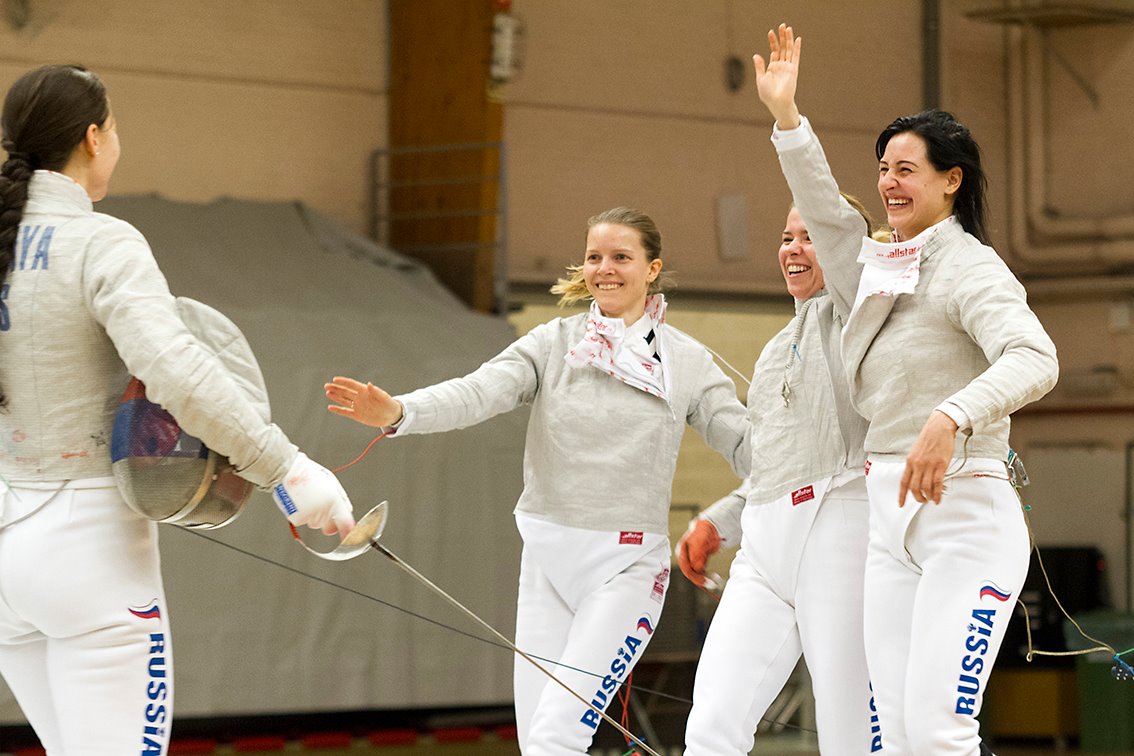 Team Russia celebrates victory over France in the final of the Women's team sabre World Cup in Gand on Sunday
Photos: © Luc Geveart