At the 2015 world championships in Moscow, Italy won the Men's Team Foil, the final event of the competition. It brought Italy's total number of gold medals to four in Moscow. The foil medalists had the honor to be awarded by Thomas Bach, IOC President and Olympian in foil, along with the FIE President Alisher Usmanov for the last awards of the Fencing World Championships 2015. 
Italy also was victorious in the Women's Team Foil, the Men's Team Sabre and the women's individual épée. Italy thereby matched Russia's gold medal total. By virtue of having won more silver medals, the host nation tops the medal table in Moscow. Italy reclaimed the world title they lost to France in 2014. They had last won it in 2013.
Andrea Cassara (ITA) took his fifth gold medal in the team foil event at the world championships, becoming the seventh male fencer with more than four gold medals in this event at the world championships.
Cassara took his ninth total medal in this event. Only five fencers have won more than eight and only one has more than nine, Aleksandr Romankov (URS) who took 10. Russia matched their best performance in this event. They won a silver medal in this event 20 years ago, in 1995.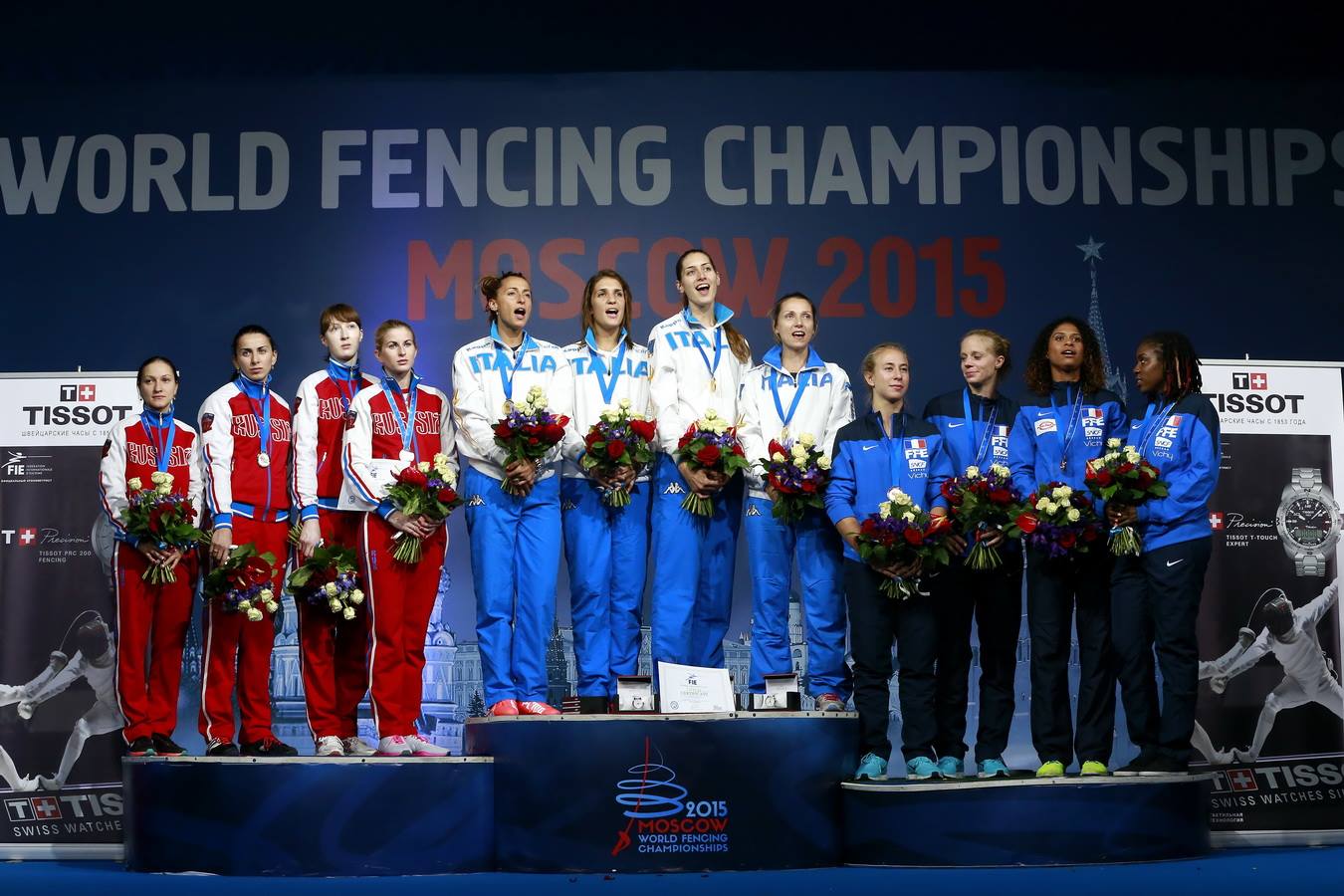 In Women's team foil, Italy won the Women's Team Foil competition, the penultimate event of the tournament.
Italy denied hosts Russia in the final for their third gold medal in a row in this event at world championships. Italy have also taken five of the last six gold medals at the world championships. The only team to deny the Italians in this span was Russia, who won the world title in 2011.
The Italians made amends for not sending a single fencer to the final of the individual foil event. Arianna Errigo was their most prolific at that by winning a bronze medal. Elisa Di Francisca (ITA) won her sixth gold medal in this event and her ninth in total. Valentina Vezzali (ITA) extended her record of gold medals in this event, claiming her 10th in the team foil. No one else has won more than seven gold medals in this event. Vezzali claimed her 13th overall medal in this event. She set a new record, overtaking the 12 by former teammate Giovanna Trillini (ITA). Vezzali claimed her 16th gold medal (all events) at the world championships which is an extension of the record among all fencers, male or female. Vezzali's 25th total medal is trumped by only one (male) fencer, Edoardo Mangiarotti (ITA).