Max Heinzer (SUI) has given the Swiss reason for happiness on Sunday. The 27-year-old got the silver medal in the individual epee event. He believed in it until the very last moment. Supported by a fervent crowd in the sold-out Auditorium Stravinski, Heinzer tried to stage yet another comeback versus Gauthier Grumier (FRA) but the member of the équipe tricolore proved too strong. Heinzer quickly left the disappointment behind: "I was a little down the first ten seconds but I am incredibly proud to have won the silber at home. This gives me lots of motivation for the future."
In the final bout, Heinzer risked a lot. This hadn't been the initial plan but as he had injured his hand in the semifinal he tried to shorten the points. "It has bothered me but I don't want to take it as an excuse", Heinzer said during his marathon with national and international media. It was his fourth individual medal at European Championships, the three previous ones had all been of bronze colour. Grumier gave the French their first epee title since 2010 (Jean-Michel Lucenay).
He definitely deserved the medal thanks to two great comebacks in the previous rounds. In the round of 8, Heinzer was 10-11 down in the beginning of the additional minute with the priority being given to his opponent. One round later, Heinzer needed yet another overtime with priority being again given to his opponent. However, he managed to get the "sudden death" win versus Gabor Boczko.
Men's epee podium :
Gold : Grumier Gauthier (FRA)
Silver : Heinzer Max (SUI)
Bronze : Sukhov Pavel (RUS)
Bronze : Boczko Gabor (HUN)
On the women's sabre competitions, after claiming five titles in the last six years the streak of Olha Kharlan ended in women's sabre. The Ukrainian star suffered an early loss, the title went to Russian Sofya Velikaya winning over Lembach Charlotte from France 15-14.
Women's sabre podium :
Gold : Velikaya Sofya (RUS)
Silver : Lembach Charlotte (FRA)
Bronze : Gregorio Rossella (ITA)
Bronze : Voronina Olena (UKR)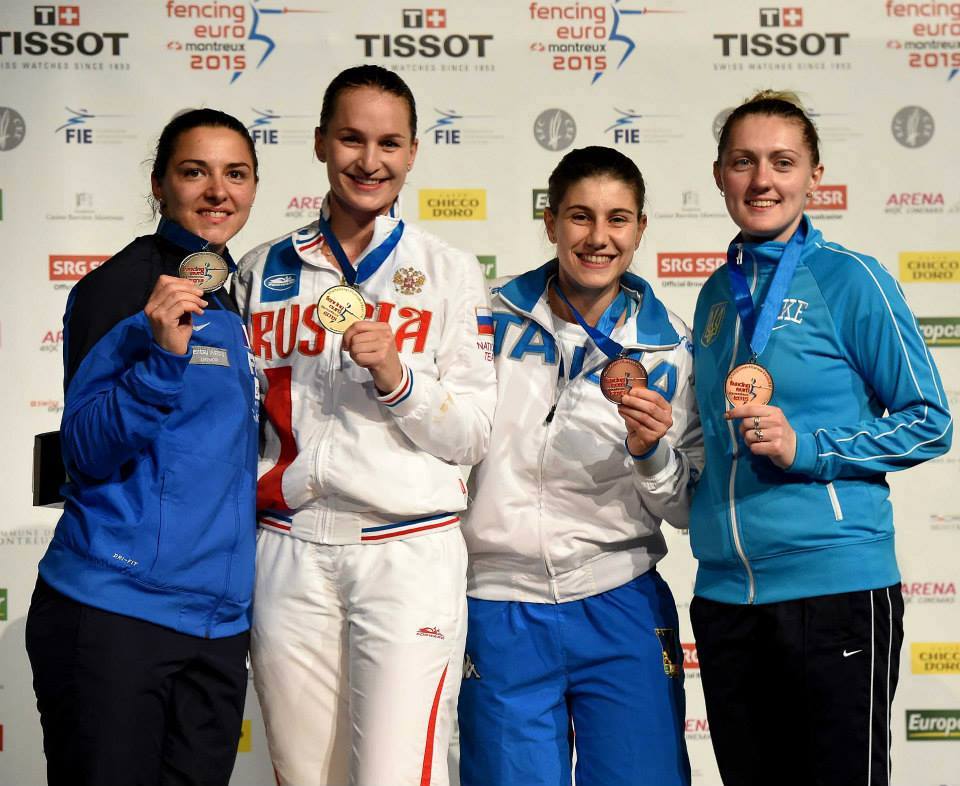 Watch Live Stream the event through the FIE fencing channel
Follow the Euro Fencing 2015 Montreux on: Twitter Facebook Instagram
©Valeriano Di Domenico © Augusto Bizzi