Italy has started in the best possible way into the European Championships in Montreux. The Azzurri took gold Cassara Andrea, silver Garozzo Daniele, bronze Luperi Edoardo and Spain's Llavador Carlos in the men's foil event. 
Andrea Cassara prevailed in the all-italian final versus Daniele Garozzo and therefore avenged a loss to his compatriot in this year's Grand Prix event in Turin. Cassara came back from 10-11 down to take the win 15-11. "I should have done much better in the last phase", Garozzo said.
Due to his final win, Cassara was able to listen to the "Inno di Mameli" for the fourth time after a individual European championship. The 31-year-old had previously taken the continental title in 2002, 2005 and 2008 and is now the first athlete in the foil competition to hold four titles. "I am more than happy and will now take a ten day break. This win is a boost with regard to my big goal in a little over a year." It's no doubt, Cassara wants to crown his successful career by claiming the individual gold at the Olympics in Rio de Janeiro.
In the women's epee event, Russian Violetta Kolobova took her maiden gold. The 23-year-athlete from the prestigious club of Dynamo Moscow prevailed over reigning World Champion Rossella Flamingo. "I m very happy to take this title", Kolobova said, "it was a long and difficult day." Her opponent from Sicily was slightly disappointed. "I would have loved to be World and European champion simultaneously and I am especially disappointed that I didn't have the courage to act in a more offensive manner."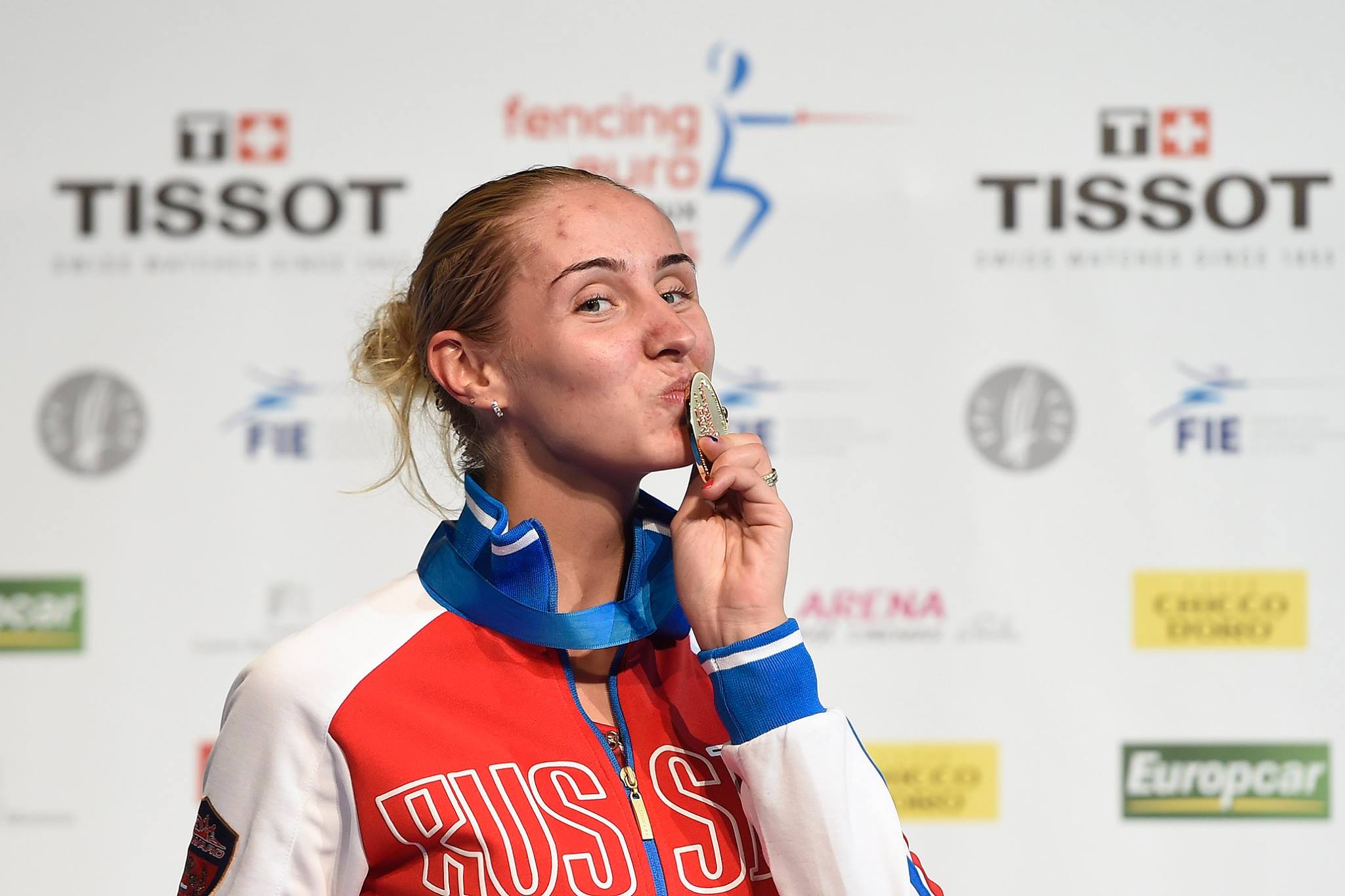 Also the local spectators had quite a bit to cheer for and could even briefly dream about a medal. Tiffany Géroudet, European Champion in 2011, was from the beginning in great shape and advanced to the table of 16 thanks to a clear win over Estonian Erika Kirpu, number 3 in the FIE ranking. Then, Géroudet lost to world number 1 Emese Szasz after holding a 9-5 lead and later a 14-13 advantage. "It hurts to lose like this, I was so close", Géroudet admitted.
Watch Live Stream the event through the FIE fencing channel
Follow the Euro Fencing 2015 Montreux on: Twitter Facebook Instagram
©Valeriano Di Domenico