MILAN, Italy, July 25, 2023 – France's Marie-Florence Candassamy won the gold medal in women's individual epee at the 2023 Milan Fencing World Championships and USA's Eli Dershwitz won the gold medal in individual men's sabre. It was the first of six days including 12 gold-medal events in women's and men's individual and team competition in epee, foil and sabre. In all, 184 women and 170 men competed in today's epee and sabre events. The Championships are taking place in Milan's Allianz MiCo, the largest convention centre in Europe.
The opening ceremony took place this evening, with FIE Interim President Emmanuel Katsiadakis welcoming His Excellency Sergio Mattarella, President of the Italian Republic, who officially declared the World Championships open. Speeches were also given by Giovanni Malagò, President of the Italian National Olympic Committee and Marco Fichera, President of the Milan 2023 Fencing World Championships. Guest dignitaries included Andrea Abodi, Italian Minister for Sport and Youth; Luca Pancalli, President of the Italian Paralympic Committee; Attilio Fontana, President of the Lombardy Region; Giuseppe Sala, Mayor of Milan; Giorgio Scarso, President of the European Fencing Confederation; and Paolo Azzi, President of the Italian Fencing Federation.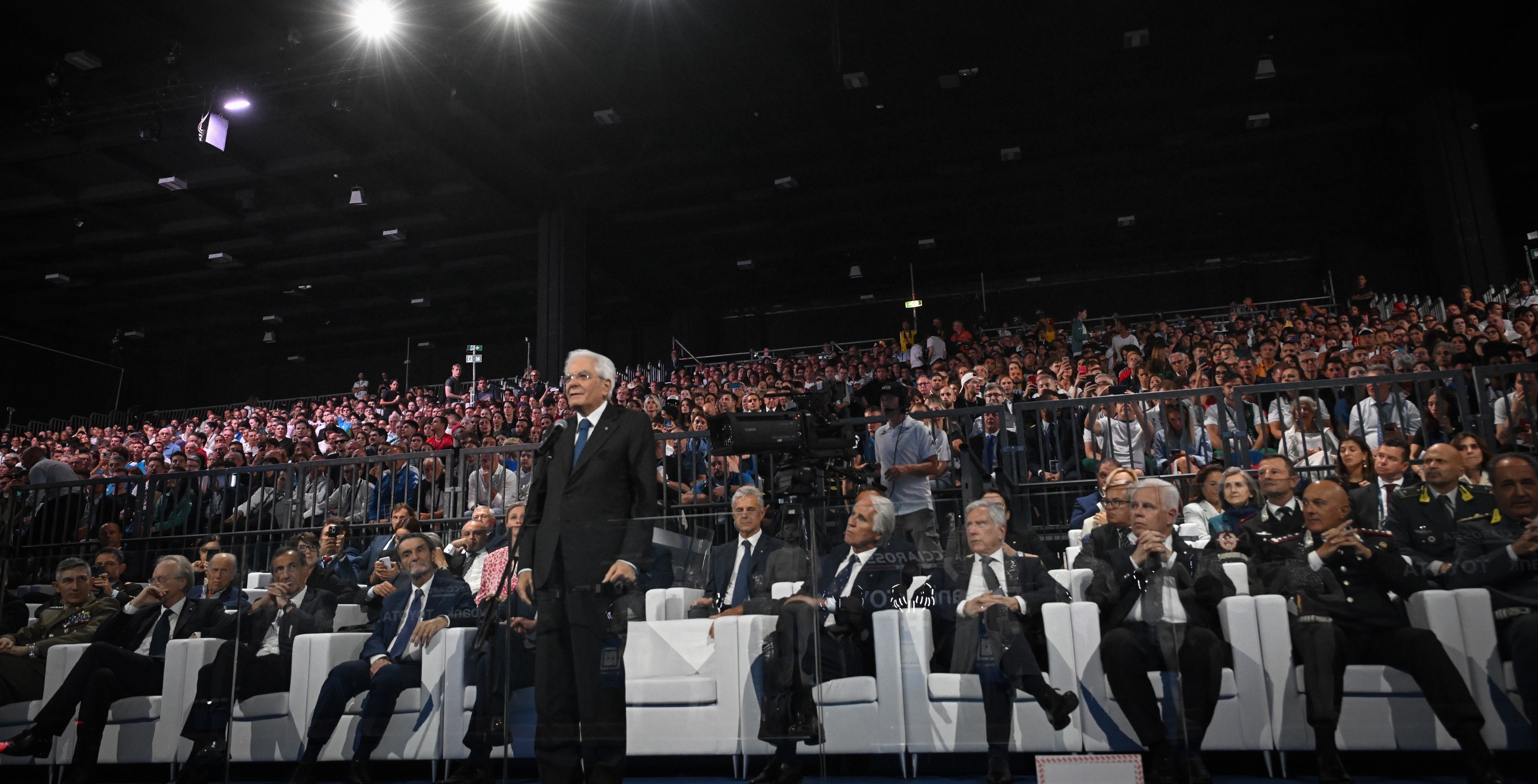 Candassamy faced Italy's Alberta Santuccio in the final bout of women's individual epee, winning with a 15-12 score. In the semifinal round, Santuccio won against teammate and world champion Mara Navarria, 15-14, while Candassamy defeated China's Olympic champion Yiwen Sun, 14-10. Of note, in the table of 16, Santuccio beat Brazil's world champion Nathalie Moellhausen, 10-9, and Sun won against Korea's world champion Sera Song, 12-9.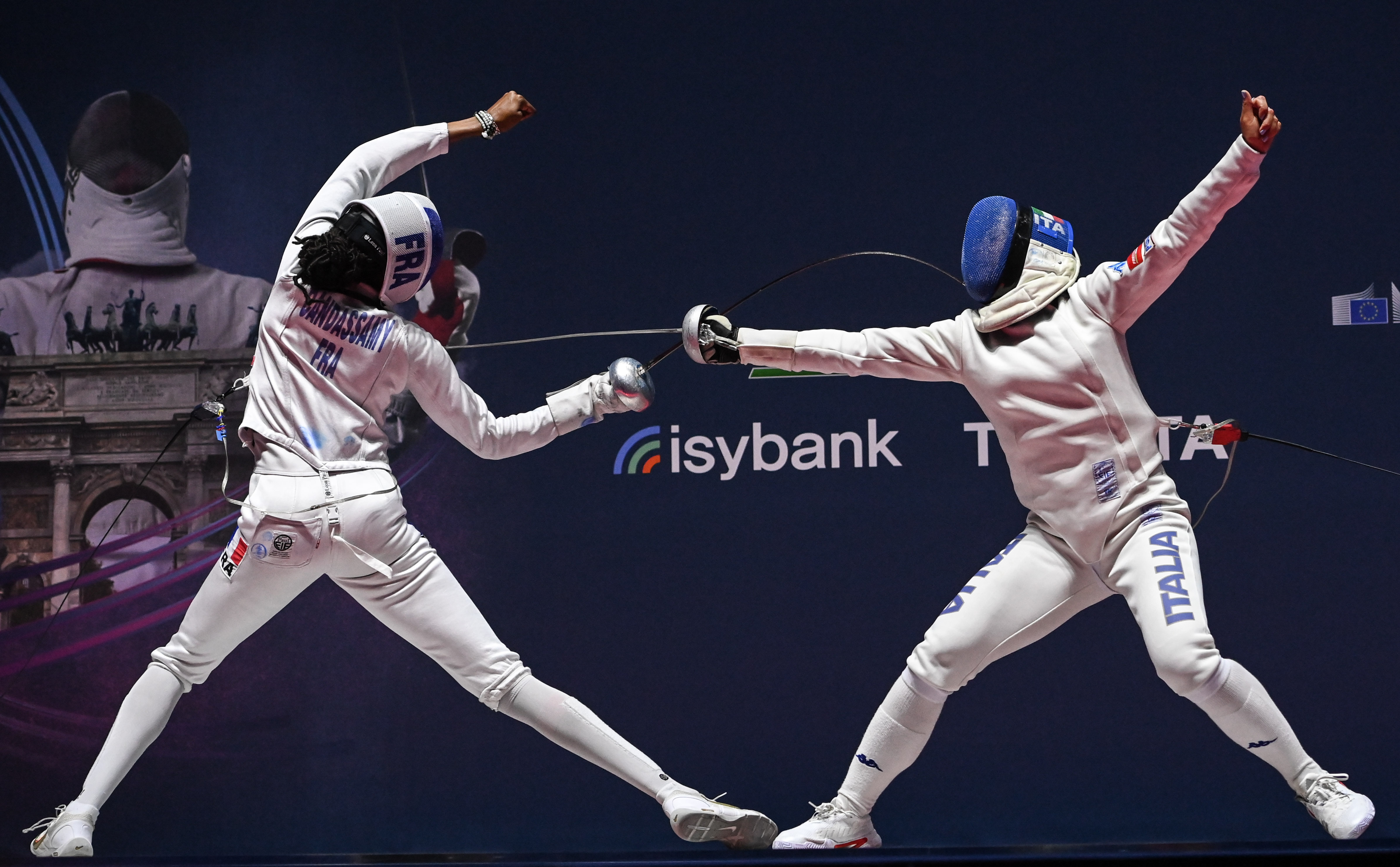 "I'm very, very happy, and it was a big surprise—wow, just wow", said Candassamy. "My biggest challenge today was to just stay focused."
Dershwitz faced Georgia's Sandro Bazadze in the final bout of men's individual sabre, winning with a 15-6 score, the first time in history for the USA to win this title. In the semifinal round, Bazadze won against Egypt's Ziad Elsissy, 15-14, while Dershwitz defeated Hungary's world and three-time Olympic champion Aron Szilagyi, 15-13.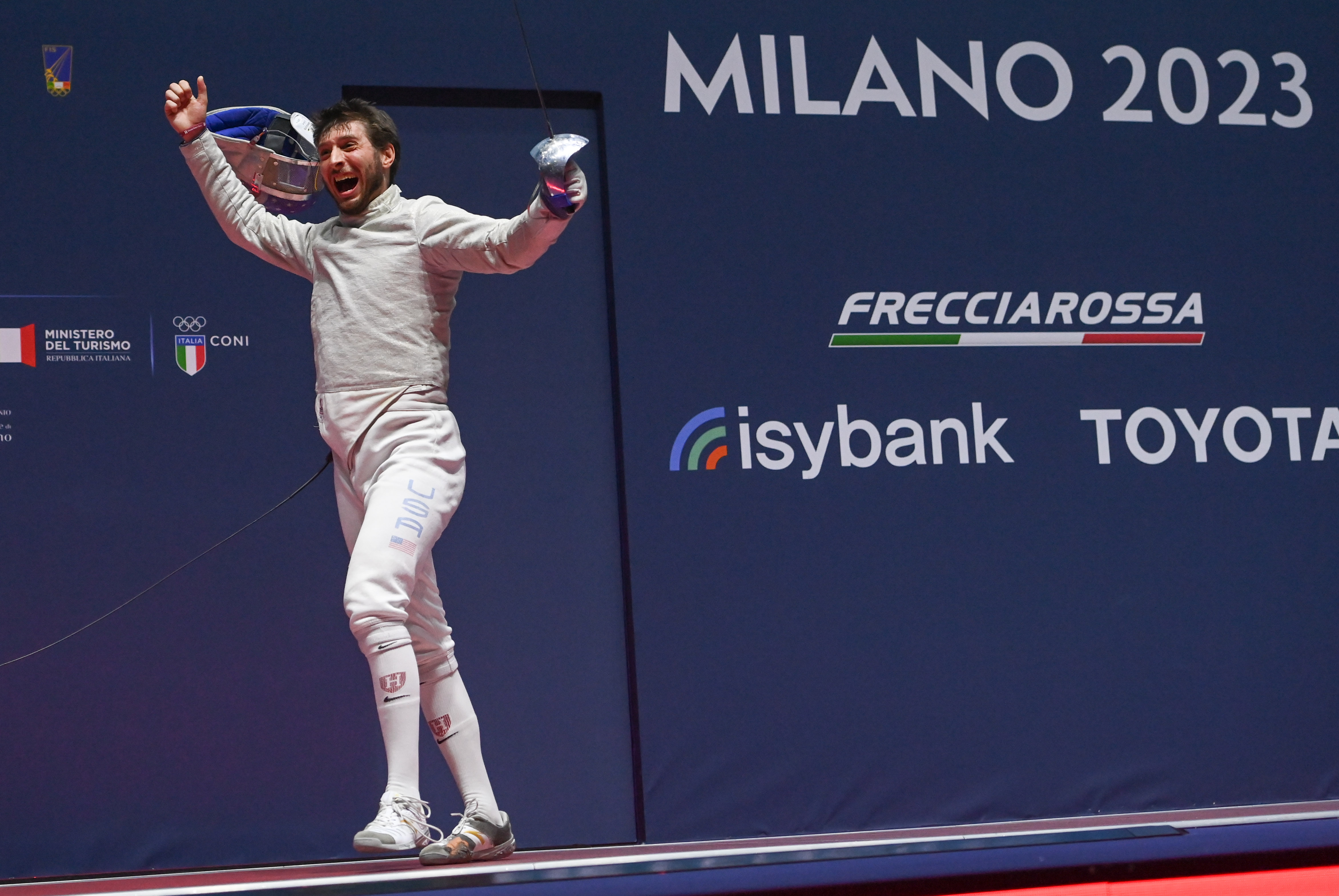 It still doesn't feel real, I'm so grateful that I have so many friends, coaches, and my family", said Dershwitz. "Today started off slow, but as the day went on, I got faster. My last bouts with Szilagyi and Bazadze were definitely two of the hardest matches in my life—I want to go back and watch it on YouTube to see how I did it!"
Final rankings in women's individual epee included Marie-Florence Candassamy (FRA, gold), Alberta Santuccio (ITA, silver), Mara Navarria (ITA, bronze), Yiwen Sun (CHN, bronze), Man Wai Vivian Kong (HKG), Anna Kun (HUN), Rossella Fiamingo (ITA) and Alexandra Louis Marie (FRA).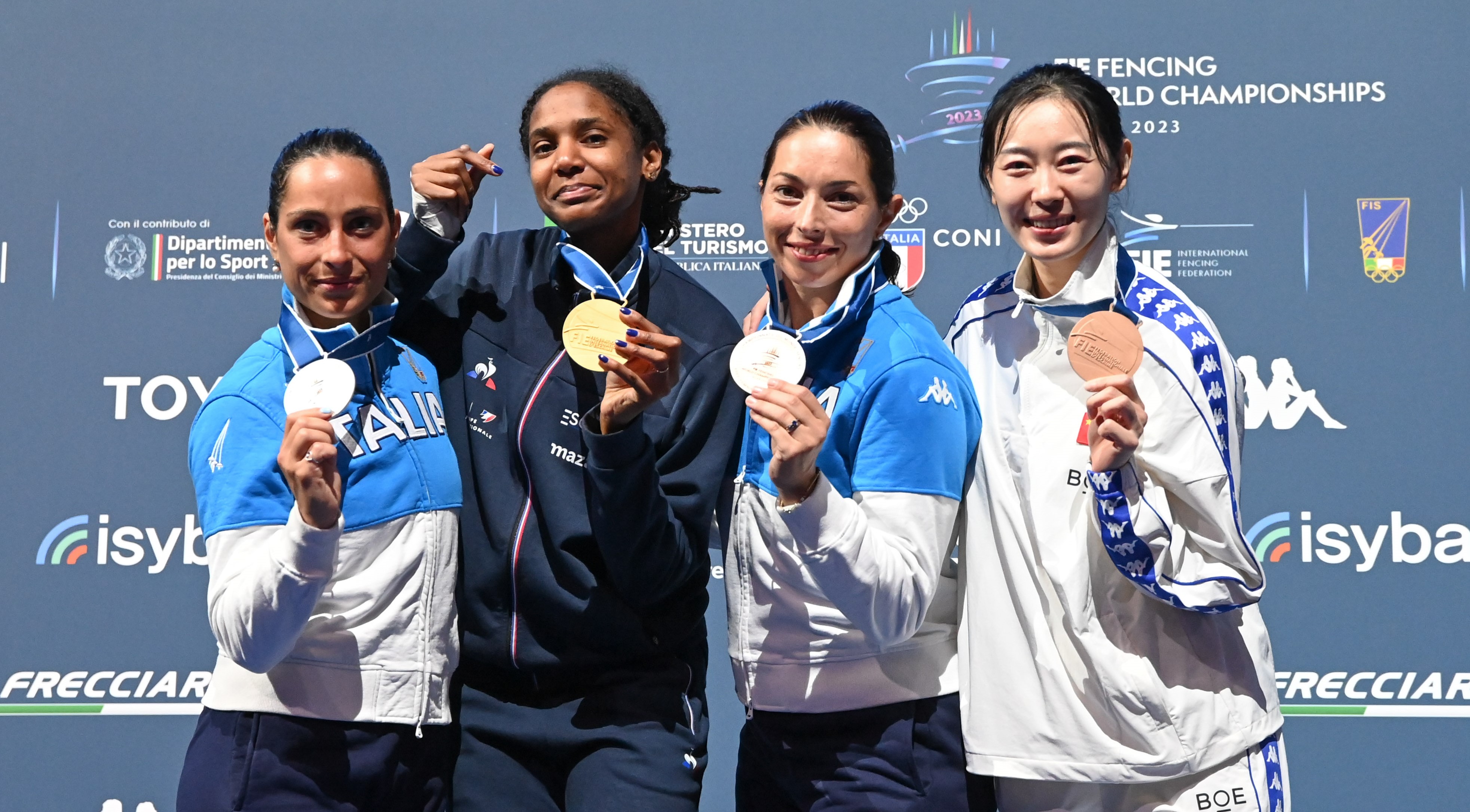 Final Rankings in men's individual sabre included Eli Dershwitz (USA, gold), Sandro Bazadze (GEO, silver), Ziad Elsissy (EGY, bronze), Aron Szilagyi (HUN, bronze), Michele Gallo (ITA), Kento Yoshida (JPN), Szymon Hryciuk (POL) and Hansol Ha (KOR).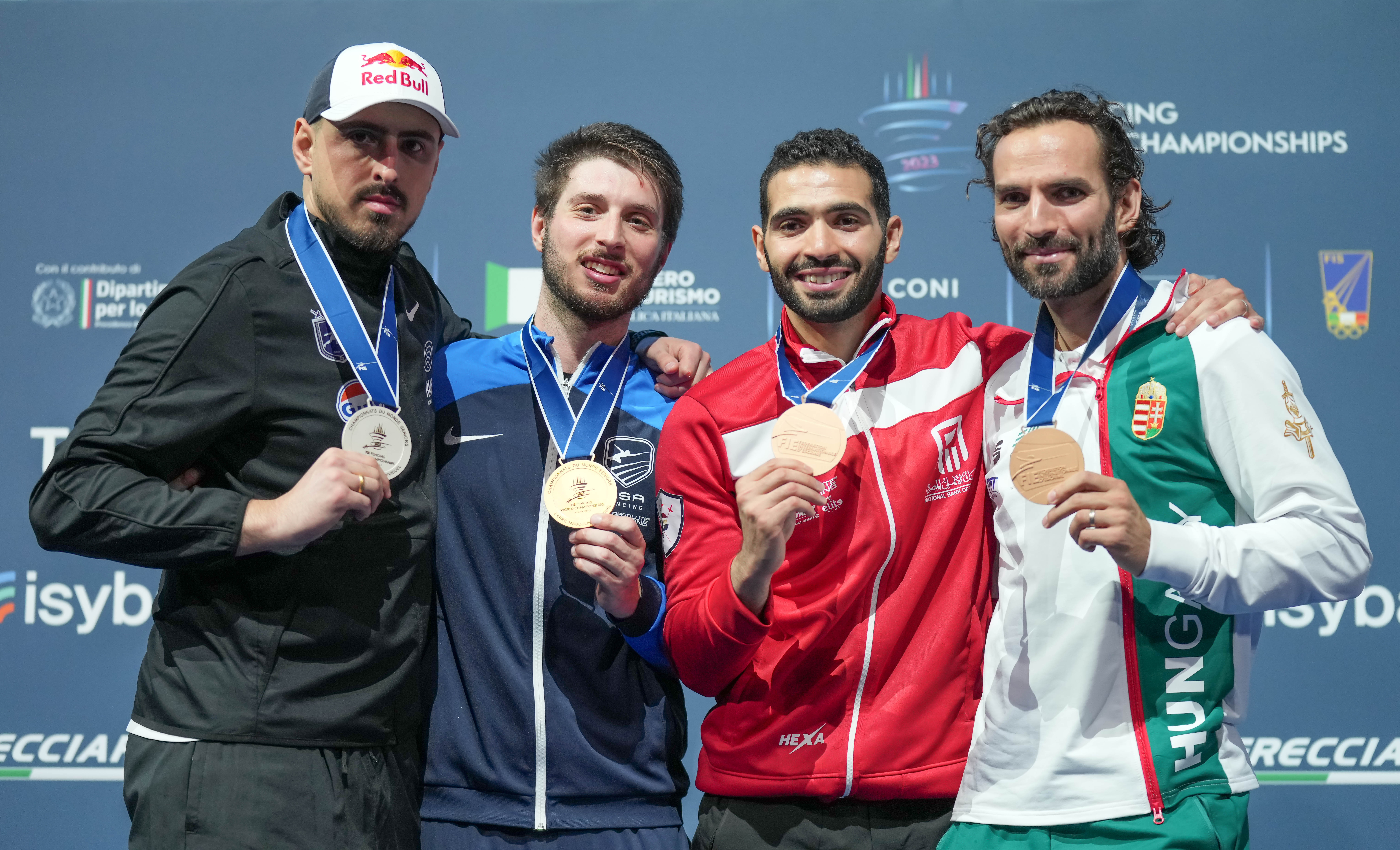 Complete and official results for the event may be found here on the FIE web site. For more exciting world fencing news and features, check out the YouTube FIE Fencing Channel. Find official photos from this and other events on the FIE Facebook page.
Official website of the 2023 Milan Fencing World Championships: https://milano2023.com/
#fencing #fencingworldchampionships #milan2023 #epee #sabre #foil