CAIRO, Egypt, July 20, 2022—French reigning world champion Enzo Lefort won the gold medal in individual men's foil at the 2022 Cairo Fencing World Championships and Japan's Misaki Emura won the gold in individual women's sabre. It was the third of six days that include 12 gold-medal events in men's and women's individual and team competition in epee, foil and sabre. In all, 156 men from 55 countries and 133 women from 46 countries participated in today's foil and sabre events. The Championships are taking place at the Indoor Halls Complex of the Cairo International Stadium, Nasr City.
Lefort faced Italy's Tommaso Marini in the final match of individual men's foil, winning with a 15-14 score. Marini won against Hong Kong, China's Olympic champion Ka Long Cheung in the semifinal round, 15-12, while Lefort defeated USA's Nick Itkin, 15-14. Of note, Itkin beat Italian world champion Alessio Foconi in the quarterfinals, 15-5, and Hungary's Gergo Szemes defeated Italian Olympic champion Daniele Garozzo in the round of 16, 15-12.
"People made fun of me as the longest-reigning champion because of the pandemic, I stayed world champion for three years", said Lefort. "And now it seems like a dream—another year as reigning champion. I put my heart into today after some injuries and other challenges. I can't realize it yet, and I want to embrace every drop of it."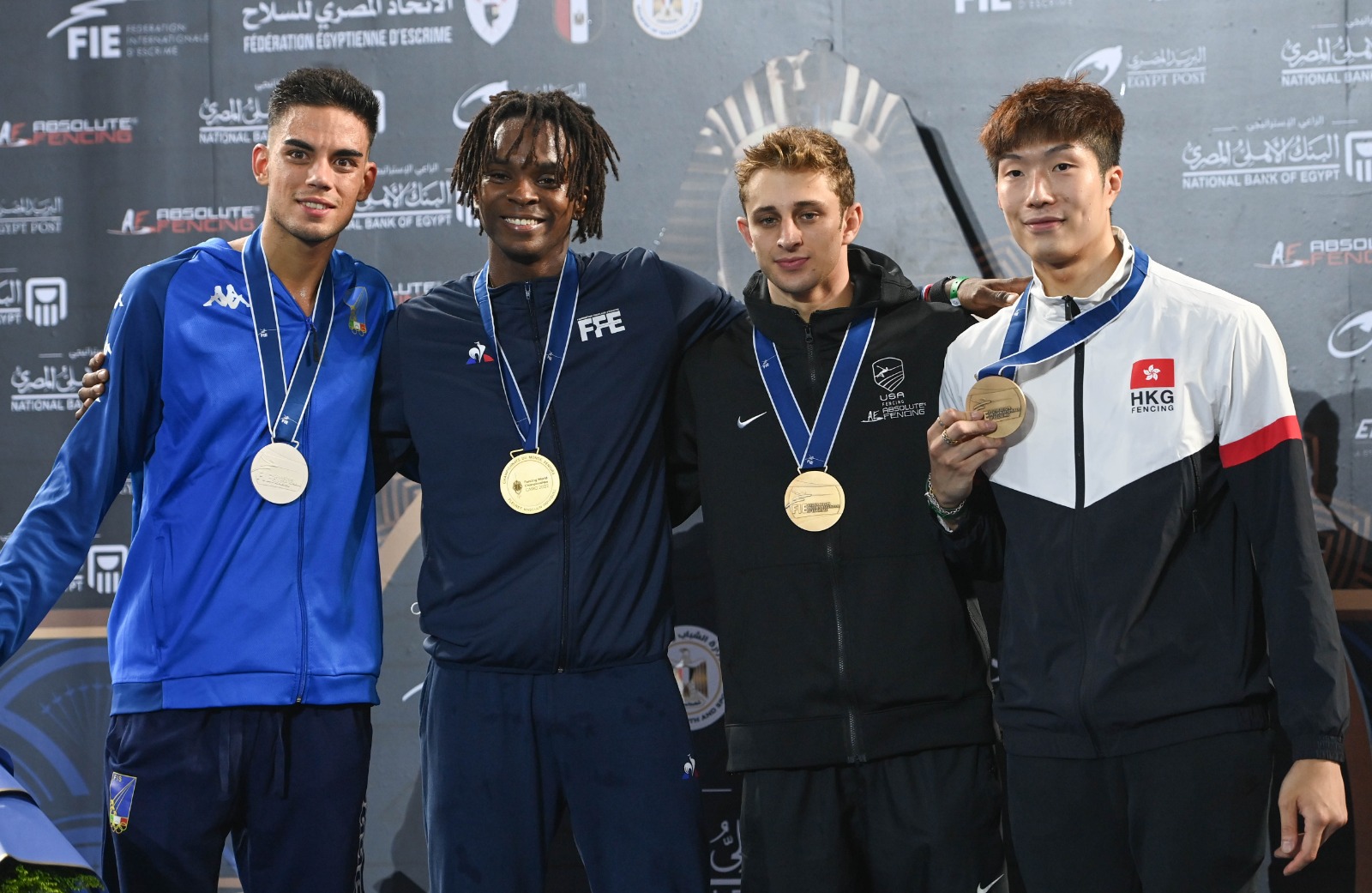 In individual women's sabre, Emura faced Azerbaijan's Anna Bashta in the final match, winning the first-ever sabre medal for Japan at the World Championships with a 15-10 score. Bashta won against Greece's Despina Georgiadou in the semifinal round, 15-9, while Emura defeated Spain's Araceli Navarro, 15-5. Of note, Navarro beat Korea's Olympic champion Jiyeon Kim in the round of 32, 15-14, and Italy's Martina Criscio defeated Ukraine's four-time world champion Olga Kharlan in the same round.
"It's like a dream", said Emura. "It's the first world [sabre] medal for my country. It might have looked easy, but for me it was very difficult, and I was nervous before the games—but now I'm relaxed and feel wonderful."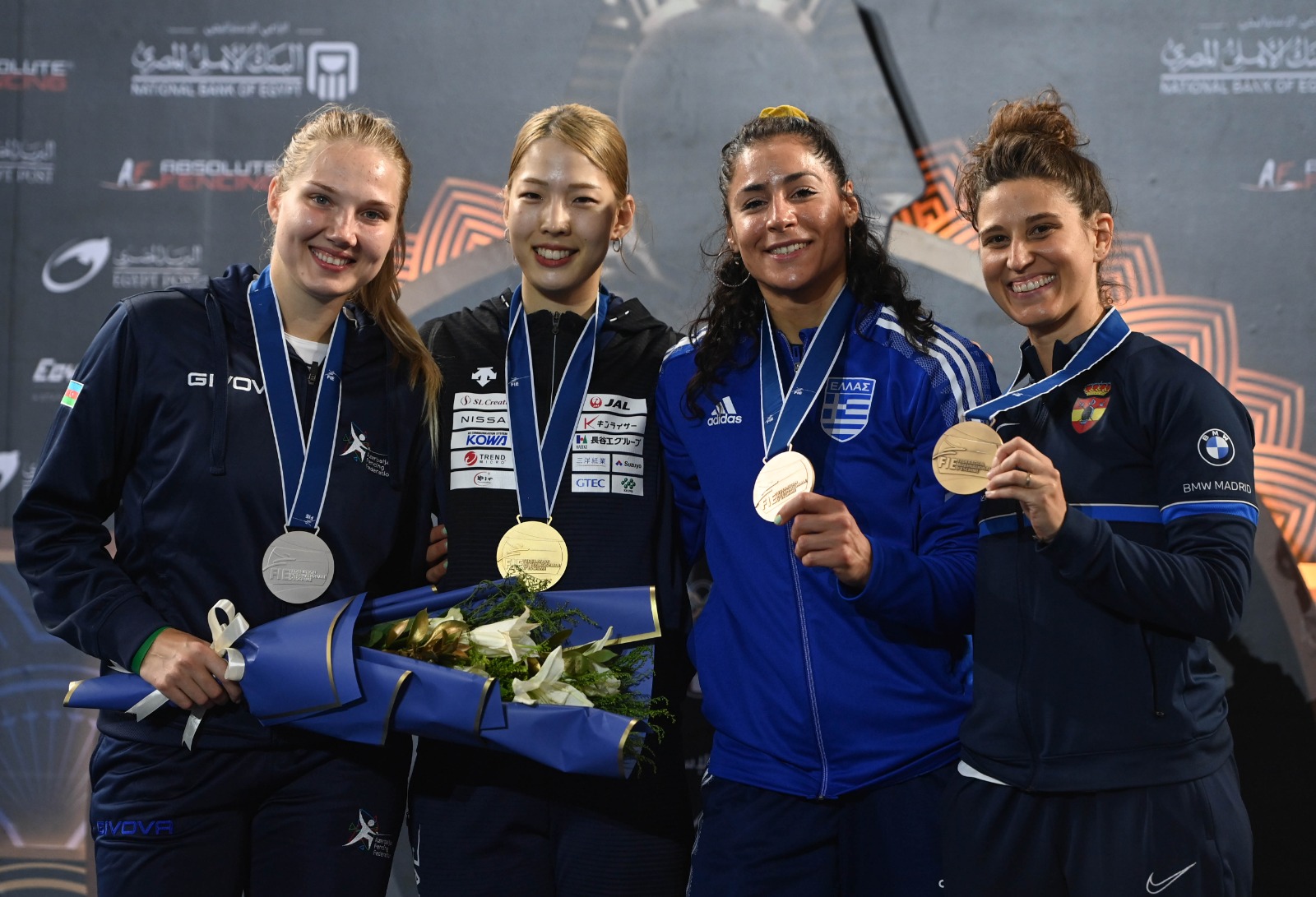 Final rankings in men's individual foil included Enzo Lefort (FRA, gold), Tommaso Marini (ITA, silver), Nick Itkin (USA, bronze), Ka Long Cheung (HKG, bronze), Alessio Foconi (ITA), Alaaeldin Abouelkassem (EGY), Alexander Choupenitch (CZE) and Gergo Szemes (HUN).
Final rankings in women's individual sabre included Misaki Emura (JPN, gold), Anna Bashta (AZE, silver), Araceli Navarro (ESP, bronze), Despina Georgiadou (GRE, bronze), Theodora Gkountoura (GRE), Lucia Martin-Portugues (ESP), Sarah Noutcha (FRA) and Larissa Eifler (GER).
Official website of the event: http://fwc.fencingegypt.org
Full information regarding this and other events may be found on the FIE Web site atwww.FIE.org/competitions.
#Cairo2022 #FencingWorldChampionships