CAIRO, Egypt, July 19, 2022—French Olympic champion Romain Cannone won the gold medal in individual men's epee at the 2022 Cairo Fencing World Championships and France's Ysaora Thibus won the gold in individual women's foil. It was the second of six days that include 12 gold-medal events in men's and women's individual and team competition in epee, foil and sabre. In all, 192 men from 70 countries and 118 women from 44 countries participated in today's epee and foil events. The Championships are taking place at the Indoor Halls Complex of the Cairo International Stadium, Nasr City.
Cannone faced Japan's Kazuyasu Minobe in the final match of individual men's epee, winning with a 15-12 score. Minobe won against Ukraine's Igor Reizlin in the semifinal round, 13-12, while Cannone defeated Belgium's Neisser Loyola, 15-14. Of note, Kazakhstan's Elmir Alimzhanov defeated Hungarian world champion Gergely Siklosi in the round of 16, 15-9; Ukraine's Volodymyr Stankevych beat Venezuela's Olympic champion Ruben Limardo Gascon in the round of 32, 15-11; and Minobe beat French world champion Yannick Borel in the round of 32, 15-13. France has won the individual men's epee world title more than any other country.
"I'm so happy because becoming Olympic or world champion for me is a kid's dream come true", said Cannone. "My teammates encouraged me the whole way. We had new coaches this year, and we worked really well together. I'm happy I haven't dropped off the cliff after the Olympics, I jumped into working and it paid off."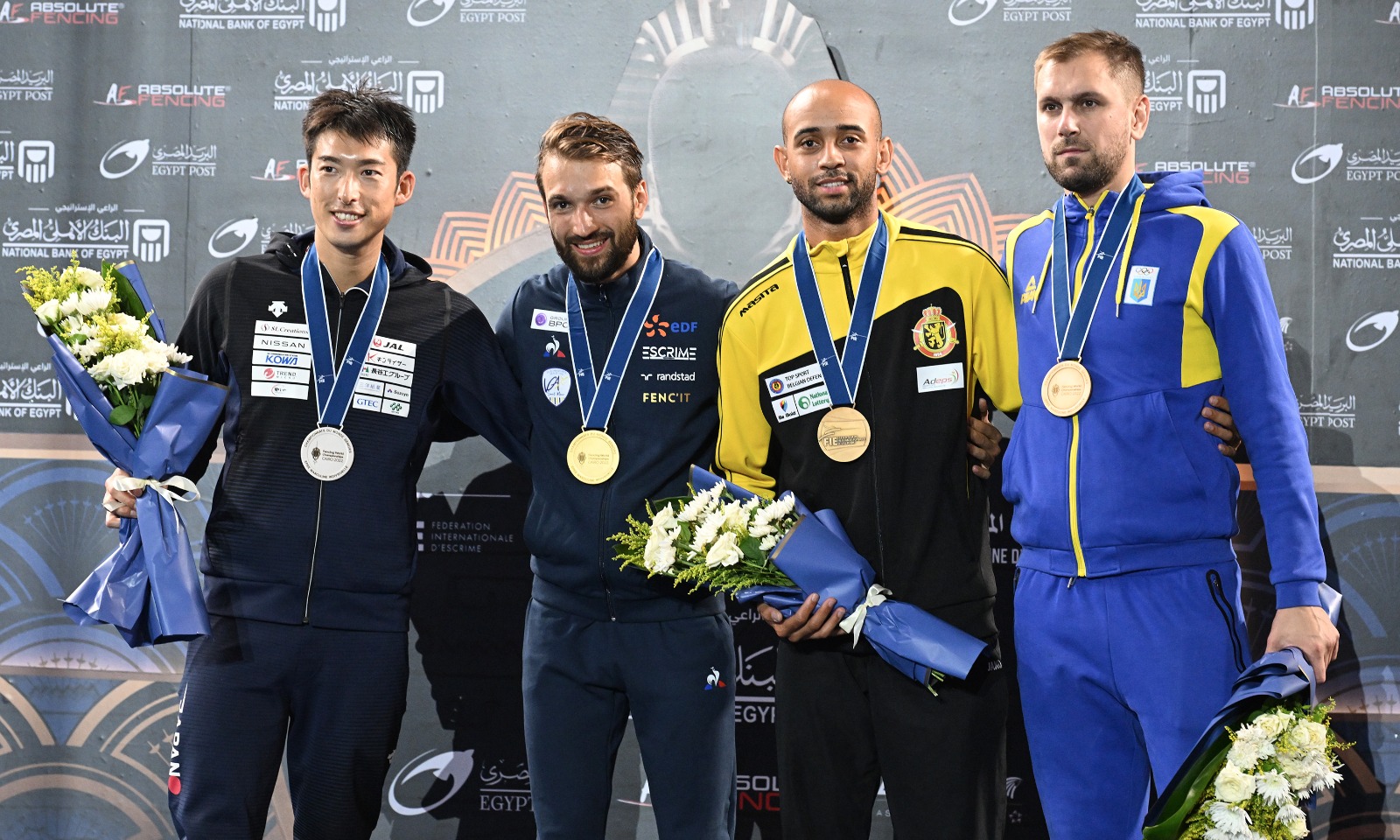 In individual women's foil, Thibus faced Italian two-time world champion Arianna Errigo in the final match, winning with a 15-10 score. Errigo won against USA's Olympic champion Lee Kiefer in the semifinal round, 15-14, while Thibus defeated Romania's Maria Boldor, 15-3. Of note, USA's Maia Mei Weintraub beat Italian world champion Alice Volpi in the round of 32, 15-13.
"I can't believe it, I trained so much for this moment", said Thibus. "It's just amazing—I can't stop crying. It was very difficult, I had COVID, I was sick arriving in Egypt, and everything was hard and yet I fought all the way through with the help of my fiancé, my friends and everyone supporting me."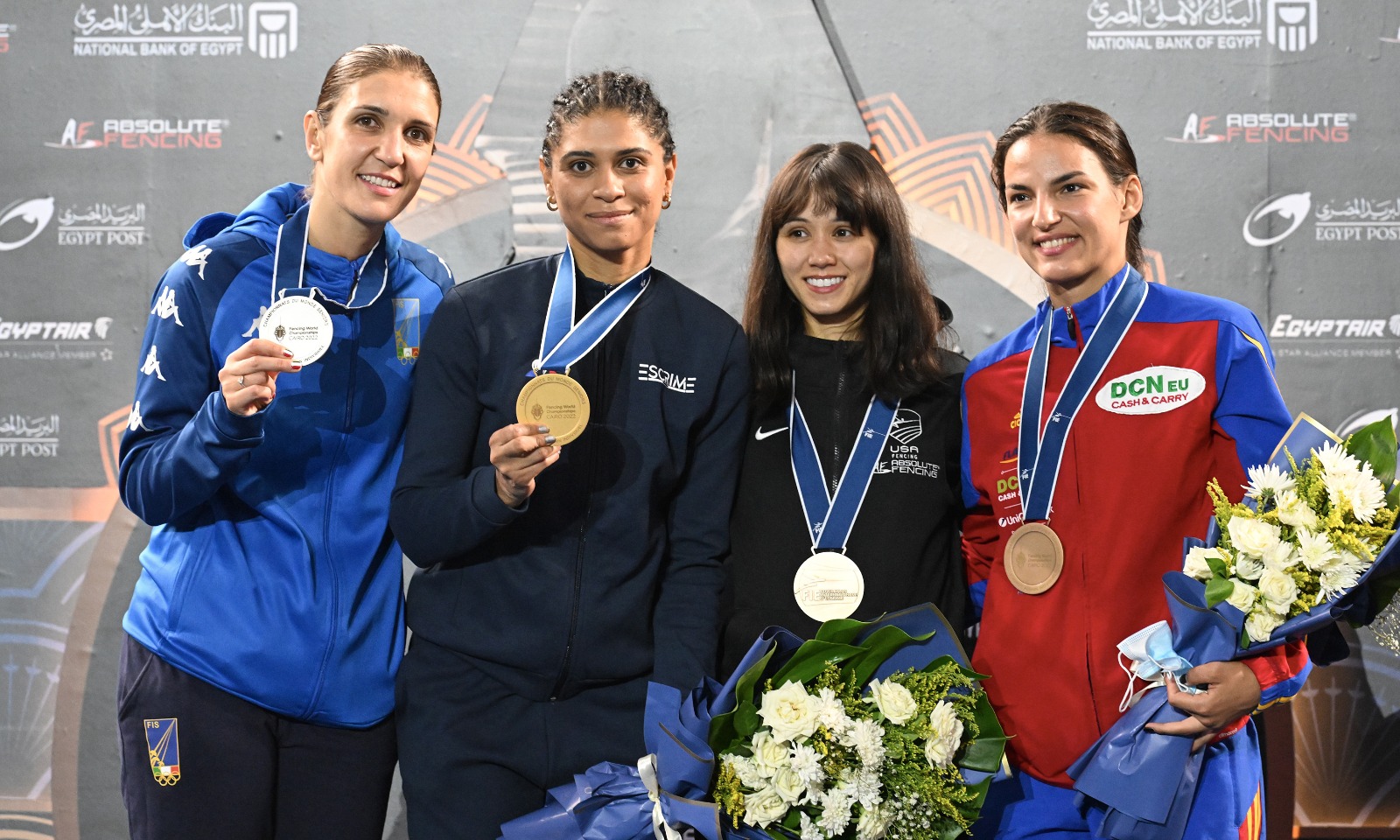 Final rankings in men's individual epee included Romain Cannone (FRA, gold), Kazuyasu Minobe (JPN, silver), Neisser Loyola (BEL, bronze), Igor Reizlin (UKR, bronze), Koki Kano (JPN), Ruslan Kurbanov (KAZ), Elmir Alimzhanov (KAZ) and Hoi Sun Fong (HKG).
Final rankings in women's individual foil included Ysaora Thibus (FRA, gold), Arianna Errigo (ITA, silver), Maria Boldor (ROU, bronze), Lee Kiefer (USA, bronze), Yuka Ueno (JPN), Francesca Palumbo (ITA), Sera Azuma (JPN) and Pauline Ranvier (FRA).
Official website of the event: http://fwc.fencingegypt.org
Full information regarding this and other events may be found on the FIE Web site at www.FIE.org/competitions.
#Cairo2022 #FencingWorldChampionships