CAIRO, Egypt, July 18, 2022—Hungarian three-time Olympic gold medallist Aron Szilagyi won the gold medal in individual men's sabre at the 2022 Cairo Fencing World Championships and Korea's Sera Song won the gold in individual women's epee. It was the first of six days that include 12 gold-medal events in men's and women's individual and team competition in epee, foil and sabre. In all, 144 men from 50 countries and 159 women from 64 countries participated in today's sabre and epee events. The Championships are taking place at the Indoor Halls Complex of the Cairo International Stadium, Nasr City.
The opening ceremony also took place this evening, with FIE Interim President Emmanuel Katsiadakis welcoming guest dignitaries including Egyptian Minister of Youth and Sports, His Excellency Dr. Ashraf Sobhy; President of the Egyptian Olympic Committee, Engineer Hesham Hatab; President of the Egyptian Fencing Federation, Mr. Abdelmoneim El Husseiny; and President of the International Handball Association, Dr. Hassan Moustafa.

Szilagyi faced France's Maxime Pianfetti in the final match of individual men's sabre, winning with a 15-14 score. Pianfetti won against Romania's Iulian Teodosiu in the semifinal round, 15-11, while Szilagyi defeated Georgia's Sandro Bazadze, 15-11. Of note, Teodosiu beat Korean world champion Sanguk Oh in the quarterfinals, 15-14, and Szilagyi defeated teammate and world champion Andras Szatmari in the round of 16, 15-9. Hungary has won the most individual men's sabre medals at the Fencing World Championships, with 45.

"This is the first time I've won a World Championship, and after three Olympic gold medals I was eager", said Szilagyi. "This is exactly how I imagined it, and I'm happy and satisfied and thinking about celebration. The final was my hardest match, I had to beat myself as well and my talented, young opponent fenced very well."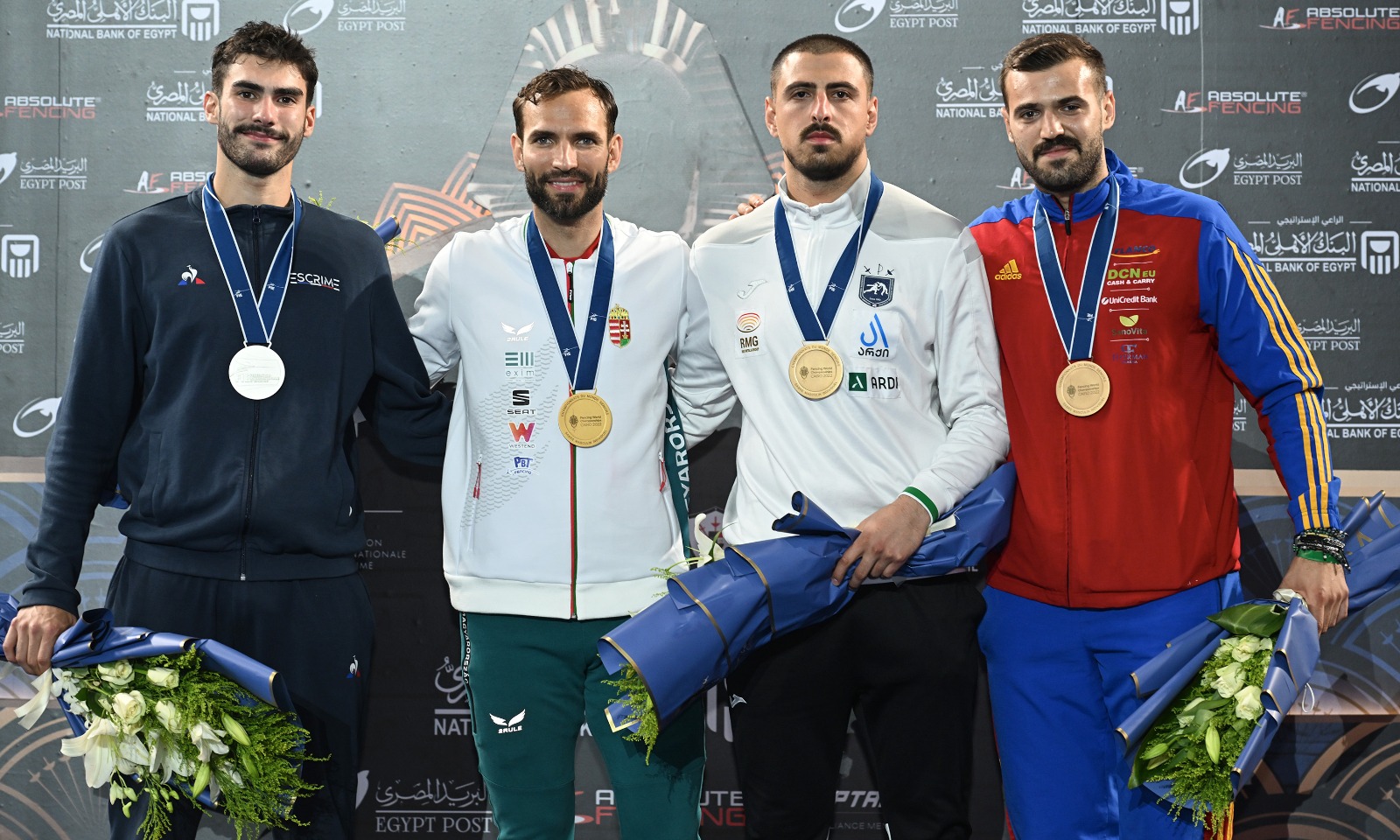 In individual women's epee, Song faced Germany's Alexandra Ndolo in the final match, winning with an 11-10 score. Ndolo won against Italian two-time world champion Rossella Fiamingo in the semifinal, 15-10, while Song defeated Hong Kong, China's Man Wai Vivian Kong, 14-9. Of note, Kong beat Italian world champion Mara Navarria in the quarterfinals, 12-11.
"It was great fortune for me and a very memorable day", said Song. "It was my dream to be world champion, and I still can't believe it. But I still need to keep progressing."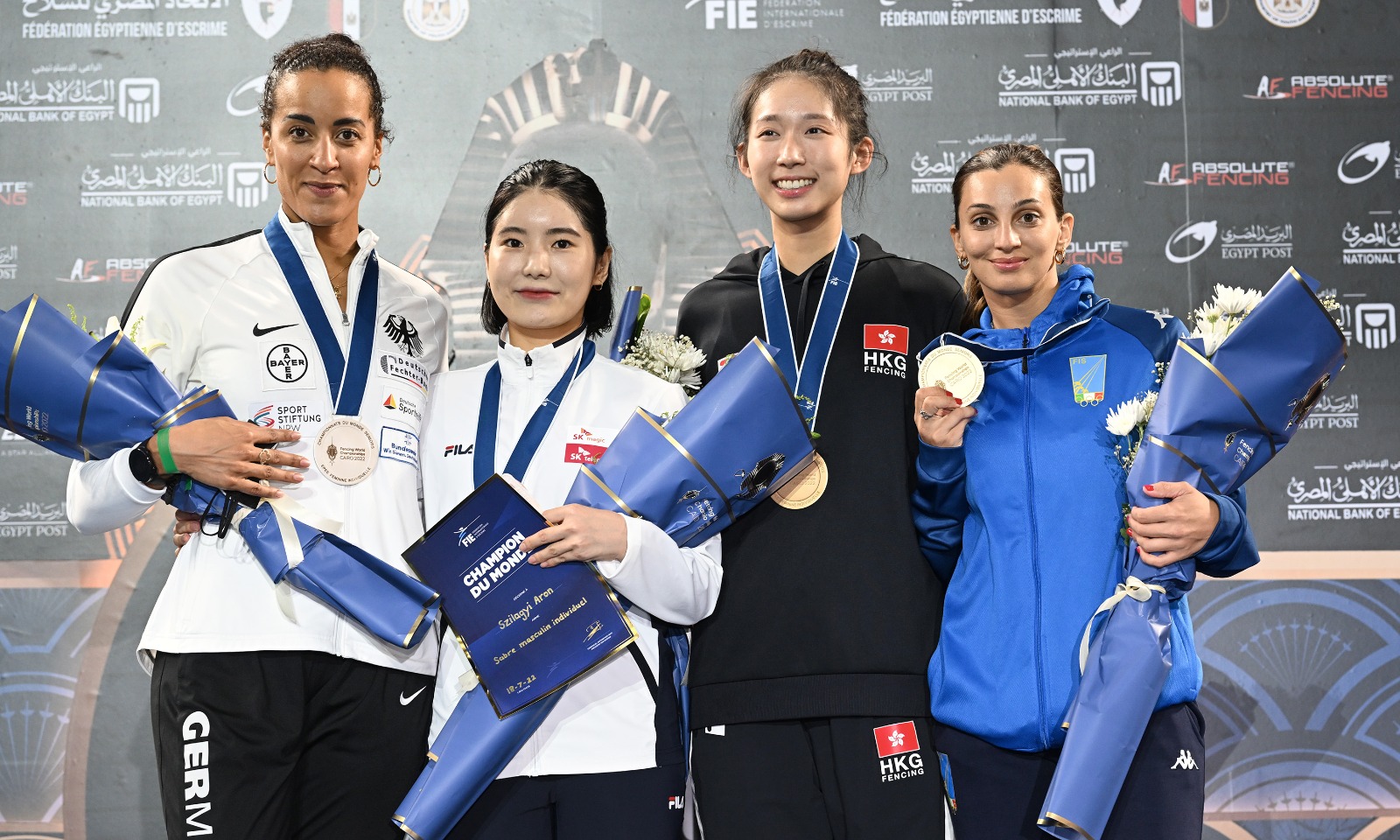 Final rankings in men's individual sabre included Aron Szilagyi (HUN, gold), Maxime Pianfetti (FRA, silver), Iulian Teodosiu (ROU, bronze), Sandro Bazadze (GEO, bronze), Sanguk Oh (KOR), Luigi Samele (ITA), Ali Pakdaman (IRI) and Pietro Torre (ITA).
Final rankings in women's individual epee included Sera Song (KOR, gold), Alexandra Ndolo (GER, silver), Man Wai Vivian Kong (HKG, bronze), Rossella Fiamingo (ITA, bronze), Nelli Differt (EST), Mara Navarria (ITA), Mingye Zhu (CHN) and Sihan Yu (CHN).
Official website of the event: http://fwc.fencingegypt.org
Full information regarding this and other events may be found on the FIE Web site at www.FIE.org/competitions.
#Cairo2022 #FencingWorldChampionships