DUBAI, United Arab Emirates, April 8, 2022—Hungary's Zsombor Keszthelyi and USA's Hadley N. Husisian won gold medals in individual junior epee at the 2022 Junior and Cadet Fencing World Championships. Today's competitions, on the seventh day of 18 events taking place over nine days, included 208 men's and 160 women's fencers and are being held at the City's Hamdan Sports Complex.
In the final match of men's epee, Keszthelyi faced Egypt's Mohamed Yasseen, winning the gold with a 14-12 score. In the semifinal round, Yasseen won against Great Britain's James Jeal, 15-12, while Keszthelyi defeated France's Lino Heurlin Vazquez, 15-13.
"I can't really believe it, because almost a month ago I won the European [Junior] Championships, which was my biggest result in my career so far, and this is just like a dream", said Keszthelyi. "I didn't do well in pools, had a tough draw, and then something changed. You have to keep chasing your dreams."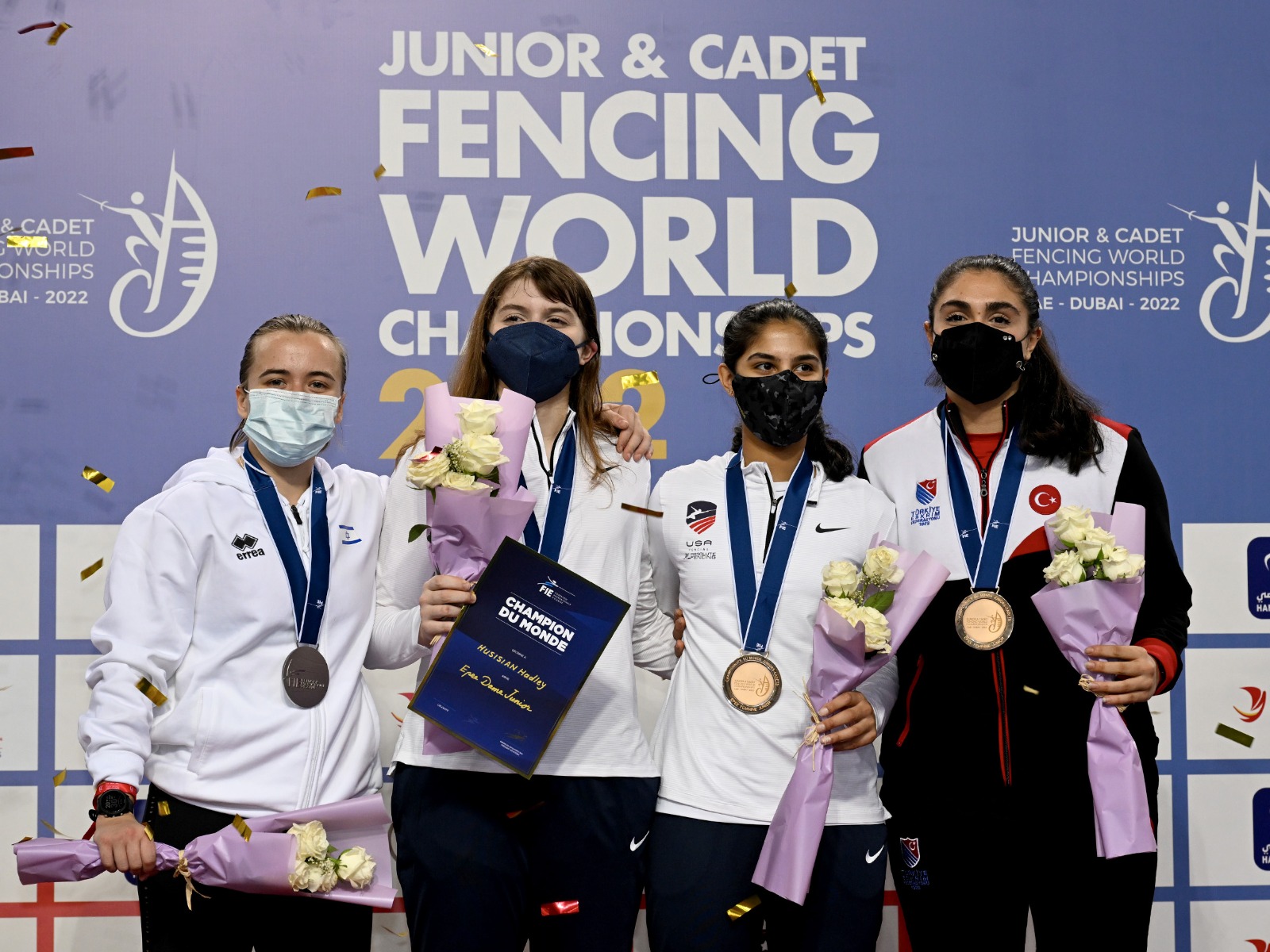 In the final match of women's epee, Husisian faced Israel's Nicole Feygin, winning with a 15-10 score. In the semifinal round, Feygin won against Turkey's Aleyna Erturk, 15-5, while Husisian defeated her teammate, Ketki Ketkar, 12-11.
"I've been working really hard and my coach has been working really hard with me, and after a long day and a long year it feels great to get this result", said Husisian. "I had a lot of comeback bouts, stayed calm and knew that I could do it. I took it touch-by-touch. This means a lot, it's been a tough year."
Final rankings for junior men's epee included Zsombor Keszthelyi (HUN, gold), Mohamed Yasseen (EGY, silver), James Jeal (GBR, bronze), Lino Heurlin Vazquez (FRA, bronze), Siva Magesh Sathasivan Nirmala (IND), Sven Vineis (SUI), Miguel Frazao (POR) and Ryu Matsumoto (JPN).
Final rankings for junior women's epee included Hadley Husisian (USA, gold), Nicole Feygin (ISR, silver), Aleyna Erturk (TUR, bronze), Ketki Ketkar (USA, bronze), Kinga Zgryzniak (POL), Eszter Muhari (HUN), Lili Buki (HUN) and Alicja Klasik (POL).
#DUBAI2022 #FENCING
Complete and official results for the event may be found here on the FIE web site. For more exciting world fencing news, live streaming and features, check out the YouTube FIE Fencing Channel.