DUBAI, United Arab Emirates, April 5, 2022—Japan's Kazuki Iimura and USA's Lauren Scruggs won gold medals in individual junior foil at the 2022 Junior and Cadet Fencing World Championships. Today's competitions, on the fourth day of 18 events taking place over nine days, included 180 men's and 148 women's fencers and are being held at the City's Hamdan Sports Complex.
In the final match of men's foil, Iimura faced Korea's Hyeonbhin An, winning the gold with a 15-13 score. In the semifinal round, An won against France's Anas Anane, 15-9, while Iimura defeated USA's Chase Emmer, 15-7.
"I was surprised to win because this was my first time at the Junior World Championships, so I was very nervous", said Iimura. "The podium match was very hard, the hardest of the day. I want to tell everyone in Japan, 'I won!'"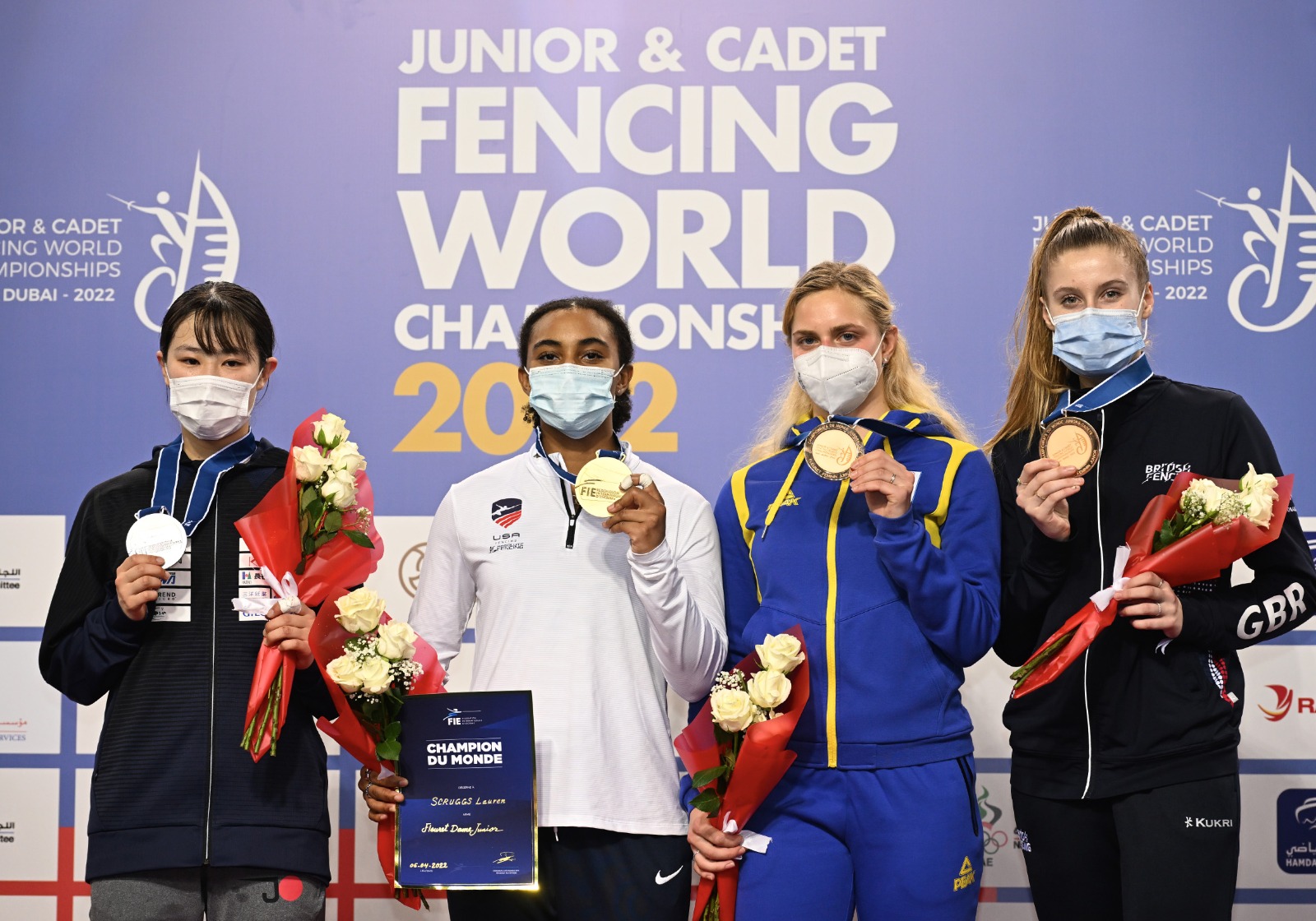 In the final match of women's foil, Scruggs, who also won this and the cadet foil event at the Torun Junior and Cadet Fencing World Championships in 2019, faced Japan's Yuzuha Takeyama, winning with a 15-3 final score. In the semifinal round, Takeyama won against Great Britain's Carolina Stutchbury, 15-14, while Scruggs defeated Ukraine's Kateryna Budenko, 15-7.
"It feels great, I've been stressed, so to have another world championship feels great", said Scruggs. "It's OK to be nervous and if you lose, you lose, but you try your hardest and that's what matters. I want to try for the senior team!"
Final rankings for junior men's foil included Kazuki Iimura (JPN, gold), Hyeonbhin An (KOR, silver), Anas Anane (FRA, bronze), Chase T. Emmer (USA, bronze), Brandon H. Li (USA), Damiano Di Veroli (ITA), Bryce Louie (USA) and David Sosnov (GBR).
Final rankings for junior women's foil included Lauren Scruggs (USA, gold), Yuzuha Takeyama (JPN, silver), Carolina Stutchbury (GBR, bronze), Kateryna Budenko (UKR, bronze), Jessica Zi Jia Guo (CAN), Olga Sopit (UKR), Aleksandra Wieczorek (POL) and Sein Hong (KOR).
#DUBAI2022 #FENCING
Complete and official results for the event may be found here on the FIE web site. For more exciting world fencing news, live streaming and features, check out the YouTube FIE Fencing Channel.