DUBAI, United Arab Emirates, April 3, 2022—Uzbekistan's Zuhridden Kodirov and USA's Magda Skarbonkiewicz won gold medals in individual cadet sabre at the 2022 Junior and Cadet Fencing World Championships. Today's competitions, on the second day of 18 events taking place over nine days, included 95 men's and 90 women's fencers and are being held at the City's Hamdan Sports Complex. `
The official opening ceremony for the Championships was held this evening with local dignitaries attending, including H.E. Dr. Ahmad bin Abdullah Humaid Belhoul Al Falasi, Minister of State for Entrepreneurship and SMEs and Chairman of the Board of Directors of the General Sports Authority; H.E. Sheikh Salem bin Sultan Al Qasimi, FIE Executive Committee member, Asian Fencing Confederation President, Arab Fencing Federation President and UAE Fencing Federation President; H.E. Saeed Hareb, Secretary-General of the Dubai Sports Council; and H.E. Nasser Al Rahma, Vice Chairman of the Hamdan Sports Complex. The Championships were declared officially open by FIE Interim President Emmanuel Katsiadakis.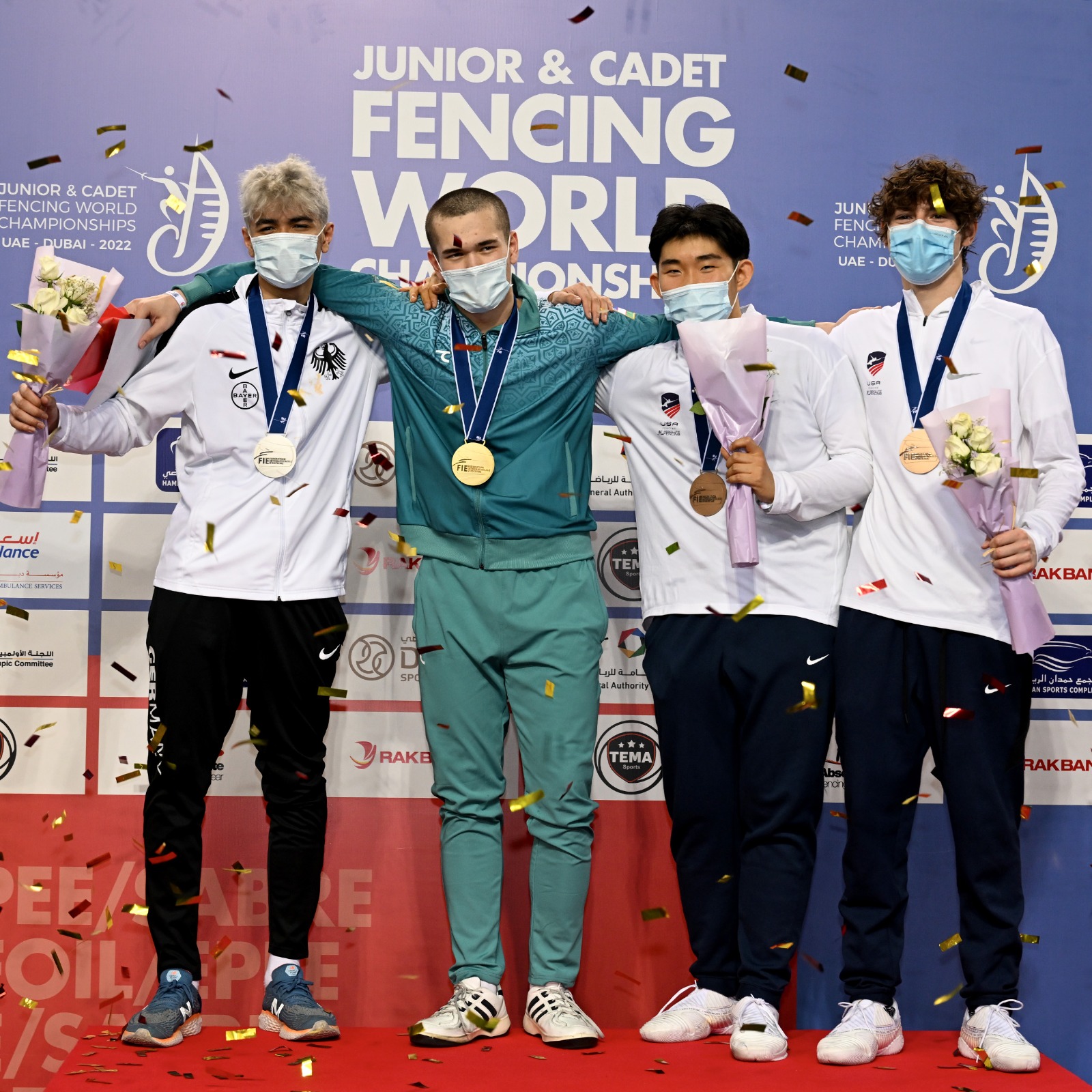 In the final match of cadet men's sabre, Kodirov defeated Germany's Colin Heathcock, 15-13, who won junior men's sabre on the previous day. Heathcock beat USA's William Morrill in the semifinal round, 15-7, and Kodirov won against USA's Cody Ji, 15-10.
"The feeling of winning is very strange, and today every match was very hard", said Kodirov. "I want to thank my mother, father, sister, brother, and everyone in my country who helped me make this result."
In cadet women's sabre, USA's Magda Skarbonkiewicz earned her second gold medal in two days, having won junior women's sabre on the first day of the Championships. In the cadet event, she defeated her teammate, Siobhan Sullivan, 15-9, to win. Sullivan beat Korea's Eunyu Kim in the semifinal round, 15-10, while Skarbonkiewicz won against France's Alejandra Manga, 15-11.
"It's crazy", said Skarbonkiewicz. "After winning yesterday, I was exhausted and didn't sleep at all, so I was trying to wake up throughout today's tournament. I had a lot of ups and downs but I was able to overcome that."
Final rankings for cadet men's sabre included Zuhridden Kodirov (UZB, gold), Colin Heathcock (GER, silver), Cody Ji (USA, bronze), William Morrill (USA, bronze), Connor Liang (USA), Kornel Pech (HUN), Axel Pogu (FRA) and Musa Aymuratov (UZB).
Final rankings for cadet women's sabre included Magda Skarbonkiewicz (USA, gold), Siobhan Sullivan (USA, silver), Alejandra Manga (FRA, bronze), Eunyu Kim (KOR, bronze), Alexandra Kuvaeva (GEO), Samira Shokirova (UZB), Zarifa Huseynova (AZE) and Melissa Jane (GBR).
#DUBAI2022 #FENCING
Complete and official results for the event may be found here on the FIE web site. For more exciting world fencing news, live streaming and features, check out the YouTube FIE Fencing Channel.