DUBAI, United Arab Emirates, April 2, 2022—Germany's Colin Heathcock and USA's Magda Skarbonkiewicz took the gold medals in junior men's and women's sabre on the opening day of the 2022 Junior and Cadet Fencing World Championships. Today's competitions, which were the first of 18 events taking place over nine days, included 152 men's and 126 women's fencers. The Championships are being held at the City's Hamdan Sports Complex.
Heathcock faced Italy's Pietro Torre in the final match of individual junior men's sabre, winning with a 15-10 score. Torre defeated Korea's Heegeun Hwang in the semifinal round, 15-9, while Heathcock won against his teammate and brother, Antonio Heathcock, 15-9.
"All of the hard work I've put in with all the help from my teammates, it feels amazing", said Heathcock. "I didn't give up, I believed I would win."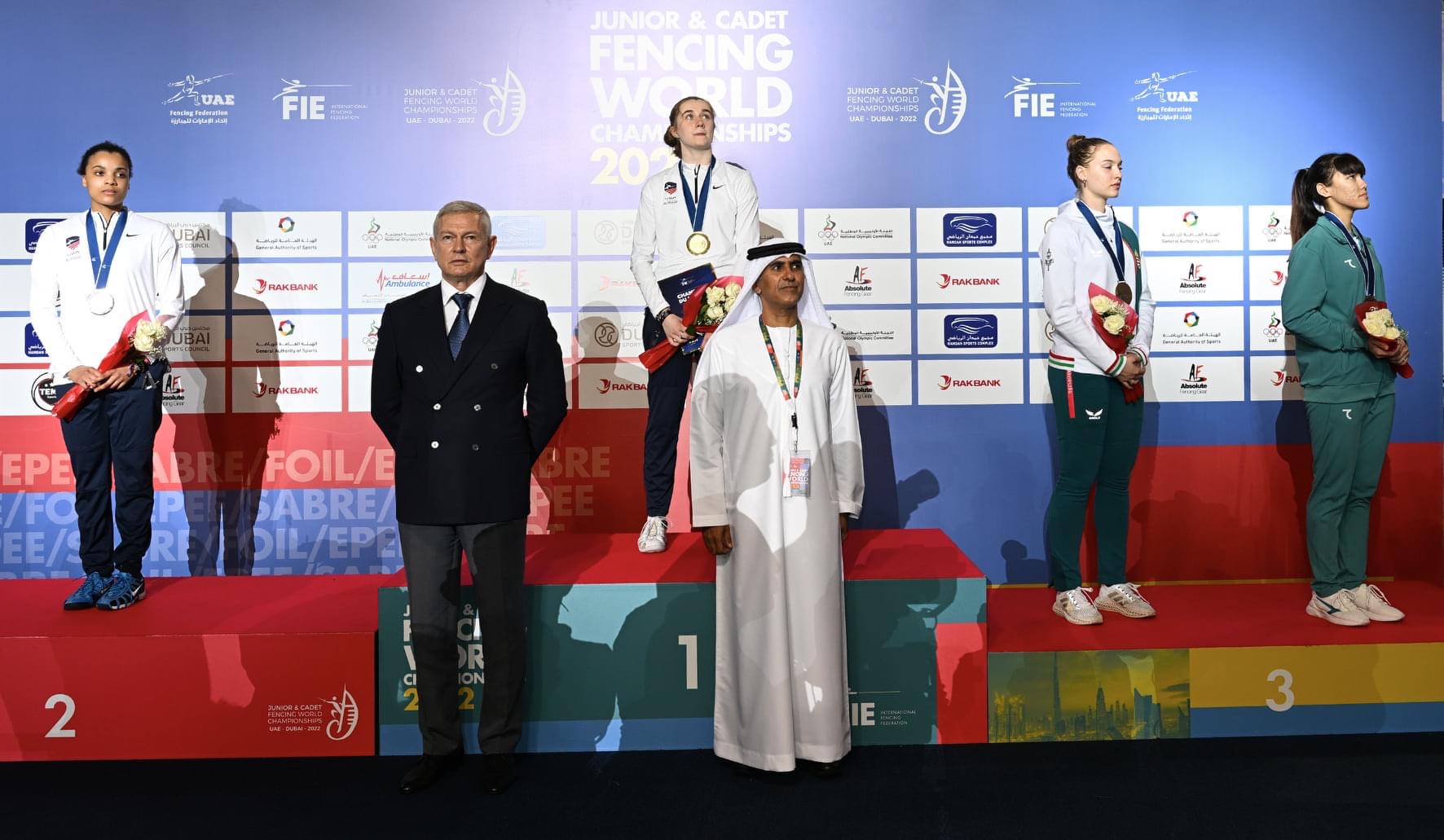 Skarbonkiewicz faced teammate Honor Johnson in the final match of individual junior women's sabre, winning with a 15-9 score. Johnson defeated Hungary's Sugar Katinka Battai in the semifinal round, 15-10, while Skarbonkiewicz won against Uzbekistan's Zaynab Dayibekova, 15-8.
"It's amazing, it's crazy to be world champion, it's still processing", said Skarbonkiewicz. "This was my first juniors, so I thought I would just have fun and do what I can."
Final rankings for junior men's sabre included Colin Heathcock (GER, gold), Pietro Torre (ITA, silver), Antonio Heathcock (GER, bronze), Heegeun Hwang (KOR, bronze), Radu Nitu (ROU), Wei Zuo Dan (SGP), Lok Hei Royce Chan (HKG) and Yago Moran (ESP).
Final rankings for junior women's sabre included Magda Skarbonkiewicz (USA, gold), Honor Johnson (USA, silver), Zaynab Dayibekova (UZB, bronze), Sugar Katinka Battai (HUN, bronze), Kalina Atanasova (BUL), Cyrielle Girardin (FRA), Lucia Stefanello (ITA) and Nisanur Erbil (TUR).
#DUBAI2022 #FENCING
LIVE STREAM LINK: https://www.youtube.com/c/FIEvideo/featured
Complete and official results for the event may be found here on the FIE web site. For more exciting world fencing news and features, check out the YouTube FIE Fencing Channel.