ORLEANS, France, Nov. 13, 2021—In the first FIE Grand Prix of the 2021-2022 competition season, Korea's world champion Junghwan Kim and Greece's Despina Georgiadou won men's and women's individual events at the Orleans Sabre Grand Prix. The finals took place at the Zénith d'Orléans sports arena with a total of 170 men and 162 women participating in the overall competition.
In the men's sabre event final, Kim faced Italy's Luca Curatoli, winning the gold medal, 15-3. Curatoli defeated Japan's Kento Yoshida in the semifinal round, 15-10, and Kim beat his teammate and world champion Sanguk Oh, 15-13.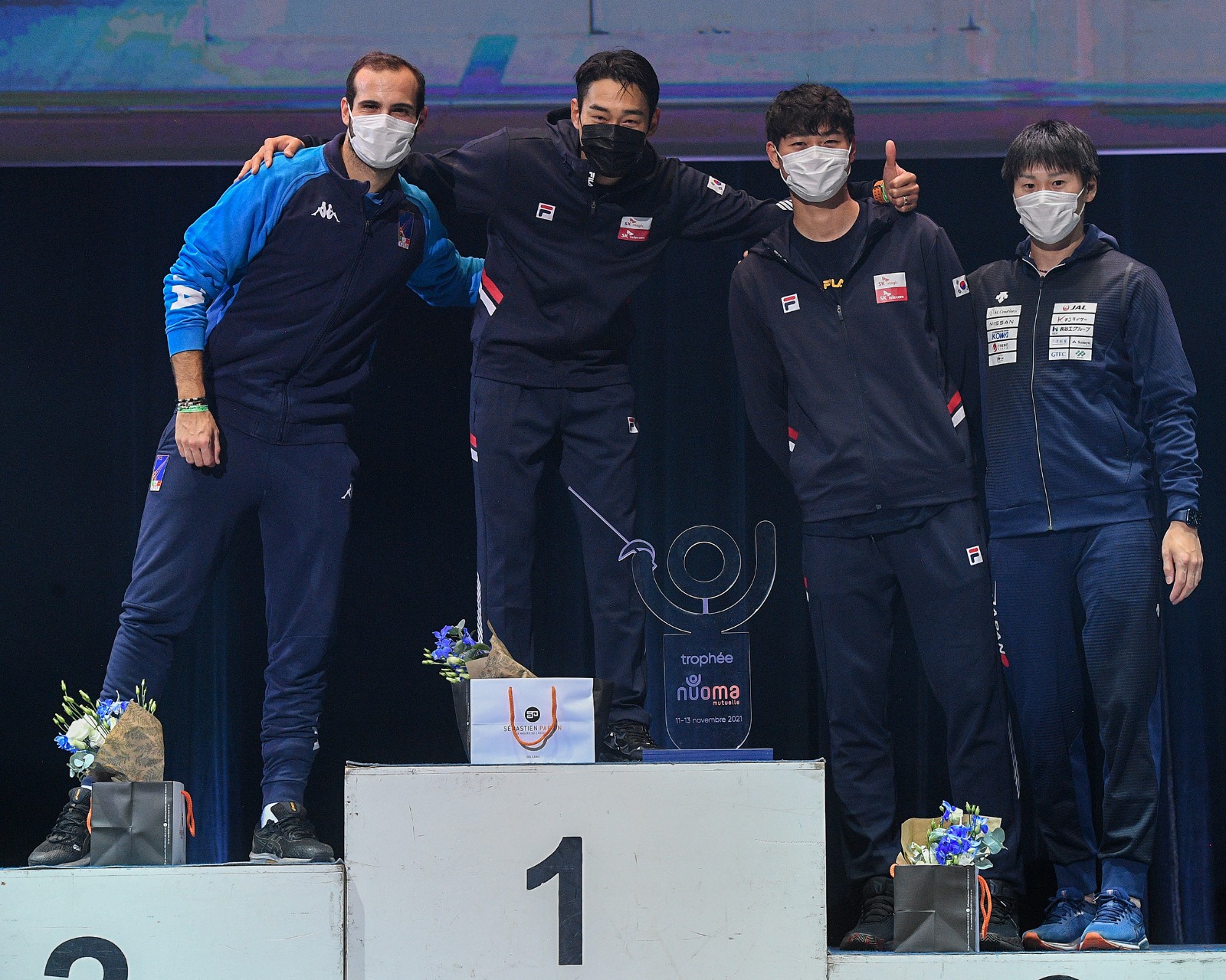 In the women's sabre event final, Georgiadou defeated her teammate, Theodora Gkountoura, by a single point, 15-14, to take the gold. Gkountoura beat Korea's Jisu Yoon in the semifinal round, 15-12, and Georgiadou won against Russia's Svetlana Sheveleva, 15-12. Notably, in the quarterfinals Yoon beat her teammate and Olympic champion Jiyeon Kim, 15-13.
Final men's sabre ranking included Junghwan Kim (KOR, gold), Luca Curatoli (ITA, silver), Sanguk Oh (KOR, bronze), Kento Yoshida (JPN, bronze), Sandro Bazadze (GEO), Junho Kim (KOR), Andriy Yagodka (UKR) and Enver Yildirim (TUR).
Final women's sabre ranking included Despina Georgiadou (GRE, gold), Theodora Gkountoura (GRE, silver), Svetlana Sheveleva (RUS, bronze), Jisu Yoon (KOR, bronze), Manon Apithy-Brunet (FRA), Liza Pusztai (HUN), Jiyeon Kim (KOR) and Amalia Aime (FRA).
Complete and official results for the event may be found here on the FIE web site. For more exciting world fencing news and features, check out the FIE video series on our YouTube channel.
Click Here to relive the men's and women's matches of the Orleans Sabre Fencing Grand Prix.