TOKYO, Japan, July 28, 2021—Korea has won gold in men's team sabre at the Tokyo 2020 Olympic Games. Nine men's teams participated in the day's event, which was the fifth day of Olympic fencing at Tokyo's Makuhari Messe Hall B in the Chiba prefecture.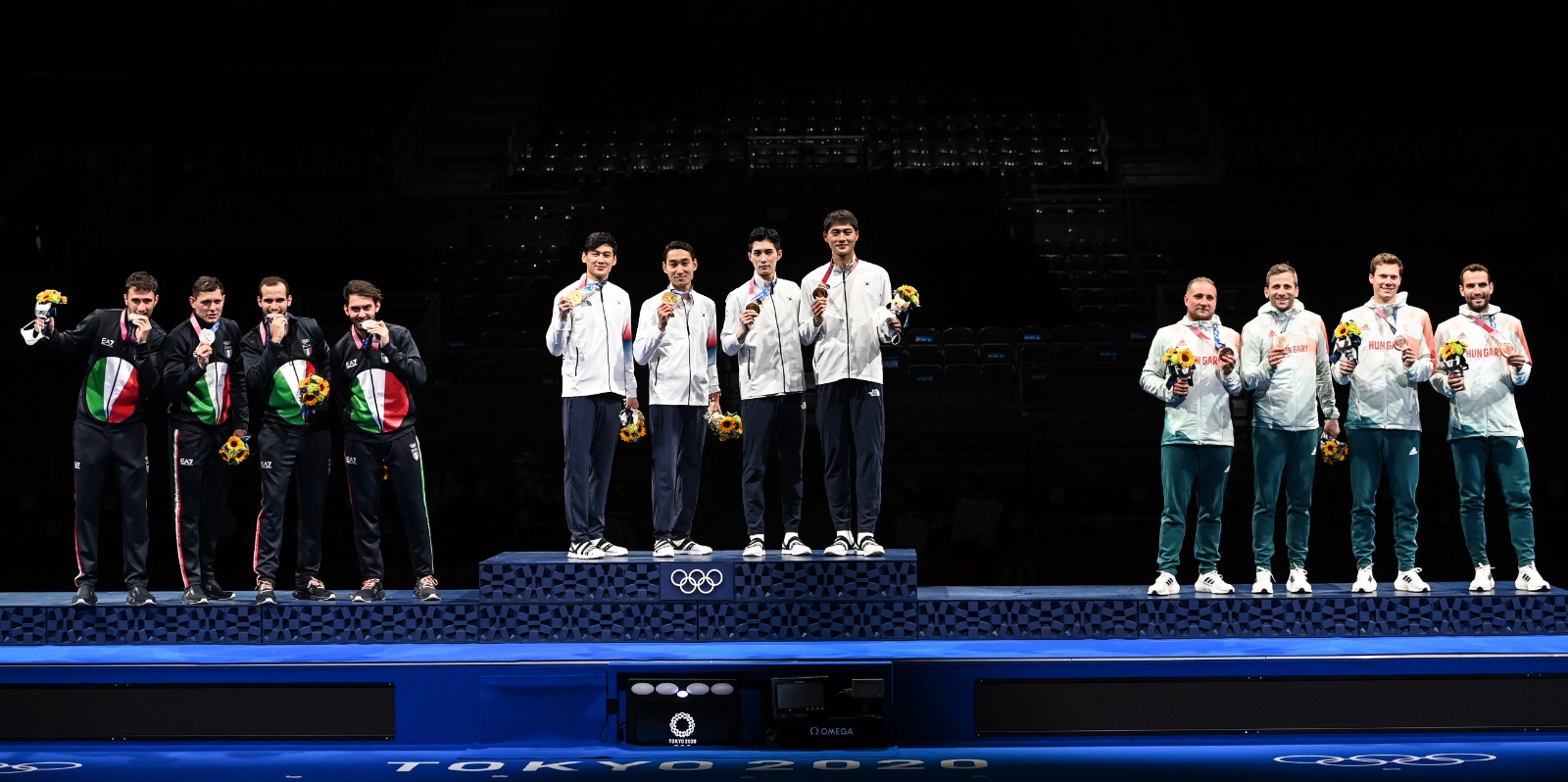 In the gold medal round, Korea—the reigning Olympic and three-time world champion—faced Italy, winning with a final score of 45-26. The bronze medal went to Hungary against Germany, 45-40.
"In order to win", said Korea's Bongil Gu, "we used a strategy of mixing offensive and defensive moves to confuse our opponents. The other fencers on our team were different than those we competed with at the last [London 2012] Olympics and were very driven to have a medal here at the Games. In 2012, our ranking was much lower and now we are ranked number one, so the mentality and pressure are significantly different and we did not want to disappoint our followers and supporters."
"I have had a very long career", said Italy's Olympic champion Aldo Montano, who has confirmed his retirement here after Tokyo 2020. "Beginning with my gold in Athens 2004, it's been up and down, many injuries, medals, and I've won silver, and it's all been incredible. Now I'm 42 and very, very happy with what I've done and happy today with my teammates."
"I am very happy because before this I had won European and world medals and many others, but not an Olympic medal", said Hungary's Tamas Decsi. "So it was very important for me and my teammates. I was very nervous when the Germans rallied at the end, but I was waiting for the last touch and when Aron [Szilagyi] did it, I was very happy. Actually, I know Aron is one of the best sabre fencers in the world and everybody can see now that it's not an easy position being the last fencer in a team match, and Hartung is also a very good fencer and we know him well. Congratulations to him and the Germans, they did very well."
Following the bronze-medal match, Germany's Richard Huebers stated, "It did not end the way we wanted it to end; the Hungarian team started strong and we struggled in the beginning. Max [Hartung] and I managed to come back in the end but the gap was a nearly impossible challenge. The way we fenced was not the way we wanted it to be. But Max went 14-3 against the reigning Olympic champion, which was amazing…!"
Final ranking for men's team sabre included Korea (gold), Italy (silver), Hungary (bronze), Germany, Egypt, Iran, ROC, USA and Japan.
Complete information about fencing results and athletes at the Olympic Games may be found on the official Olympic website, and on the FIE website, www.FIE.org.
#Tokyo2020
#fencing