TOKYO, Japan, July 24, 2021—Hungary's Aron Szilagyi and China's Yiwen Sun won the individual gold medals in men's sabre and women's epee on the opening night of fencing at the Tokyo 2020 Olympic Games. With 36 athletes competing in men's sabre and 34 in women's epee, it was the first of nine days of fencing competition at Tokyo's Makuhari Messe Hall B in the Chiba prefecture.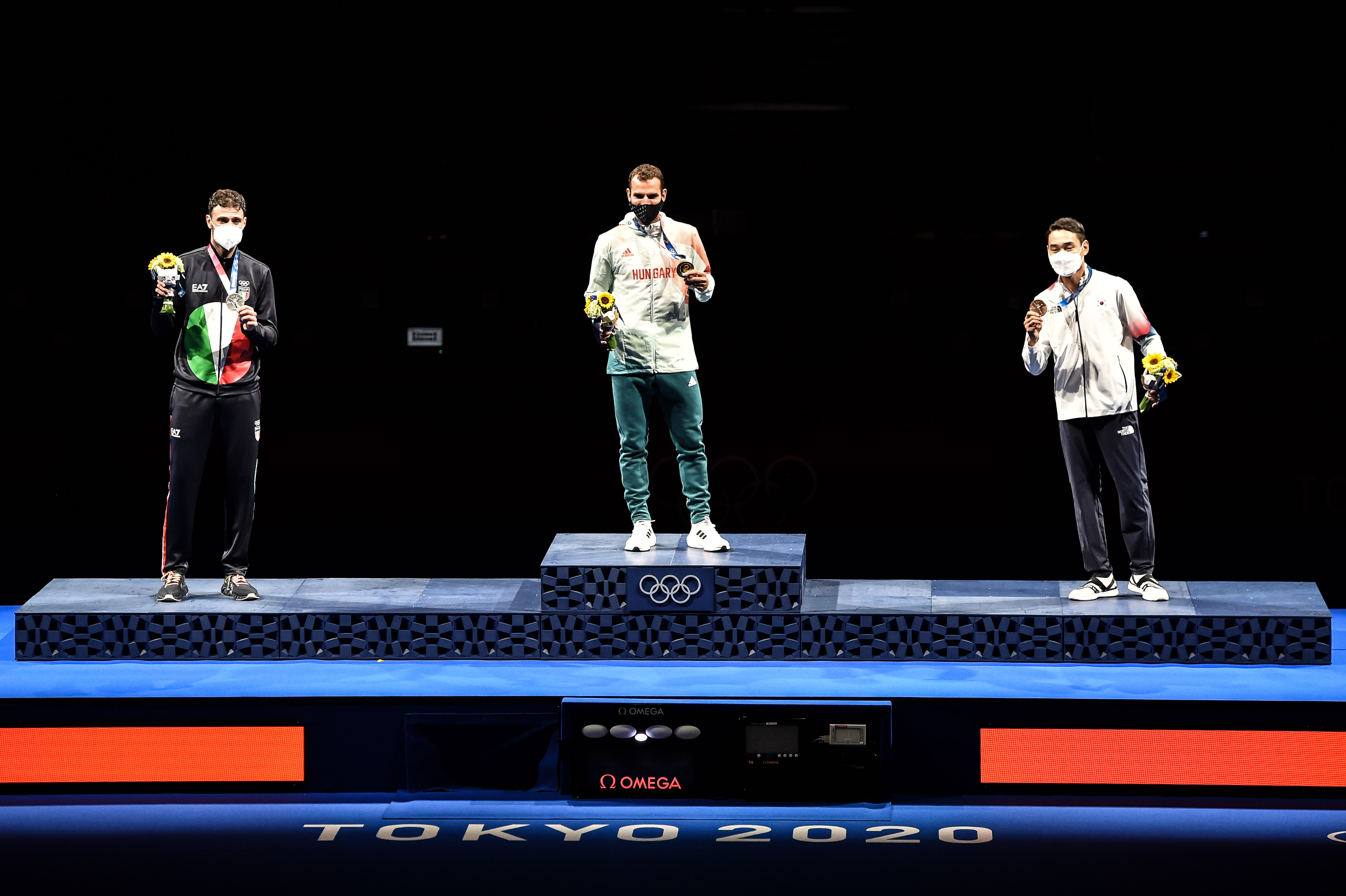 In the gold-medal round of individual men's sabre, two-time Olympic gold medallist Szilagyi made history as the first male fencer to win three individual Olympic gold medals, beating Italy's Luigi Samele, 15-7. In the semifinal round, Samele faced Korea's world champion Junghwan Kim, winning with a 15-12 score, while Szilagyi beat Georgia's Sandro Bazadze, 15-13. Kim took the bronze medal over Bazadze, 15-11.
"It's overwhelmingly beautiful", said Szilagyi. "It's amazing, I cannot tell you how happy I am with this unbelievable result. My biggest challenge was Sandro Bazadze, he fenced extremely well, but I was able to find some tools to beat him and I'm very proud of it."
"I am super happy", said Samele, "even though I was trying to make it one more step, but I lost to a guy who was fencing amazing. I'm proud of myself and I'm going to rest, enjoy the medal and then think about the team competition."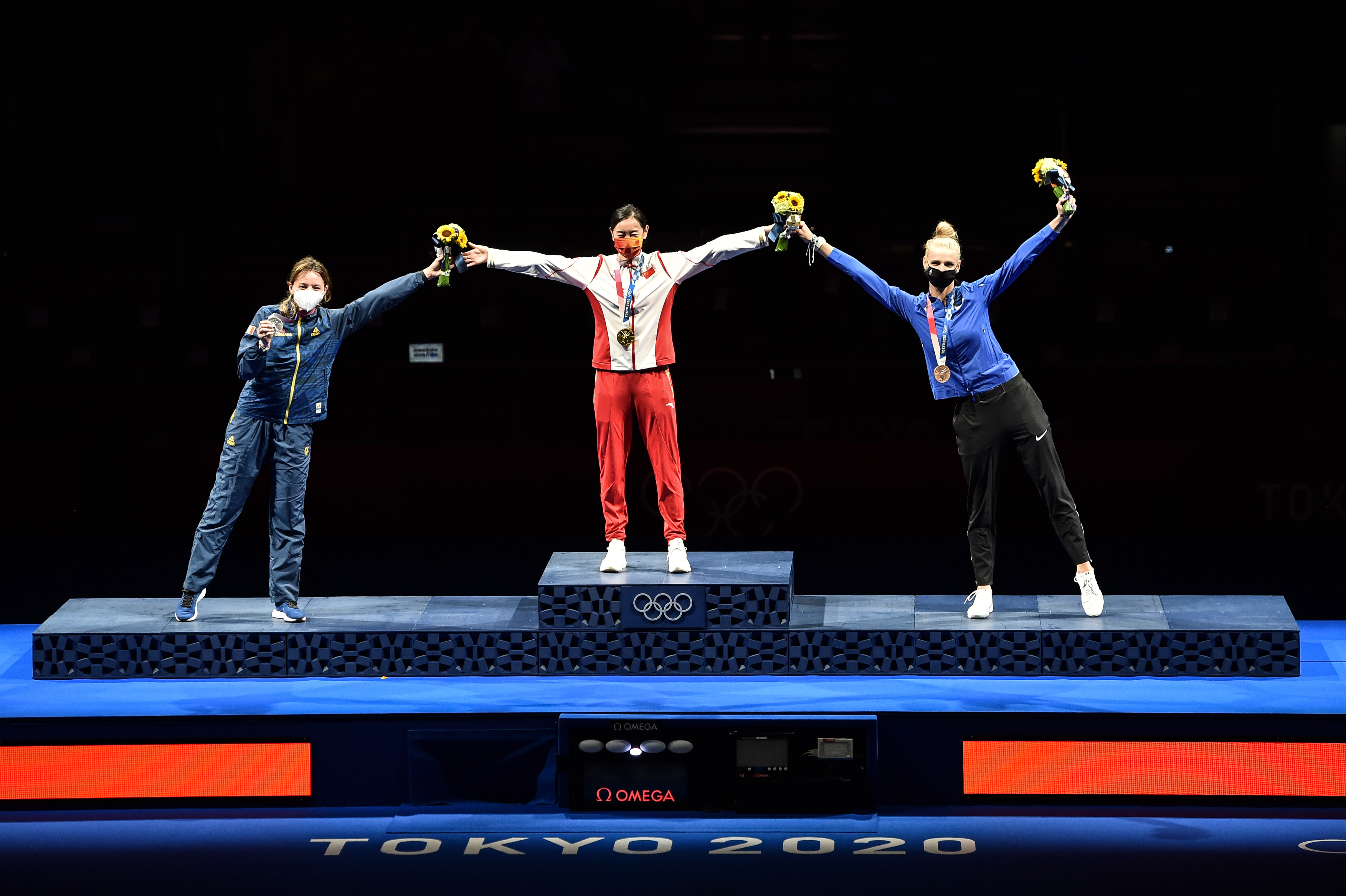 In the gold-medal round of individual women's epee, Sun defeated Romania's Ana Maria Popescu, 11-10, to become Olympic champion. In the semifinal round, Popescu faced Estonia's Katrina Lehis, winning with a 15-11 score, while Sun beat ROC's Aizanat Murtazaeva, 12-8. The bronze medal went to Lehis after winning against Murtazaeva, 15-8.
"I'm very happy after waiting for five years, I finally got a gold medal", said Sun. "The most difficult part of today was meeting my Chinese teammate in the competition. It's my honour and responsibility to win this medal for my family and country, and I will bring this feeling to fight in the future."
"I'm very happy with a silver medal", said Popescu. "In the last year, I had problems with my knee and other things, and so I'm very pleased with this result."
Final ranking for individual men's sabre included Aron Szilagyi (HUN, gold), Luigi Samele (ITA, silver), Junghwan Kim (KOR, bronze), Sandro Bazadze (GEO), Sanguk Oh (KOR), Kamil Ibragimov (ROC), Enrico Berre' (ITA) and Ali Pakdaman (IRI).
Final ranking for individual women's epee included Yiwen Sun (CHN, gold), Ana Maria Popescu (ROU, silver), Katrina Lehis (EST, bronze), Aizanat Murtazaeva (ROC), Man Wai Vivian Kong (HKG), Federica Isola (ITA), Julia Beljajeva (EST) and Rossella Fiamingo (ITA).
Complete information about fencing results and athletes at the Olympic Games may be found on the official Olympic website, and on the FIE website, www.FIE.org.
#Tokyo2020
#fencing