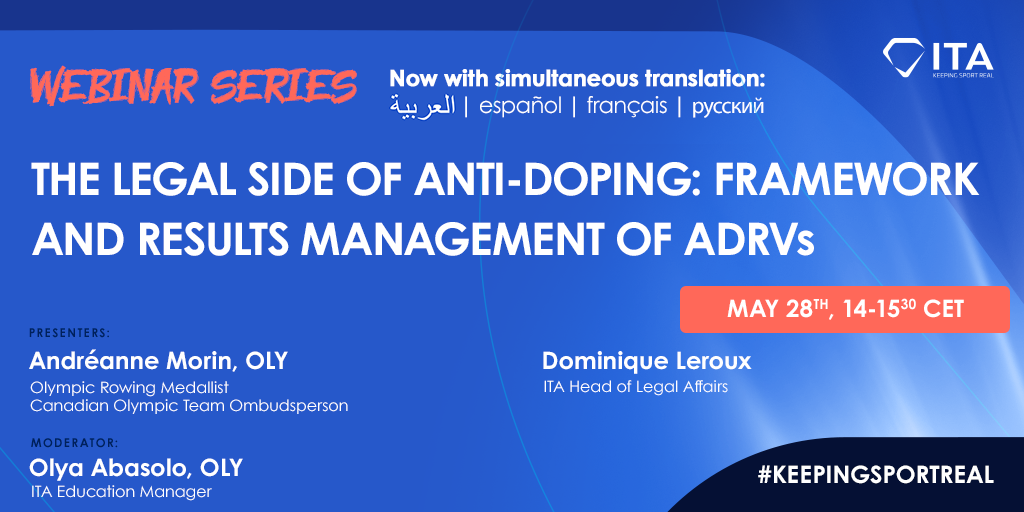 @ ΙΤΑ International Testing Agency
We are delighted to invite you to the May edition of the ITA Education Webinar Series taking place on Friday, May 28 from 14h00 to 15h30 (CET).
This month we take a look at the legal framework of anti-doping. We will review the current structure and the rules that are in place, including the Anti-Doping Rule Violations (ADRVs), the Principle of Strict Liability and due diligence.

Just as importantly, we will provide information about what happens in case of an Adverse Analytical Finding, or simply put, a positive test. Here, we will cover some practical aspects of results management, including:
What happens when there is a positive test?
What resources are available to athletes who commit an ADRV?
What is some of the key information that the athletes and their support personnel need to know during this process?
We are very pleased to deliver these webinars in English with simultaneous translation to four additional languages – Arabic (العربي), Spanish (español), French (français) and Russian (русский).
Attached are two banners that you can use for social media promotion. If you want to add a logo of your International Federation, please contact me to receive your custom banner.
Topic: The Legal Side of Anti-Doping; Framework and Results Management of ADRVs
Registration link: https://zoom.us/webinar/register/WN_6HlX7EWYQG6E6zW1OyBaRg
Event date: Friday May 28, 14:00-15:30 CET
Presenters:
Dominique Leroux, ITA Head of Legal Affairs
Andréanne Morin OLY, Olympic Medallist in Rowing and Canadian Olympic Team Ombudsperson
Moderator: Olya Abasolo OLY, ITA Education Manager