CAIRO, Egypt, April 9, 2021—On the seventh day of the Junior and Cadet Fencing World Championships, gold medals in junior individual epee were given to France's Kendrick Jean-Joseph (men) and Russia's Polina Khaertdinova (women). Today's events featured 159 men and 113 women from around the world.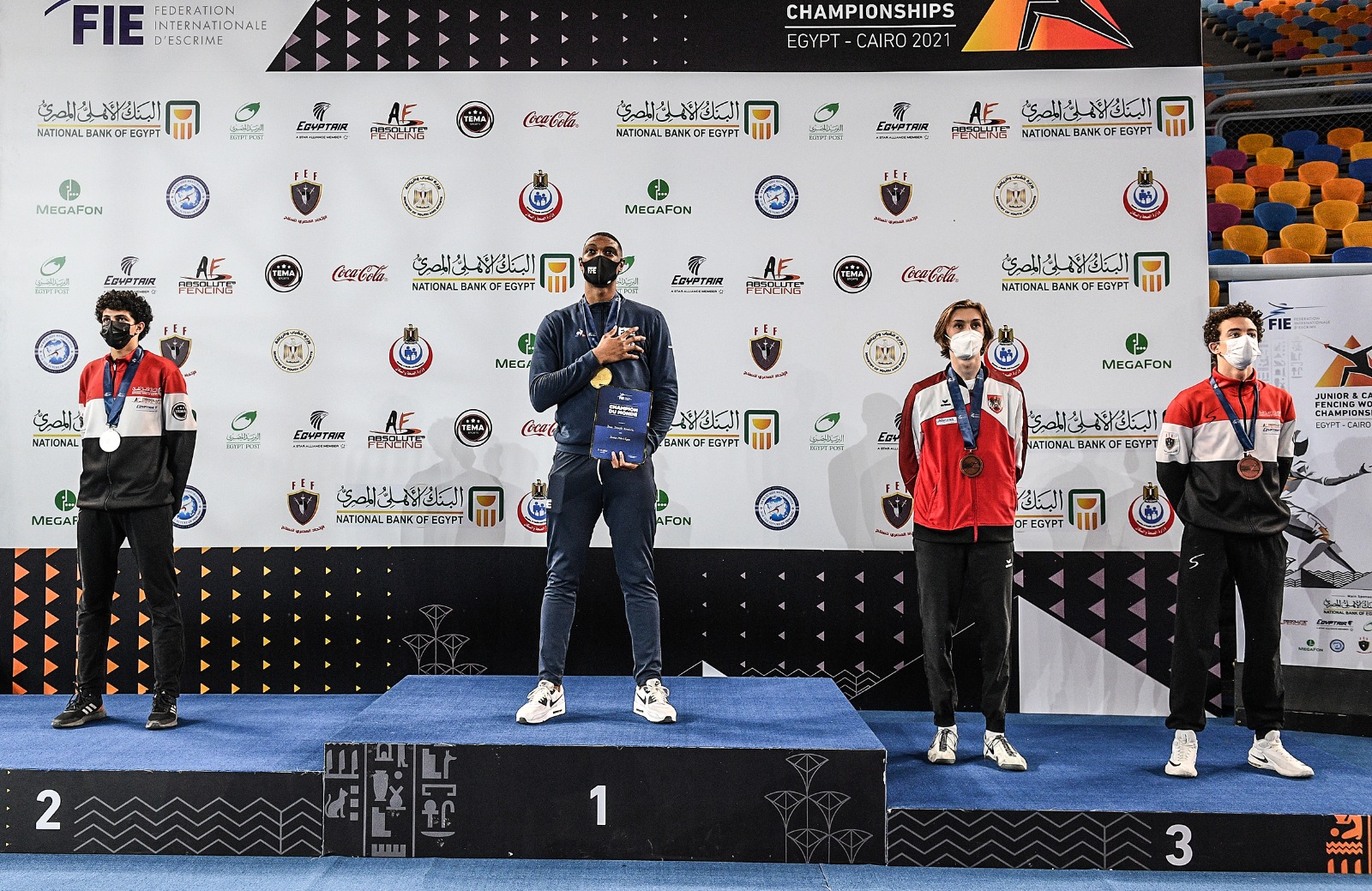 In the junior men's individual epee final, Jean-Joseph defeated Egypt's Mohamed Yasseen, 15-13. In the semifinal round, Yasseen beat Austria's Samuel Berktold, 15-10, and Jean-Joseph won against Egypt's Mohamed Elsayed, 12-11.
"I'm so happy to win the World Championships because it meant a lot of sacrifice", said Jean-Joseph. "I'm so happy for both France and Martinique. This was very emotional, but I want more, and next year I hope to go to the Paris national training center. The biggest challenge today for me was the semifinal because the Egyptian was in his home and it was very close, so I was very happy to win."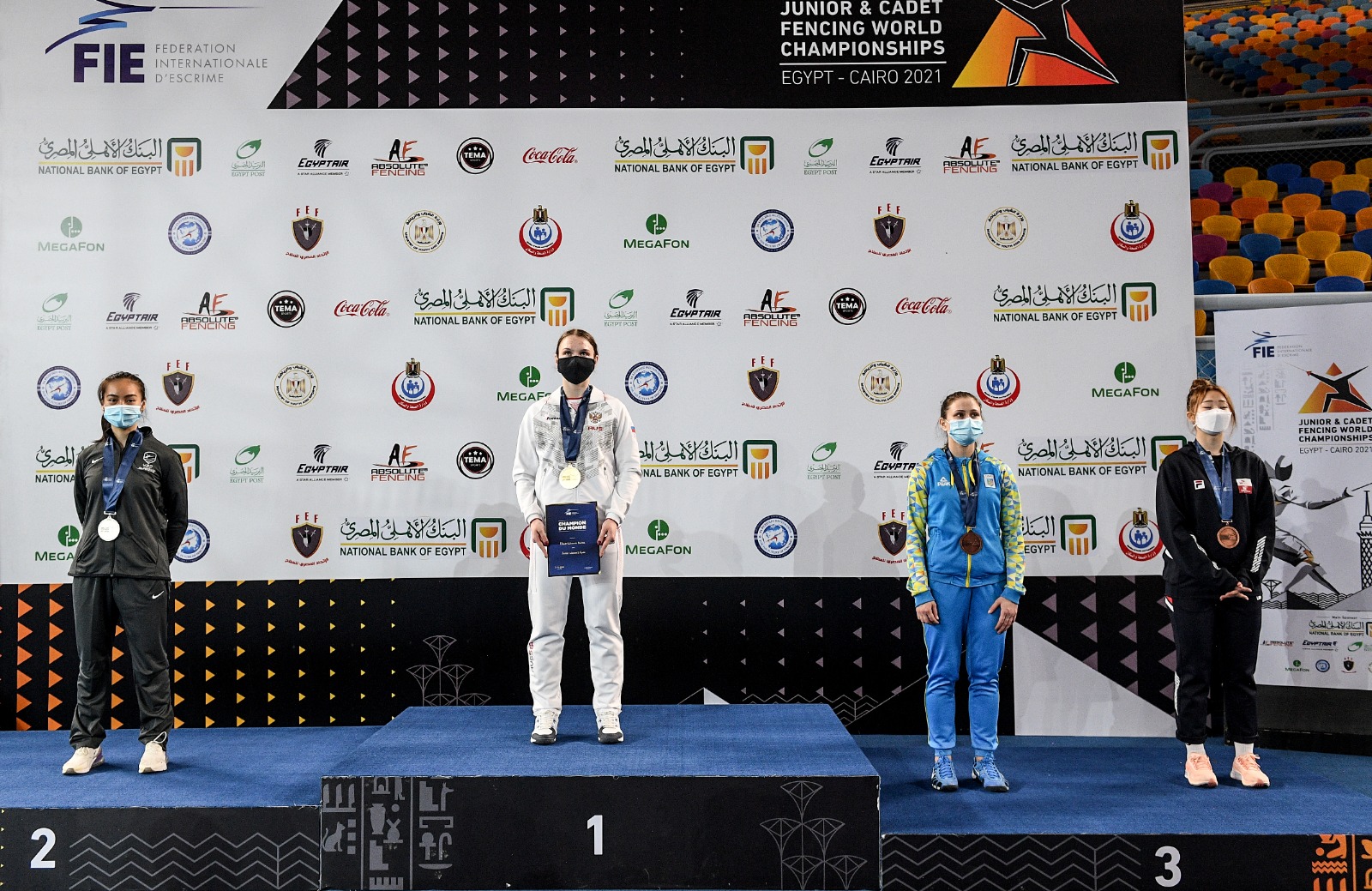 In the junior women's individual epee final, Khaertdinova beat USA's Jessica Lin, 15-12. Lin won against Ukraine's Anastasiia Zelentsova, 15-11, in the semifinal round while Khaertdinova defeated Korea's Sohui Kim, 15-14.
"I am so thrilled right now I couldn't expect it as my goal was to be in the final eight", said Khaertdinova. "But now here I am, and I'm shocked. A few days before the competition my coach died; to win for me took the power of my coach and his help. I had to win, I promised him that."
Final rankings for men's junior epee included Kendrick Jean-Joseph (FRA, gold), Mohamed Yasseen (EGY, silver), Samuel Berktold (AUT, bronze), Mohamed Elsayed (EGY, bronze), Alexis Messien (FRA), Titouan Chotin (FRA), Hadrien Favre (SUI) and Alexander Biro (AUT).
Final rankings for women's junior epee included Polina Khaertdinova (RUS, gold), Jessica Lin (USA, silver), Anastasiia Zelentsova (UKR, bronze), Sohui Kim (KOR, bronze), Claudia Arribas (ESP), Virginia Romeo (SUI), Jaclyn Khrol (USA) and Gloria Klughardt (POL).
In all, 18 individual and team fencing events in three weapons are taking place over nine days at the Indoor Halls Complex of the Cairo International Stadium in Nasr City.
Complete official results and full information regarding the Junior and Cadet Fencing World Championships may be found on the FIE Web site at www.FIE.org/competitions.
Click here to view general information about the Championships.
Click Here to relive the event and watch upcoming competitions!