CAIRO, Egypt, April 7, 2021—On the fifth day of the Junior and Cadet Fencing World Championships, USA's Daniel Zhang and Canada's Jessica Zi Jia Guo earned gold medals in cadet individual foil. The day's international competitors included 69 men and 57 women.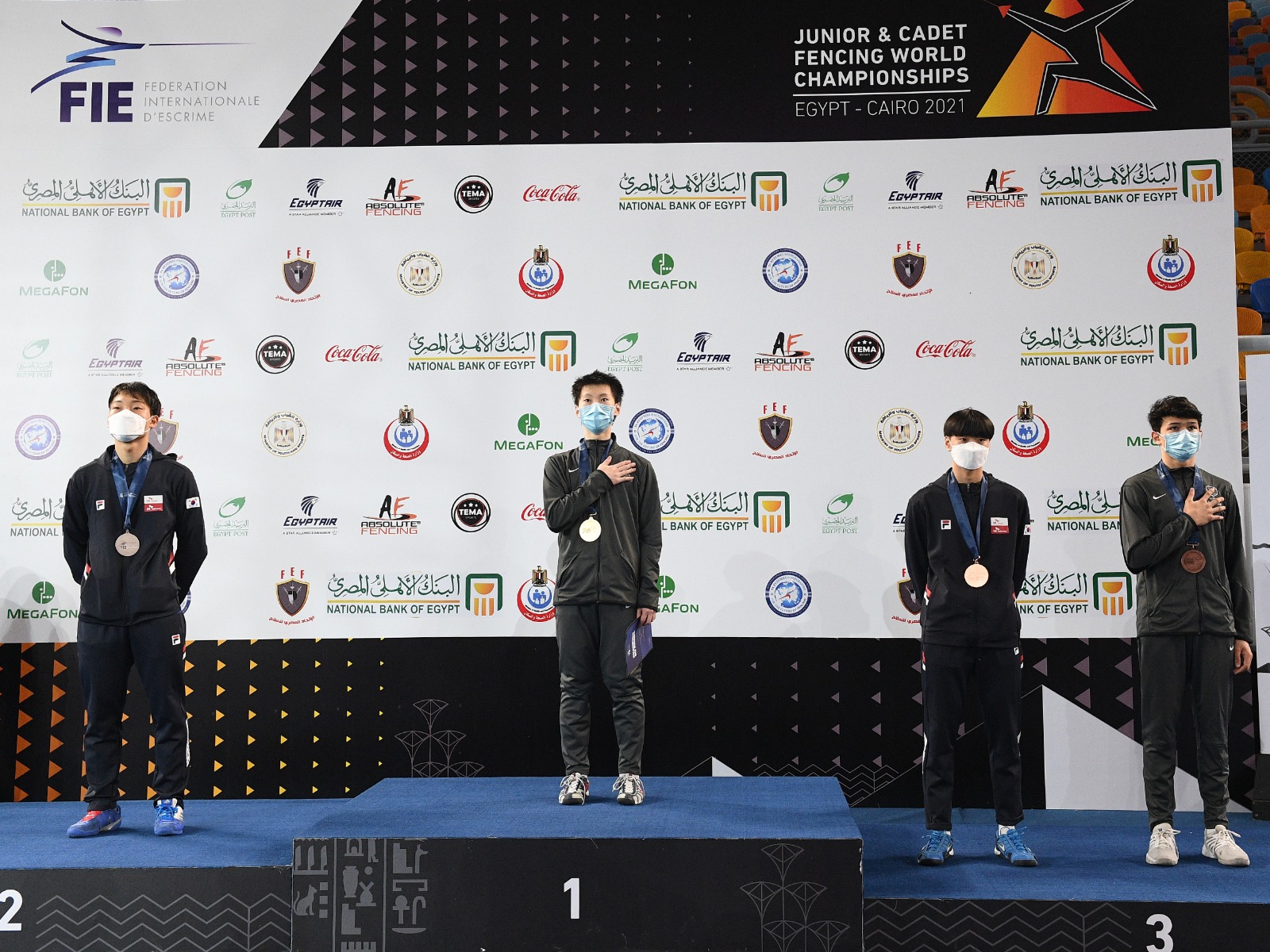 In the cadet men's individual foil final, Zhang defeated Korea's Hyeonbhin An, 15-11. In the semifinal round, An beat his teammate, Seoungbin Lee, 15-7, while Zhang won against his teammate, Chase Emmer, 15-9.
"It feels really good, it was really hard getting here and I had to fence a lot of really tough people", said Zhang. "[Winning] took my coach's support and my medical doctor to help me stay healthy. It was hard fencing some of my good friends. I did it!"
In the cadet women's foil final, Guo took the gold against Russia's Anastasia Beznosikova, 15-9. In the semifinal round, Beznosikova defeated Moldova's Maria Cojocari, 12-6, and Guo beat USA's Alexandra Jing, 15-4.
"It's very exciting, I'm speechless and I've been working very hard for this moment, it's very emotional", said Guo. "It took a lot of confidence and patience to accomplish this. The hardest thing was to deal with my emotions and the nerves and to be able to calm them down and focus more on the bout than losing."
Final rankings in cadet men's foil included Daniel Zhang (USA, gold), Hyeonbhin An (KOR, silver), Seoungbin Lee (KOR, bronze), Chase Emmer (USA, bronze), Bandon Li (USA), Bogdan Hamilton (CAN), Scot Lao (ISV) and Szymon Pacholczyk (POL).
Final rankings in cadet women's foil included Jessica Zi Jia Guo (CAN, gold), Anastasia Beznosikova (RUS, silver), Maria Cojocari (MDA, bronze), Alexandra Jing (USA, bronze), Byeoli Mo (KOR), Alisa Isbir (TUR), Daena Louise Talavera (PHI) and Aila Mamedova (RUS).
In all, 18 individual and team fencing events in three weapons are taking place over nine days at the Indoor Halls Complex of the Cairo International Stadium in Nasr City.
Complete official results and full information regarding the Junior and Cadet Fencing World Championships may be found on the FIE Web site at www.FIE.org/competitions.
Click here to view general information about the Championships.
Click Here to relive the event and watch upcoming competitions!