The competition is organized by the Sports management centre of the State Sport General Administration, the Chinese Fencing Association, the Beijing Municipal Sport Bureau, Chaoyang District Municipal People's government, the Beijing competition management centre, the Chaoyang District Sports Bureau and Beijing municipal Fencing Association.
This competition is a world's women fencing, high-level (Class A) international event. It is also the first station of the Rio Olympics Olympic tournament. There will be athletes from the United States, Poland, France, China, and more than 30 other countries and regions of China. In all, 200 athletes will come to Beijing. This year, China will send 30 people, including the last year's runner-up Shen Chen.
Competition Schedule
Friday, 1st May, Individual
10:00: Rounds of Pools and Preliminary Eliminations
Saturday, 2nd May, Individual • 10:00: Table of 64
17:00: Semi-final / Final
Sunday, 3rd May, Team
10:00: Table of 32
17:00: Bronze Medal Match
17:45: Final
The mascot introduction
In a great innovation for this event, and a departure from the past, an exclusive trophy and mascot are launched and we believe that with the opening of the conference, the 2015 international trophy and mascot will represent the innovation and spirit of the Women's sabre World Cup competition.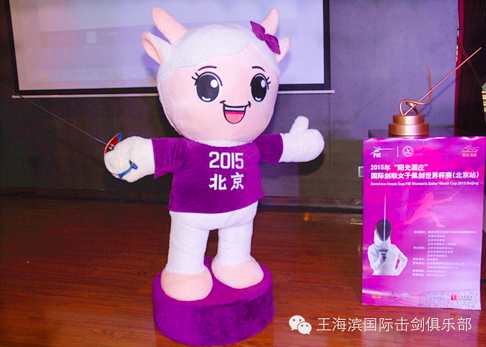 Press Conference 
Sunshine Creek Cup FIE Women's Sabre World Cup 2015 Beijing news conference held today. As the opening of the Women's World Cup, and the stages of the Women's World Cup draw closer.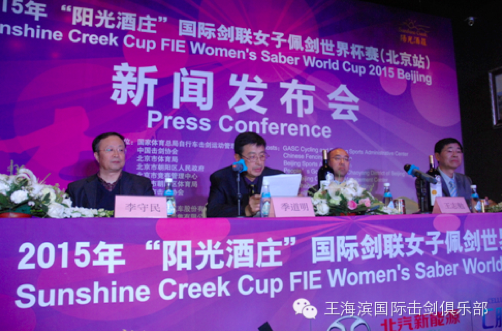 (photo: Vice chairman of the Chinese fencing association Daoming Ji speech)
Venue Introduction: Olympic Sports Center Gymnasium.
The Olympic Sports Center Gymnasium meets the domestic requirements of all kinds of sports and can host international competition. It is the national sports centre and an important training base for the Chinese national team.
The Olympic Sports Center Gymnasium has held handball matches, boxing events, martial arts shows, basketball games etc. The stadium can also host all kinds of large-scale theatrical performances, corporate presentations, exhibitions and other activities.