BUDAPEST, Hungary, March 10-14—In the first FIE senior World Cup of the 2020-2021 competition and Olympic-qualifying season, Korea's World Champion Sanguk Oh, Hungary's Anna Marton, Team Russia (men) and Team Poland (women) won gold medals in sabre at the Budapest World Cup. The event included the Gerevich-Kovacs-Karpati Men's and Women's individual Sabre World Cup and Zarandi Csaba Sabre Team World Cup, which took place at the BOK Hall (formerly SYMA Hall). The event drew 394 fencers from around the world.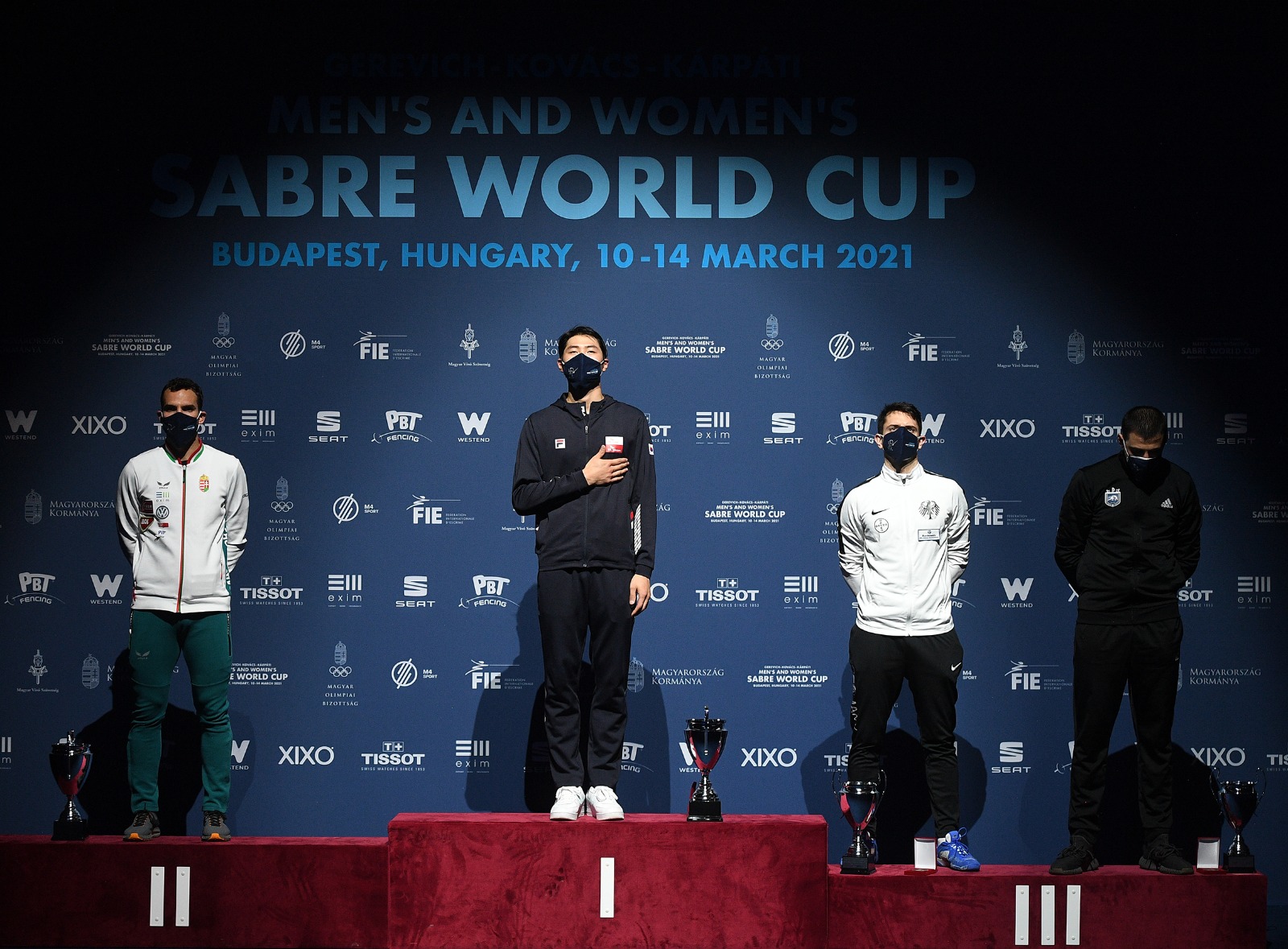 In the individual men's sabre event, Oh faced Hungarian two-time Olympic champion Aron Szilagyi in the final round, winning by a single touch, 15-14. Szilagyi beat Georgia's Sandro Bazadze in the semifinal round, 15-6, while Oh was victorious against Germany's Matyas Szabo, 15-10.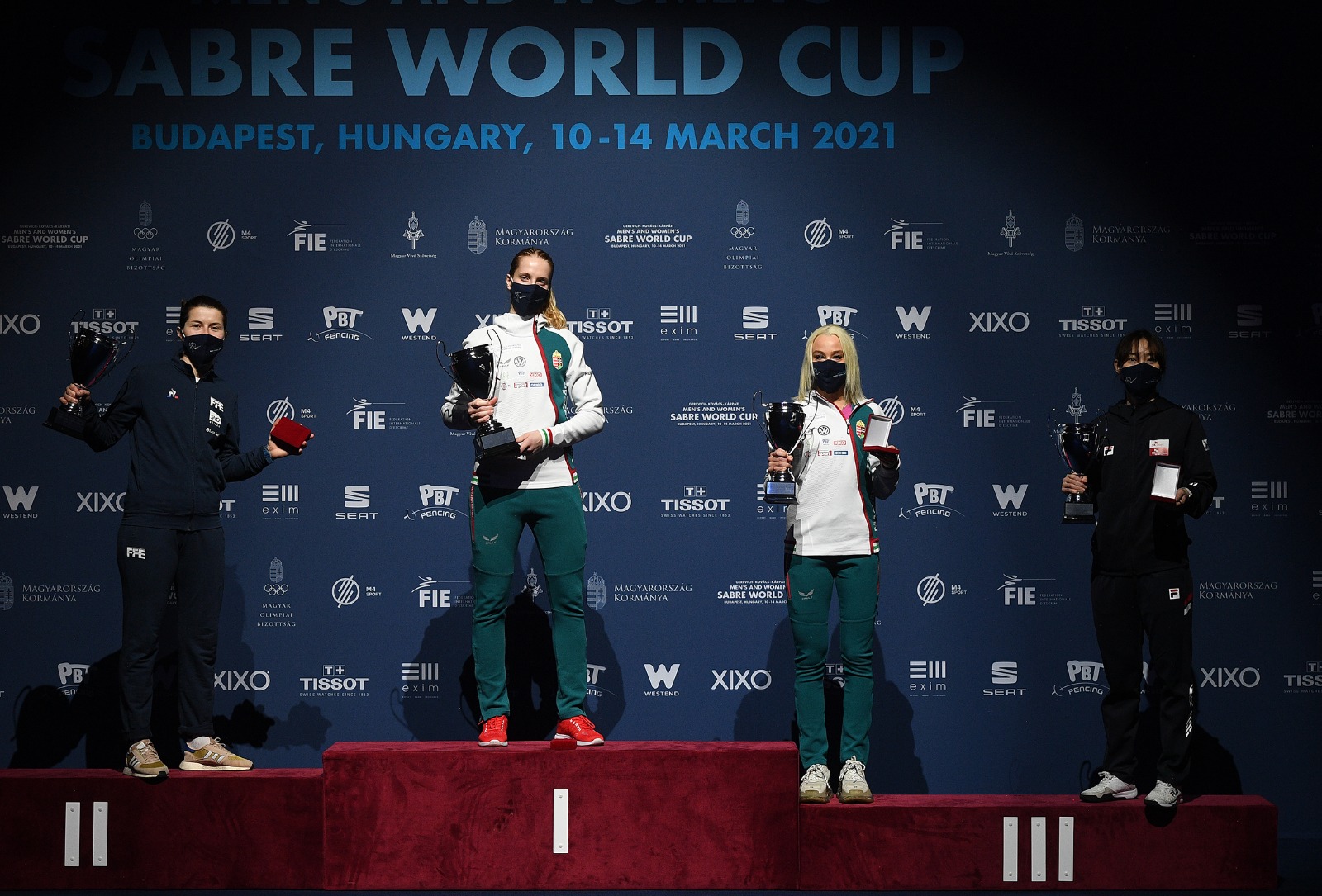 For individual women's sabre, Marton defeated France's Cecilia Berder to win the gold medal, 15-9. Berder won against Korea's Jisu Yoon in the semifinal round, 15-9, and Marton beat her teammate, Liza Pusztai, 15-9. Pusztai defeated Russian world champion Sofia Pozdniakova in the quarterfinals, 15-12.
In team men's sabre, Russia took gold against Germany with a 45-43 final score. In the semifinal round, Germany beat Korea, 45-41, and Russia defeated Hungary, 45-35. The bronze medal went to Hungary over Korea, 45-40. Twenty-nine international teams competed.
In team women's sabre, with 27 teams competing, Poland defeated Italy in the final match by a single point, 45-44. Italy beat France in the semifinal round, 45-43, while Poland defeated Korea, 45-41. Korea won the bronze medal against France, 45-41.
Individual final rankings for individual men's sabre include Sanguk Oh (KOR, gold), Aron Szilagyi (HUN, silver), Sandro Bazadze (GEO, bronze), Matyas Szabo (GER, bronze), Luca Curatoli (ITA), Kamil Ibragimov (RUS), Enrico Berre (ITA) and Iulian Teodosiu (ROU).
Individual final rankings for individual women's sabre include Anna Marton (HUN, gold), Cecila Berder (FRA, silver), Liza Pusztai (HUN, bronze), Jisu Yoon (KOR, bronze), Olga Nikitina (RUS), Yaqi Shao (CHN), Sofia Pozdniakova (RUS) and Sara Balzer (FRA).
For men's team sabre, final rankings were Russia (gold), Germany (silver), Hungary (bronze), Korea, USA, Iran, Italy and France.
For women's team sabre, rankings were Poland (gold), Italy (silver), Korea (bronze), France, Russia, Japan, Hungary and Ukraine.
Complete and official results for the event may be found here on the FIE web site. For more exciting world fencing news and features, check out the FIE video series on our YouTube channel.