Back to news
France's Brunet, Team Russia Win Gold at Tunisia Women's Sabre Fencing World Cup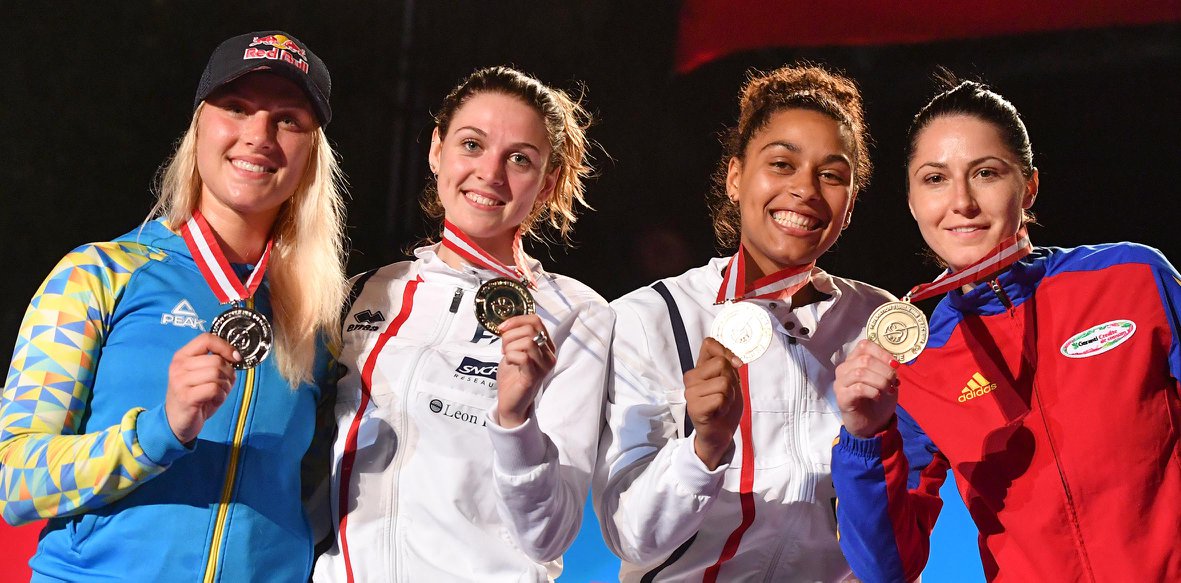 TUNIS, Tunisia, June 1-3, 2018—French sabre fencer Manon Brunet took the individual gold medal at the Tunisia Women's Sabre World Cup this weekend in Tunis, with Team Russia winning gold in the team event. More than 150 top women's sabre fencers participated in the competition, which also drew 21 international teams. The individual event took place at the famous Roman Theatre of Carthage.
Brunet faced top-ranked and three-time World Champion Olga Kharlan in the final match, defeating her by a single touch, 15-14. Kharlan had beaten Romanian Bianca Pascu in the semi-final in another tight match, 15-14, while Brunet overcame her teammate, Margaux Rifkiss, 15-5. In the quarter-finals, Kharlan beat Russian Olympic gold medallist Yana Egorian with a 15-13 score, Korean Olympic gold medallist Jiyeon Kim went out to Pascu also with a 15-13 result, and Brunet defeated Russian two-time World Champion Sofya Velikaya, 15-7.
In the women's team event, the Russian women took the gold over the French, with a final score of 45-35. Italy lost to Russia in the semi-finals, 45-42, while France beat China, 45-37. The bronze medal went to Italy, defeating China 45-42.
The top-eight ranking from the Tunisia Women's Sabre World Cup include Manon Brunet (FRA, gold), Olga Kharlan (UKR, silver), Bianca Pascu (ROU, bronze), Margaux Rifkiss (FRA, bronze), Cecilia Berder (FRA), Jiyeon Kim (KOR), Yana Egorian (RUS), and Sofya Velikaya (RUS).
The top-eight teams include Russia (gold), France (silver), Italy (bronze), China, USA, Hungary, Korea, and Ukraine.
Full results for the individual competition can be found here, and results for the team event are here.